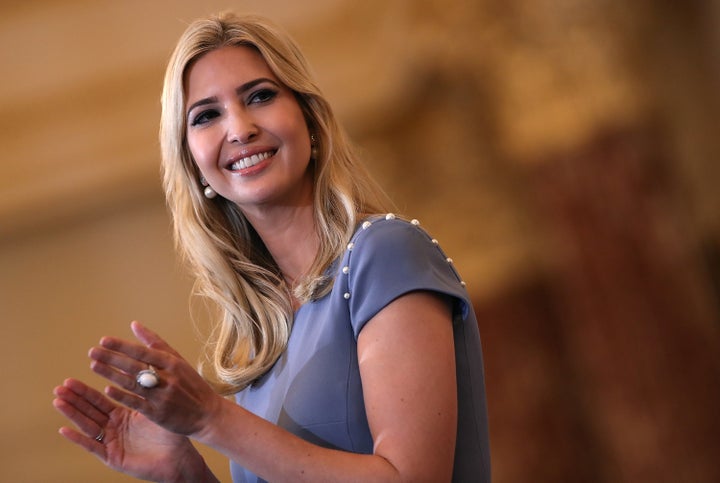 Ivanka Trump hit back at The Wall Street Journal's opinion editors this week with a well-reasoned rejoinder to their criticism of her paid parental leave proposal, which calls for six weeks of federally funded time off for new parents.
There's only one problem with her elegant argument, published as a letter to the editor in Wednesday's Journal: It's undercut by reality.
The newspaper's conservative opinion editors had dubbed her plan the "Ivanka Entitlement" in May when it was included as part of the White House's budget. The editors argued that government-funded paid parental leave would somehow push poor people out of the job market.
″Another disincentive for work and advancement that traps families in poverty," the editors wrote.
It is a poorly reasoned editorial that cites no research or evidence ― and largely depends on speculation about what Democrats will do in the future. Trump easily dismantles the specious logic, citing studies and research that show giving new parents paid time off from work to care for a newborn actually keeps women in the labor force (contra the WSJ's theory) and provides both economic and health benefits for everyone.
"Providing a national guaranteed paid-leave program — with a reasonable time limit and benefit cap — isn't an entitlement, it's an investment in America's working families," Trump concludes.
Sure, yes. But the thing is: The Trump administration, along with GOP leaders in Congress, are doing everything they can to de-invest in America's working families. 
President Donald Trump's administration is hell-bent on cutting key health and economic benefits to women, such as defunding Planned Parenthood and limiting access to affordable birth control. And, crucially, Trump supports the GOP's efforts in Congress to repeal and replace Obamacare with plans that would drastically cut Medicaid funding.
These moves would have devastating effects for working women in the United States, including increasing the number of unplanned births, while at the same time making it harder to afford to have a child.
Medicaid pays for nearly half of all U.S. births. It can cost more than $10,000 in hospital and doctor bills to have a baby in the U.S. Paid leave is nice, but hardly would make up for the cost of giving birth without insurance.
And that's just a piece of the devastation.
More than 2.3 million working women got health care coverage via Medicaid from 2013 to 2015, according to a recent report from the National Women's Law Center.
"Medicaid coverage allows women to work and foster economic mobility for women and their families," the report's authors said, citing data on the percentage of working women who rely on such coverage, as well as those employed in sectors that benefit from Medicaid spending.
Ivanka Trump says in her letter to the editor that working women, particularly those at the bottom, need paid time off when they have a baby. The benefit, she explains, leads to "healthier children and parents, greater financial stability and stronger attachment to the labor force."
Well, so does health insurance. 
Trump might privately not support any of the damaging cuts called for by the Republican health care bills. She's reportedly held meetings behind the scenes in an attempt to reach "common ground" with Planned Parenthood. 
But trying to pass paid leave while drastically cutting women's health benefits is kind of like buying a beautiful new couch for your living room, while at the same time tearing down the room's walls. 
REAL LIFE. REAL NEWS. REAL VOICES.
Help us tell more of the stories that matter from voices that too often remain unheard.