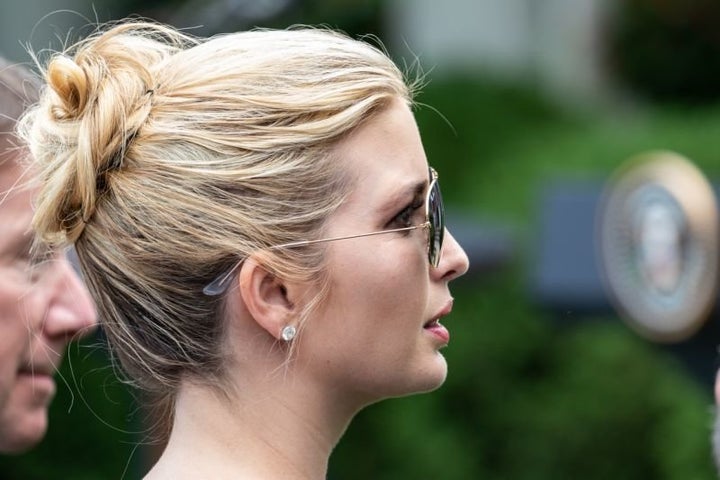 Ivanka Trump has been laying low during the explosive controversy over her father's "zero-tolerance" immigration and family-separation policy. But a silver gown that's become a symbol to many of her disconnect on these issues has thrust her back into the spotlight.
On Tuesday, Orli Matlow, a comedian and staff writer for Someecards, tweeted a photo split-screen: on one side, the first daughter wearing a $5,000 silver Carolina Herrera gown from January 2017; on the other, a detention center in McAllen, Texas, housing immigrant children separated from their families and wrapped in silver thermal blankets, lying on the floor.
"Who wore it better: Children detained in McAllen, Texas or Ivanka Trump," wrote Matlow in the post, which has amassed more than 27,000 retweets and 67,000 likes. The tweet then inspired other jokes about the outfit, comparing it to a popcorn aluminum pan, Hershey's Kisses, and a burrito wrapped in tinfoil.
Ivanka, who serves as a special adviser to the president, originally wore the gown on Jan. 29, 2017, on her way to dinner with her husband, Jared Kushner, and two days after President Trump announced an executive order dubbed the "Muslim ban." The policy barred people from Iraq, Syria, Libya, Sudan, Somalia, and Yemen from entering the United States, and was widely denounced as racist. The news sparked protests at airports around the country and blowback from the public, including judges and former President Barack Obama; a ruling on the travel ban is expected from the Supreme Court later in June.
In response to the original photo, Ivanka was called insensitive for wearing a high-priced gown while many were negatively affected by her father's ban. One day later, a source told Vanity Fair that the photo was "idiotic" and displayed "naiveté in not understanding her surroundings or circumstances."
More from Yahoo Lifestyle: