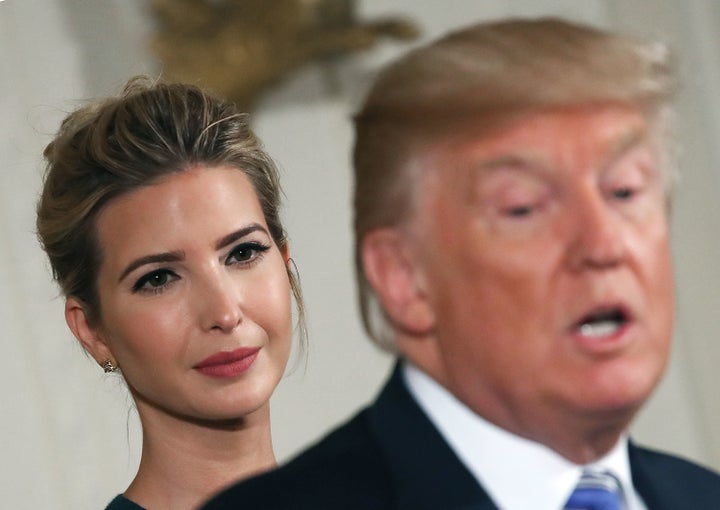 I'm coming to you because your stepmom, Melania, doesn't seem to want to have anything to do with your dad, politically or personally, and the two buffoons you call your brothers are useless. And while I know you're not your father's keeper, you've said time and time again how much you care about some of the same things I care about. And despite you working for such a reprehensible administration, you seem somewhat level-headed and not entirely evil, so I thought you might be willing to hear me out.
As a fellow Jew, I'm curious to know how it felt to hear your father say during that press conference that there were "very fine" people attending that rally when we both know those violent monsters were chanting "Jews will not replace us" and "blood and soil," a phrase tied to the Nazis. I'm wondering how you felt, as a mother raising Jewish children, to hear your father discuss his worries about this country "changing history and culture" ― buzzwords regularly used by white nationalists to defend their racist and anti-Semitic claims. 
Listen, Ivanka: I know we don't get to pick our parents. We don't get a say in who raises us or how or any of the decisions they make about their own lives, but when those decisions affect our lives and the lives of millions ― or even billions ― of other people, we are suddenly faced with our decisions to make.
I keep waiting to see what, if anything, will finally qualify as "enough" for you, where, or if, you will draw a line, what atrocity will finally tickle some secret spot of indignation you surely must have hidden somewhere inside of you and cause you to speak up but, sadly, I'm still waiting. 
I'm not asking you to be accountable for your father's actions but I am demanding that you be accountable for your actions.
So, now, it's time for you ― like every other American ― to finally decide where you stand and who you stand with. 
I'm hoping you've had conversations ― many, many, many conversations ― with him about how wrong he's been, about what a leader should be saying and doing right now, about how white supremacy has no place in this great country but if you have, it doesn't appear to be working. 
To be honest, you should have started calling him out on all of the atrocious things he's said and done a long time ago. But hopefully we can agree that we have now reached the point of no return. You are now faced with what may be some of the hardest decisions you will ever have to make in your life: will you co-sign the hate that he is spewing? Will you be complicit in endorsing the evil that he is endorsing? And, ultimately, if your dad refuses to change his ways, can you bring yourself to not only put country before party, but to put your country ― and perhaps the world ― before your father?
I realize that distancing or detaching yourself from someone you love ― or even disowning them entirely ― is a devastating prospect. On Monday another family made the unimaginable decision to cut off ties from their white supremacist son and now you must confront the same terrible reality. I don't approach or suggest this lightly but here we are. Here is where your father has led you. 
And make no mistake: Making no decision is a decision. Have no doubt: Silence is no longer an option. Continuing to say nothing will say everything. 
I know none of this is easy, but very few things that truly matter ever are.
It's time to show us who you really are. It's time to decide who you will be. It's time to choose how we will see you from this day forward and how history will remember what you did ― or didn't do.
And we hope you do absolutely nothing less than the absolutely right thing.
Calling all HuffPost superfans!
Sign up for membership to become a founding member and help shape HuffPost's next chapter
BEFORE YOU GO
PHOTO GALLERY
Powerful Signs From Charlottesville Protests Across The U.S.