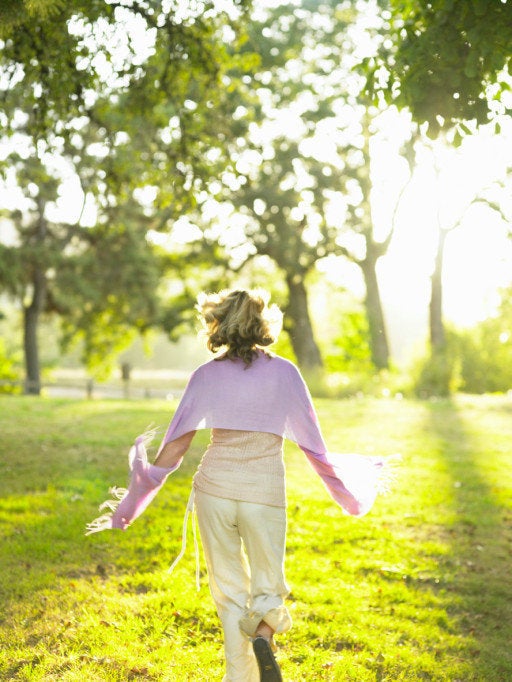 Today I turned 55. How do I feel about being five years into my fifties? I love it. I'm at the top of my game professionally (with a million things on my to-do list), and I think I've never looked better.
And I mean that bit about loving how I look. Sure, I've stood in front of the mirror and played "face lift" (the grown-up version of "doctor"), pulling up the corners of my eyes. But I'm beginning to realize that a new kind of beauty emerges at this age. Not the obvious stuff of youth, but something that's hard won -- the result of life lived and a body cared for.
This is why I was delighted to receive a copy of "I Feel Great About My Hands: And Other Unexpected Joys of Aging." It's a warm, wise, witty response to Nora Ephron's "I Feel Bad About My Neck." Shari Graydon set out to challenge the widespread notion that women over 50 should all be mourning the changes that come with age and invited women across Canada to provide alternative perspectives.
Comedian Mary Walsh weighed in:
After a certain age, it's impossible to find anything to wear. If you're over a size two -- well, over a size ten, really, but still mercifully under a size triple-X -- they don't make anything to fit you, and it's getting worse. Yesterday, because I'm blind as a bat in a felt hood because of my encroaching maturity, I ended up in the dressing room of a shop with a size-double-zero dress. Double zero! Where did that come from? Size zip. Size nada. Nothing. But now, not even nothing is good enough. We have to shrink ourselves down apparently to size double-nothings.
Activist and filmmaker Bonnie Sherr Klein also contributed:
I look down at my hands, writing. Fingers gnarly. Every joint swollen. Lumpy. Turning in unnatural directions. (My long-fingered hands were once my best feature -- piano fingers they were called, though my piano playing didn't match their grace.) Prominent veins on freckled skin... I choose to thank these hands without which I cannot walk. They took over when a stroke ruptured the circuitry from my brain to my legs and feet.
And here's what Helene Anne Fortin, a portrait photographer, had to say:
I think I became a portrait photographer because I was searching for my own beauty. As easy as it was for me to see the beauty in others, I kept missing it within myself. In my sixth decade, I can finally own it ... [In others] it's not their outer shell that I see but their goodness, kindness, sacredness and grace -- their love affair with life and loved ones -- that illuminate their beauty.
This is a movie that shows women of a certain age in a positive way. Here are Julianne Moore and Annette Bening looking fabulous and clearly middle-aged. That's something women want to see, whether we're younger and fearful about midlife, or hitting the big 5-0 and wondering where the positive role models are.
I also suggested that every woman over 50 go see it so that we could send a powerful message to Hollywood: we want to see ourselves on the screen! (Hollywood seems to be listening. I'll write more about this once my upcoming book, "RIPE," is launched later this month!)
So, the kids are all right, and so are we. I'm 55 and I love my writer's hands. How about you?
The "Ripe" countdown has begun! My new book will be launched in just a few weeks. Watch for the first column about "Ripe: Rich, Rewarding Work After 50" -- a 12-week course on discovering passion, purpose and possibility at midlife.