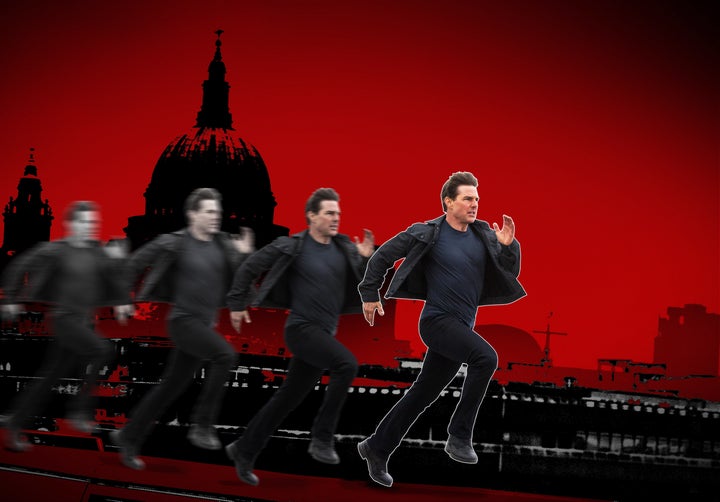 Tom Cruise spent 16 hours a day studying to get his helicopter license, which he obtained in an impressive six weeks in order to pilot a rotorcraft ― by himself ― during the filming of the sixth "Mission: Impossible" franchise movie, according to Christopher McQuarrie, the director and producer of the newest flick.
Tom Cruise did so not because he's a "daredevil" or a "crazy show off," McQuarrie said ahead of a screening for "Mission: Impossible - Fallout" this month. He did it for the fans. "Because he wants you to have a good time," McQuarrie told the theater of mostly press in New York City.
Another thing Tom Cruise did for the fans, McQuarrie said, is jump out of a plane at 25,000 feet in the air. At dusk, no less, when there was only a three-minute window to get the shot he needed.
Tom Cruise allegedly did this with a broken ankle, which he shattered during the "relatively simple stunt" of jumping between rooftops. His ankle was apparently also broken during the filming of a scene where he robo-sprints through the streets of Paris. So every time Tom Cruise lands on that right foot, which is a lot, we should think "ouch!" in admiration. (We being the loyal followers for whom Tom Cruise breaks his bones, flings his body and stuffs his brain with complex aviation knowledge.)
It was around this time in McQuarrie's speech that I realized I, a person who's vowed to watched every Tom Cruise movie ever made, chose to follow the career of the one movie star who is never going to die.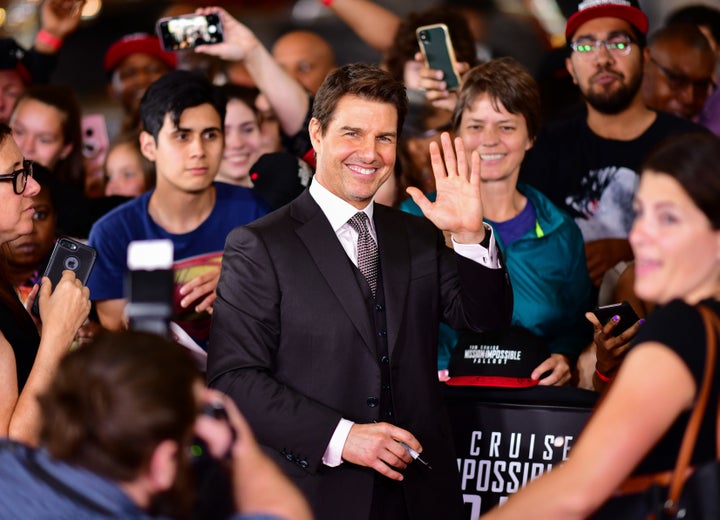 To this day, Thomas Cruise Mapother IV has a whopping 46 IMDb-approved acting credits to his name. Some of those credits refer to movies in which Tom Cruise stars (1994′s "Interview with the Vampire," 1985′s "Legend"). Others, Tom Cruise Movies. And there's a difference.
In the latter, Cruise plays a role that's become all too familiar to his faithful fans. He's the cocky man-boy with a heart of gold who just can't play by the world's rules. He gets off on danger, can't turn down a summons, and always saves the day in the nick of time. (But not a moment before, as a countdown clock in frame likely denotes.) This typical Cruise character manages to have a slacker's lack of affection for society, a puppy's pure heart when it comes to his loved ones and a Greek god's devotion to physical fitness. Often times, the character appears in multiple films across a franchise, barely evolving as a fictional person so as to project an uncanny sense of immortality ― much like the actor himself.
The "Mission: Impossible" series is the ultimate Tom Cruise Movie franchise. And Ethan Hunt, the ultimate invincible man. And I would know, I've seen all 44 of Cruise's completed, IMDb-certified projects.
Ten years ago I made a pact with my best friend to see every Tom Cruise acting vehicle ever made, together. It all started in a Sacramento hostel, when we spotted a "Jerry Maguire" VHS and realized neither of us had ever actually seen the by then ubiquitous Cruise in a movie before. Quickly enamored with his charisma ― the same charisma that seems to have a death grip on McQuarrie ― we worked our way through Cruise's early oeuvre and began to follow his career in real time. We watched as he became less of an actor and more of a franchise carrier. Lackluster films like the utterly unnecessary "Jack Reacher: Never Go Back" and the embarrassing-for-everyone-involved remake of "The Mummy" sprung up around him like traveling carnivals with one solitary attraction.
Yet Cruise continued to prove enough of a draw; his boyish act never tired, even as he "hurtled toward middle age" and beyond it. My promise to begrudgingly choreograph outings with my best friend ― she's based in California, and I in New York ― to catch the latest TC offering persisted too.
That is, until the "Fallout" press screening, when I broke our blood oath and saw the film alone. Our bicoastal arrangement took a backseat to my pledge to Tom Cruise. So we agreed to see the film separately and discuss it at length over the phone after. (This, on the condition that she'd be mentioned in this article. Hi, Hallie!) Sitting in the IMAX theater, waiting for "Fallout" to begin, I thought of the movie's slogan, "Some missions are not a choice." The sentiment resonated.
But by the grace of whichever Scientology alien-god bestowed upon Tom Cruise his eternal youth, the payoff was big. I'm here to tell you that "MI6" is the best Tom Cruise Movie I've seen.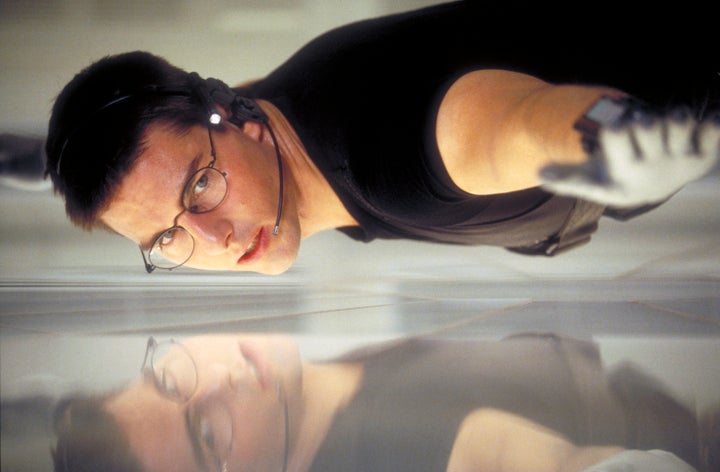 The arrival of yet another "Mission: Impossible" movie has prompted many cinephiles who aren't me to roll their eyes at the return of a 22-year-old saga about an IMF (nope, not that IMF) agent who is never not going rogue. For the real fans of Tom Cruise, however, "Mission: Impossible - Fallout" is the best kind of riot, offering a convoluted, nearly inscrutable plot laden with twists, mistaken identities, cliff climbing, roof hopping, reckless motorcycle riding, angry man punching and non-stop Tom Cruise Tom Cruising.
To summarize, Ethan Hunt is back. This time, his assignment is to track down The Apostles, an apocalyptic syndicate of anarchist psychopaths convinced that "there has never been peace without first a great suffering." Their plan is to detonate three nuclear bombs, destroy the world order and start afresh. (Honestly, in 2018, not the worst idea.) Hunt's mission, should he choose to accept it: find the bombs and catch the terrorists before its too late.
Hunt, along with his trusted teammates Benji (Simon Pegg) and Luther (Ving Rhames) are on the case, and they brought their favorite weapons (masks!) with them. You'd think that audiences might grow tired of this and other unchanging tactics in the film or beg for the more exorbitant optics of films like "Skyscraper," but while The Rock's latest delivers special effects sure to make your eyeballs bleed, Cruise gives viewers something even more precious: himself.
Ethan Hunt, the movie hammers home, has given up all hope of a normal life to pursue an endless slew of impossible missions. Like his character, Cruise sacrifices his physical safety, personal life and mental health for the cause ― in this case, our entertainment ― time and time again. Yet his Sisyphean quest doesn't seem to wear him down. In fact, it only feeds the blazing fire within his taut, compact body that compels him to dial his every interior notch up to its highest intensity. At 56, he only seems to get tighter, speedier, more fanatical with age.
Cruise's devotion to authentically executing nutty physical feats effectively blurs the line between his character and his mythic Hollywood persona. Ethan Hunt's job as a covert operative requires he be a gifted actor; Tom Cruise's job playing Ethan Hunt demands he be a boulder-scaling, copter crashing, T-shirt-wearing, madman. Where's the line? Who's wearing the mask?!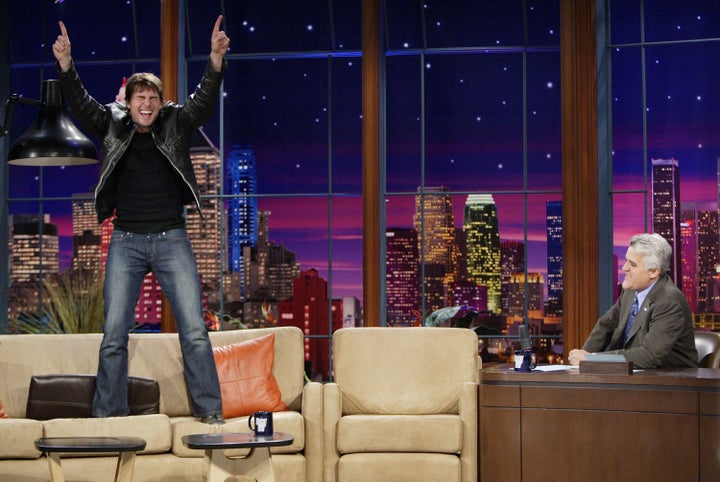 By the end of "Fallout," it becomes clear the whole "Mission Impossible" franchise is really just an elaborately erected jungle gym for Tom Cruise to play around in. In fact, as Hunt bolts atop the London skyline, you could argue the whole modern world exists purely as a potential stunt for Cruise to master. Whether this makes him a god among men or a zoo animal imprisoned for our eternal entertainment is up for debate.
In one of the film's more meta moments, scruffy criminal mastermind Solomon Lane (Sean Harris) attempts to get in Hunt's head. "Your mission, should you choose to accept it..." Lane says, mimicking the IMF's signature catchphrase: "Do you ever choose not to?" Hunt shudders at the thought, a sure sign Lane has triggered something deep within him. Might these missions be prolonged distractions from the meaninglessness of life? The pain of facing our flawed, mortal selves? And wait, are we talking about Ethan or Tom? It's sublime.
Hunt brushes off the taunt as the murmurings of a lunatic. Before long, he's back on his bullshit, hopping between buildings. During one leap, he falls a bit short, smacking into the window of a humdrum office cubicle. Hunt manages to climb into the open-air workplace and pauses for a moment to collect himself. Employees shuffle away from their desks in slack-jawed silence, taking stock of his sudden arrival, seemingly unable to process it.
The scene captures how us normies look in comparison to Tom Cruise ― pasty, paunchy, stationary and caught in utter disbelief. Trying hard to fathom how this type-AAA being is our same species. Before any of the bewildered employees muster up a single word, Cruise is off, chop-running his way right out the window. Cruise eventually catches up with the man he's chasing, the Apostle's head assassin, John Lark. "Why won't you die?" Lark snarls.
In this moment, I felt for Lark. I imagined my future self: middle-aged, chronically exhausted, rushing home from work to watch the most recent "Mission Impossible" installment starring an octogenarian Cruise, flying high in a taut black turtleneck.
Tom Cruise is twice my age, but I'm not banking on the prospect of outliving him. Watching him dart ever so gracefully through frantic streets ― on a broken ankle, lest you forget ― I thought of the way I flung my right arm across my lifeless body to hit the snooze button on my phone that morning. How I trudged, hunchbacked and sweat-soaked, up the stairs of the subway station, congratulating myself for not taking the escalator. I compared these pathetic displays to the time Cruise dangled from below yet another moving aircraft. This man is not human. He will surely outlive us all.
Like many of Cruise's recent films, "Mission Impossible: Fallout" is an excuse to watch Hollywood's most freakishly alluring energizer bunny do what he does best. Fortunately, there isn't a single scene in the film where our special guy isn't front and center. Even a romantic lead would distract too much from his glory, get in the way of the audience's emotional connection with the industry's most eager human sacrifice.
As the credits rolled, I mentally accepted a future in which Tom Cruise movies never cease. In this crazy world, the only constant is Cruise, the Herculean golden retriever of cinema, always ready to play fetch. If all his future films are all as thrilling as "Mission Impossible: Fallout," I won't even be mad.
Popular in the Community