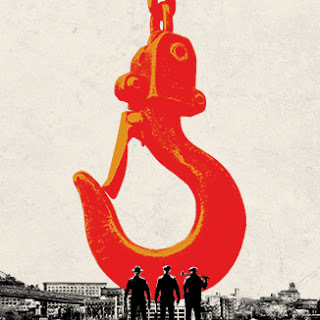 In his preface to Miss Julie Strindberg talked about "new wine" bursting "the old bottles." Arthur Miller's A View From the Bridge might be an example of putting old wine in new bottles, placing a classic Greek Tragedy in the mode of Sophocles' Oedipus in a modern setting. Ivo van Hove's direction of Arthur Miller's A View From the Bridge now takes another kind of vintage wine, in the form of the Miller script, and pouring it in a yet an even newer bottle. Vessels themselves speak for antiquity and there are a lot of them in the current Young Vic production along with some other anomalies such as a beating drum and a narrator (Michael Gould) who functions as Greek chorus--though one of the unintentional anomalies, that of English actors and actresses like Michael Strong (Eddie Carbone) and Phoebe Fox (Catharine) trying to fake Brooklyn accents, can interrupt the viewers willing suspension of disbelief. It's hard to tell if A View From the Bridge stands the test of time in the way that Death of a Salesman does. Eddie's repeated "The guy ain't right," which is said about Rodolfo (Russell Tovey), the man his niece wishes to marry, is no match for the haunting mantra of Salesman, "Attention must be paid." But it's the set itself that constitutes the originality of this particular production. The simple white stage, designed by Jan Versweyveld, like Sally Jacobs' famous white box used in Peter Brook's l970 production of A Midsummer Night's Dream, with the solo door exit at center functions as a canvas on which the tragedy will play itself out. Those familiar with the work of the painter Adolf Gottlieb might experience a shock of recognition as an explosive red ball of blood appears against a stark white background. Gottlieb's work may not have influenced the director's imagination. However, the impulse to see Greek tragedy, however realistically updated, as a turbulent, boundary breaking abstract expressionist painting might ultimately be the legacy of van Hove's interpretation of the Miller classic.The current rendering gives new meaning to the term "family entertainment."
REAL LIFE. REAL NEWS. REAL VOICES.
Help us tell more of the stories that matter from voices that too often remain unheard.