Imagine that you could wake from a nightmare and sit, sweat drenched, looking out at a different world, a normal place not filled with monsters and blood and guns of a moment ago. Tangled in your sheets your anxious breathing slows and a smile relaxes your brow, peace settles you.
I had one of those moments a few mornings ago. Except my nightmare has lasted since 1989.
While there is still a dark shadow of the long night, there is warmth to the dawn.
100 years ago there were thought to be 10 million elephants on the planet. That number has dropped by 9.5 million. There has been an ebb and flow of killings but none quite like surge of poaching that is happening today. 35,000 a year are killed to feed the ivory trade, most of it going to China, but a good deal of it going from Africa to America as well (the second largest market for ivory). In 1989 there was a partial ban on ivory and the price plummeted to about $250 per pound. Considering that a poacher usually gets 5% of the street value, poaching as a viable business evaporated. The 'partial' ban, sent a signal of hope to traders that the conversation may still be alive, and it was. The push to re-open ivory sales was led by a number of well-intentioned South African scientists. First, the trading started silently and we all watched prices rise as the southern African countries threatened to release hundreds of tons of ivory. They did so in 1999. Since then there has been steady growth in the market value of ivory and the price has gone from $250 to over $1000 per pound today. With that, the monster of poaching awoke, it became financially viable once again and all hell broke lose across Africa. Over 350 game rangers have been killed fighting this battle. It is what I call The Battle for Africa.
In 1985 as Botswana was considering its stance on ivory, Beverly and I stood up and argued as hard as our status as young filmmakers would allow. We stated that there would be a time not where we would be considering what to do with 'all' our elephants but how to protect them. Notable scientists on the day politely (mostly) disagreed. We felt lonely in this battle for elephants.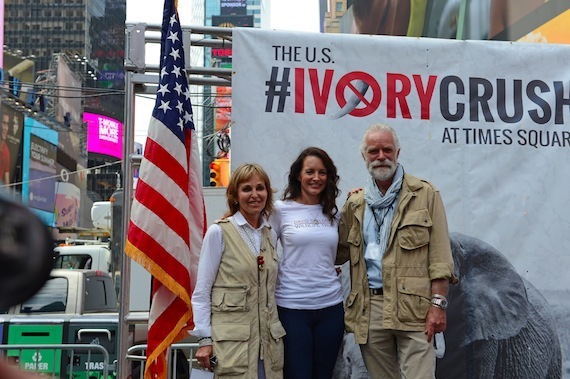 Beverly Joubert, Kristin Davis and Dereck Joubert at the Ivory Crush at Times Square, NY. Photo by Julie Larsen Maher
Exactly 20 years later I sat in a room at the Kasane Elephant Symposium in Botswana. Each country representative was reporting on what they were doing to protect elephants now. As I greeted some of the same scientists who I debated with 20 years prior they nodded an acknowledgment, but it was not something about which I enjoyed being right. Since that last meeting, half a million elephants have died. It was, however, an early glimpse at the dawn; whole nations coming together in Botswana, a country that has taken good care of its elephants for over 50 years, all agreeing that at least there is a problem and generally something needs to be done.
Last Friday, I turned my face to the morning sun and felt the warmth. It wasn't an African sun, it bounced off the glass of massive buildings in New York City but it felt just as good as we listened to American leaders talk about ivory. The U.S. Interior Secretary, senators, celebrities and captains of industry stood and spoke passionately about this nightmare. The Head of U.S. Fish and Wildlife Service pointed to a pile of over a ton of confiscated ivory, most of it from within a mile of Times Square where we sat.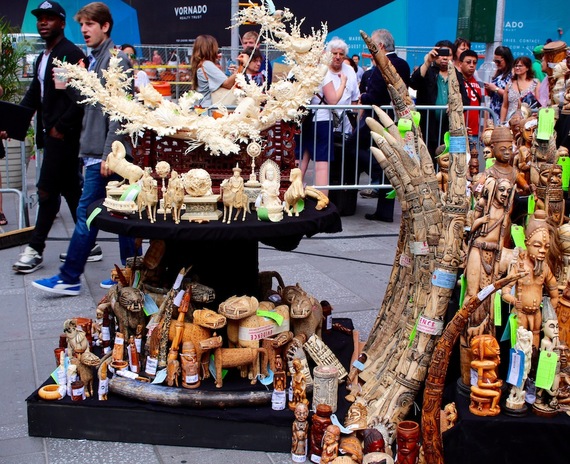 Photo by Marie Frei Ivory Crush at Times Square, NY.
Piece after piece of ivory, some ornately carved, some crudely honed or cut, were laid onto a conveyor belt and dumped into a crusher and turned into dust. I sat next to Kristen Davis, someone you will know as an actress (although I know her as an activist for elephants rather than for her role in Sex in the City), and as she stood nearby and placed a large tusk on the machine, she turned away with tears in her eyes, not because of the beauty of the carving being destroyed but because it represented an elephant that had to die to serve our greed and vanity. Thousands of people gathered around the dead elephants' teeth and watched as each piece was turned to dust. 'Dust to dust' I said to myself, and as if she could hear my thoughts Kristen grabbed my arm.
There was only one heckler accusing the Wildlife Conservation Society (WCS) and U.S. Fish and Wildlife Service for destroying art. Most people stood and watched silently while some cheered. With posters of the WCS' "96 Elephants" campaign nearby it was hard for anyone to disagree that 96 elephants being killed a day is an atrocity.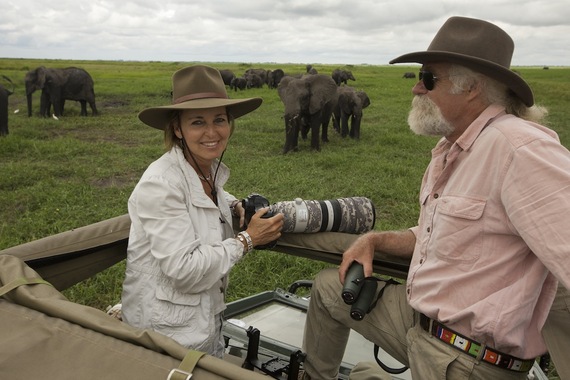 ©Beverly Joubert
Last year President Obama issued an executive order to move to ban all trade in ivory. New Jersey, New York and Colorado have passed laws to ban ivory. Arkansas, California, Connecticut, Florida, Illinois, Massachusetts, Nevada, Oregon, Rhode Island, Vermont, Colorado, Delaware, Georgia, Kentucky, Missouri, Pennsylvania, Texas, the District of Columbia are all considering taking the same action but they are under equal pressure not to.
Surely everyone agrees that in the time it took you to read this, the fact that one or two elephants have been poached is shocking. The upside is that we can do something about that. We're often asked what can be done to help. In this case, lobbying congress or your representative to support banning the ivory trade in your state will make a huge difference. This is not the gun control debate or a hunting one, but a move that will send a signal to the world that poaching; trading in dead elephants and the abuse of wildlife is just not acceptable. Crushing ivory makes it worthless, as it should be, unless attached to an elephant. The fact that so many people are now behind this gives me tremendous hope, not just for elephants, but for us.
Calling all HuffPost superfans!
Sign up for membership to become a founding member and help shape HuffPost's next chapter