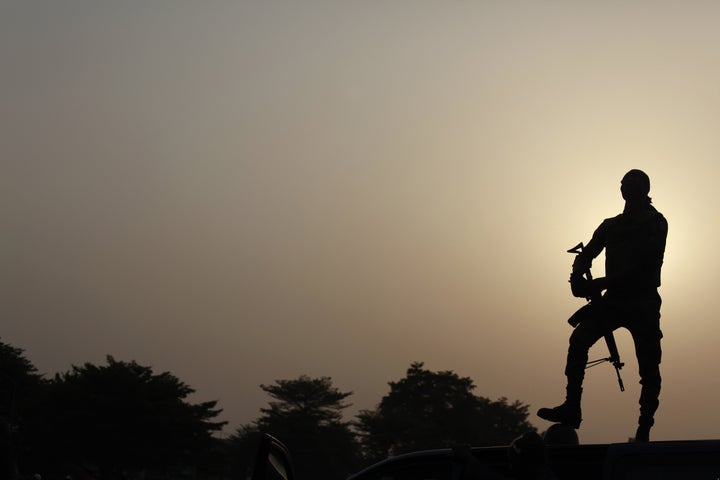 (Updates) Some government leaders keep going and going. They would rather see their country descend into anarchy than leave office, believing they are indispensible.
Libya's Muammar Gaddafi is one. Zimbabwe's Robert Mugabe is another. And so is the president of the Ivory Coast, Laurent Gbagbo. They cling to power long after any revolution or program that brought them to office still exists. Only the desire to keep on doing what they are doing remains.
An election last November should have ended the prospect of turmoil in the Ivory Coast (Côte d'Ivoire) that began in with a civil war in 2002. Economist Alassane Ouattara won the election, certified by the United Nations. Gbagbo then attempted to reverse the result by going to the Constitutional Council, the country's highest court controlled by his cronies. That body cancelled enough votes to declare him the winner.
With Gbagbo sending troops into Abidjan, the commercial center, Ouattara was forced to hole up in a hotel, guarded by U.N. peacekeepers. Sporadic fighting broke out in the West African nation, the world's largest exporter of the cocoa beans we probably ate in our Valentine chocolates.
The death toll already exceeds more than 350 people, according to U.N. figures. Reports mount of rapes, abductions, disappearances and torture. Some 90,000 refugees are pouring into Liberia, itself recovering from a civil war. More than 400,000 have fled their homes.
Unarmed women shot On March 3, seven unarmed women were killed after security forces opened fire on their demonstration. Navi Pillay, the U.N. human rights commissioner, said video footage could be used to prosecute perpetrators -- that is if justice has a chance.
Attempting to analyze Gbagbo, the prestigious International Crisis Group (ICG) says:
"Driven by a political mysticism that blends nationalist discourse, virility and religiosity, Gbagbo is relying primarily on blackmail and targeted violence against civilians perceived as Ouattara supporters to remain president, even if his authority is unlikely to extend beyond the country's southern third."
Ouattara left Abidjan this week for the first time since the election to attend an African Union meeting in Addis Ababa, using a U.N. helicopter in Abidjan to the Ivorian town of Bouake and then a jet to the Ethiopian capital. Gbagbo immediately imposed a no-fly order on United Nations and French aircraft, an apparent effort to keep Ouattara out of the country. (Ouattara will return via Nigeria.)
Watch out for the French The United Nations has some 9,000 troops and other personnel and France, the former colonial power, has some 900 soldiers to back up any attacks on the U.N. operation. Although France is trying to keep a low profile to prevent accusations of colonialism, Gbagbo should be careful.
In late 2004, France destroyed two government warplanes after an air strike that left eight French soldiers dead and 23 injured. The French struck the airbase in the capital, Yamoussoukro, soon after an air raid on Bouake hit the French peacekeepers.
Meanwhile, in Addis Ababa, the African Union on Friday issued a communique, reaffirming its support of Ouattara as the winner of the election, despite earlier hesitations by South Africa and Angola, and suggested a dialogue and power sharing. Gbagbo, through an envoy, rejected this while Ouattara said power sharing could not be on a 50-50 basis.
The United States and European Union members have imposed financial and travel sanctions and sought to prevent cocoa revenues from reaching Gbagbo, who needs to pay the army and civil servants. Regional banks are refusing to allow Gbagbo to withdraw money, and various commodity firms have refused to deal with Gbagbo.
But Russia, diplomats said, had prevented the U.N. Security Council from imposing the same sanctions. However, now that the African Union made its endorsement of Ouattara official, the Council's current president, China's ambassador, Li Baodong, said members reaffirmed "their readiness to impose measures, including targeted sanctions." No one knows if this will really happen.
Crisis dismally familiar Gbagbo, a Christian, came to power in 2000, ironically because the population rebelled against a manipulated election that sought to deprive him of office. Ouattara, a Muslim and an economist who worked for the International Monetary Fund, had served as prime minister under Félix Houphouët-Boigny, the legendary strongman who ruled for 33 years since independence from France in 1960.
After a failed coup by a general in September 2002, a civil war broke out, leaving the country divided into the rebel-held north and west and the government-controlled south. U.N. peacekeepers and French troops arrived. The main issues -- disarmament, land reform, criteria for nationality and who could run for office -- were never settled.
The possibility of a quick military strike by a West African state is not out of the question as the entire region is in danger of being thrown into chaos. Or the world will get used to Gbagbo's bunker mentality and resume buying the cocoa.
Popular in the Community