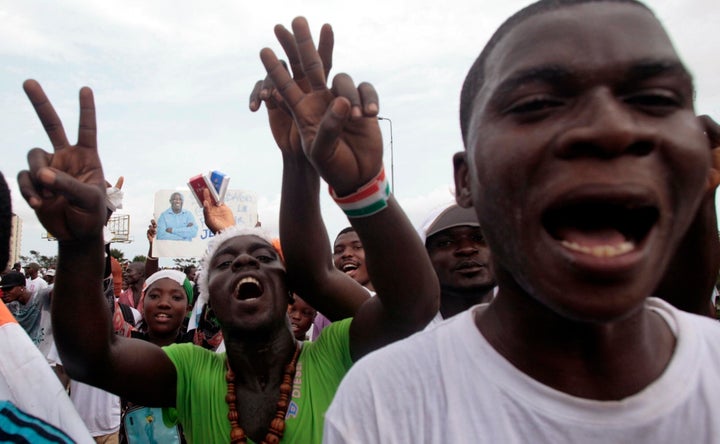 The Kouidé family was sitting quietly on the ground under the shade of a large tree in Bawaydee village, Grand Gedeh county, just six kilometers from Liberia's border with the Ivory Coast. The family had arrived just two days earlier, after traveling on foot, a difficult journey that took them four days.
They'd fled their home, in the village of Oulaï Taïibli, in Bloléquin district, when armed men began attacking. There was no time to take any personal belongings. "We were really afraid and just ran with the children," said mother of six, Aimée Gayé. "We had to eat raw food and fruit in the forest and drank water from rivers and creeks."
But on the fourth day, as they crossed the River Cavally, nearing the Liberian border, tragedy struck. A nephew and niece, five and six years old, lost their footing and were swept away by the fierce current.
"I felt terrible -- the pain of a mother," said Aimée Gayé. "I was responsible for my sister's children and now they had died. I've been crying day and night. The good I had intended to do, caring for those children, has turned to tragedy."
Her husband, Koulah Olivier Kouidé, was equally distraught. "Despite all the difficulties, we have reached Liberia. But the families helping us cannot afford to feed us.
"There is no shelter, no clothing, no water and we are still mourning the deaths of two children. Now, I don't know what to do. We are asking the international community to help us in any way that they can."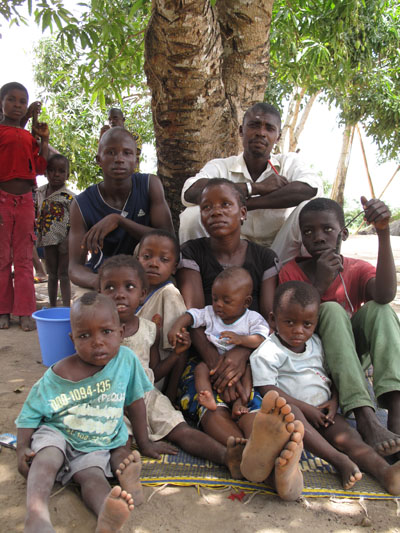 Kouidé family, Bawaydee village
The family is among more than 100,000 refugees from the Ivory Coast who have fled to Liberia since late year. The largest influx from the most recent fighting has been in Grand Gedeh county, which has seen more than 23,000 new arrivals in the last two weeks. Oxfam has been working here, providing clean water to refugees and host communities. We are also setting up water and sanitation facilities in several transit sites near the county's capital, Zwedru and planning to distribute non-food items as well as helping families hosting refugees to restock dwindling food supplies.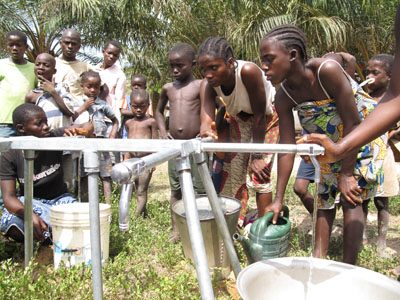 Community getting water after Oxfam's intervention
Most of the refugees are sheltering in border villages with Liberian families. And that's put a big strain on the Liberian communities, made up mainly of subsistence farmers, who have been struggling to feed and house them. Food and water is running out; there's no medical help and people are living and sleeping in crowded spaces.
Many of the new arrivals are still searching for lost loved-ones.
Pauline Bah, 31, was nursing her two four-month-old twin sons, Isaac and Ivan, and keeping an eye on her three-year-old daughter, Irié-lou Clara, when I met her. She became separated from her husband when fierce fighting broke out in her village, in Bloléquin district, at three in the morning.
"I don't know if he's dead or alive," she told me, clearly exhausted, with dark shadows under her eyes. "I cry every night; I'm alone without my husband. It's hard to be alone in a strange country with the children.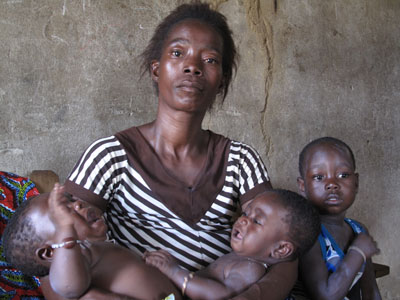 Pauline Bah
"I just pray to god that the war will come to an end soon and I can go back and find out what's happened to my husband."
For now, Pauline shares a room with 34 others who've also fled the chaos of fighting, in a house belonging to a Liberian family.
"They are suffering and we wanted to help," said father of three, 25 year-old Liberian, Bill Gbowoh, whose family is hosting the refugees. "During the Liberian civil war, we sought help in the Ivory Coast. All my family went over there. It's time to pay back the hospitality."
"My family and I have been caught up in war before. So, if we see people in the same situation, we'll help them and take care of them and comfort them so they can forget some of their worries," he said.
But he told me the family was now almost out of food and having to forage in the forest for snails that they could sell in the market, so they could buy food.
Getting food, shelter and medicines to the refugees who are still mostly sheltering in remote border villages will get harder as the weeks go by. The rainy season is only just starting; and in several weeks time, many areas will become inaccessible. Time is running out. People need to get to safe and reachable areas further inland where help can be given more easily and effectively. If not, they risk being cut off from help when the rains arrive in earnest.
Calling all HuffPost superfans!
Sign up for membership to become a founding member and help shape HuffPost's next chapter