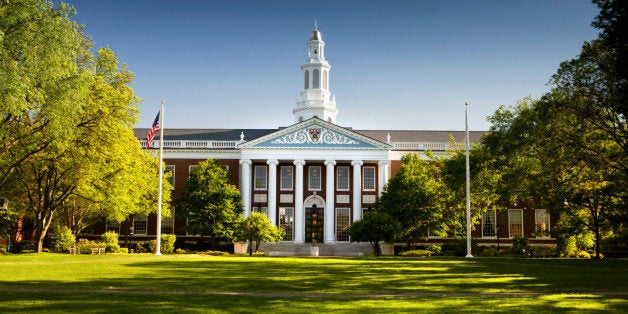 There are "sins of commission" and "sins of omission." That is, we can err in what we do, but also in what we fail to do. The documentary film, Ivory Tower, produced by Andrew Rossi and opening on June 13, exemplifies the latter. Mr. Rossi is apparently committed to fostering positive reform in the American higher education system. But the film fails to truly inform, rather than merely provoke, its audience.
The documentary aims to expose the ills of higher education in contemporary America. Though only an eclectic handful of colleges are featured (among them, Arizona State, Cooper Union, Deep Springs, Harvard, Spelman, and Wesleyan), the film succeeds in bringing together, in a 90 minute whirlwind tour, virtually every complaint one might hear about college today. The litany is well-known: tuition is too high, students amass astronomical debts, graduates are un-employable, partying is rampant but studying minimal, administrators are overpaid. Let's examine a few of these claims more closely.
Perhaps the greatest attention -- even fury -- is directed to the debt college students incur. "Staggering" has become the term of choice among journalists, who repeatedly note that student debt has reached $1 trillion, but fail to note, correspondingly, that the number of college students in this country has also increased dramatically. (For example, between 1965 and 2005, college enrollment of young people increased almost 300%.) n the film, students are shown marching in '60s-style protests, animated graphs appear (and quickly disappear) on the screen, and a series of interviewees proclaim that the debt level is "unsustainable." This film, like newspaper articles, magazine stories, and radio programs before it, finds and focuses on a hapless student who has amassed $140,000 in debt -- and claims she cannot even get a job "cleaning toilets." If true, this is indeed a travesty.
What Mr. Rossi's film omits is that fewer than 4% of American undergraduates incur such a debt load. Moreover, the majority of students with high debts are not enrolled in America's traditional colleges and universities, whether public or private, but in for-profit schools. For example, 35% of for-profit students have debts of $40,000 or more. By contrast, in both public and private higher education, approximately 30% of graduates have NO debt at all. Although the producer has explicitly stated that he is not addressing for-profit education in the film, in fact the film focuses solely on levels of debt found primarily in that sector. To be sure, the film briefly acknowledges that the average amount of debt for a four-year degree is about $25,000. But that less-than-staggering truth is lost amidst the shouting.
Even if graduates' debt is manageable (about the same amount as for a modest automobile), still the outlook is troubling if they are unemployable. The film claims that 50% of recent college graduates are unemployed or "under-employed." A good scare tactic but poor information. What the film omits to mention is that unemployment for college graduates -- even in the depths of the recession -- was half that for non-graduates (4.6% vs. 9.4%), and that the "premium" (i.e., the additional earning power) for a college degree is higher today than it has ever been. Any snapshot also overlooks the research finding that, over the long term, liberal arts graduates earn more than those with professional and technical degrees.

In the film, anxiety over post-graduate employment is exemplified by a clip in which, during an orientation session, a father asks the president of Wesleyan University whether his daughter will be able to get a job. The president deflects the direct question. The impression conveyed is that the institution doesn't know and doesn't care about the employability of its graduates. This is particularly strange, because Wesleyan and many other colleges are making substantial efforts, both to enhance the career development of their students and to track the employment paths of their recent graduates. The findings of their studies show that, for these liberal arts colleges, it is typical for 85%-90% of graduates to be either employed or pursuing graduate and professional studies, within 6 months of graduation.
Substantial footage in the film is devoted to the unique case of Cooper Union, a distinguished art, architecture, and engineering school in New York City which was tuition-free for much of its history, until trustees determined in 2013 that structural deficits made this budget model unsustainable. The predictable result was resistance on the part of current students and many alumni, culminating in a 65-day occupation of the president's office. On camera, idealistic students speak movingly of free education. (It falls to Mayor Bloomberg, as Commencement speaker, to note that "nothing is free.") The students also express their dismay that the vision of founder, Peter Cooper, has been abrogated by a venal administration. What the film omits to mention is that: the college was not always tuition-free, during Cooper's own leadership charging tuition was contemplated, current students will complete their degrees tuition-free, and the proposed model will still subsidize 50% of tuition for all and up to 100% for students demonstrating need. The picture is considerably more complex than the film presents.
To be fair, a few bright spots emerge -- the odyssey of a formerly homeless student at Harvard, the pride of the African American young women of Spelman. Perhaps most intriguing of all in Mr. Rossi's film is quirky Deep Springs College in California. Here, we are treated to unlikely but uplifting footage of young men working on a ranch (baling hay, wrangling cattle, repairing fences), interspersed with their intense seminar discussions of continental philosophy. These are clearly unusual young men, who are receiving an amazing form of education. And it's free. Is this the ideal of what American college should be? The viewer may be led to think so. What Mr. Rossi's film omits, however, is that the entire student body of Deep Springs College is 26 students. Nor does the film mention the legal suits in which the institution has been embroiled for years, as influential alumni attempt to block co-education. An aspirational example for American colleges? It's not so simple.
Cooper Union and Deep Springs are anomalous institutions. For that matter, so is Arizona State, with the largest body of undergraduates in the country. And Harvard is sui generis. A documentary film maker wants to tell a good story, and foregrounding these unusual institutions arguably presents the viewer with memorable vignettes. But it fails to provide a well-reasoned account of American higher education.
Mr. Rossi graduated from Yale. He has spoken about how greatly he values the education he received there. It would seem that his aim, in making Ivory Tower, was to motivate positive change. Undoubtedly, changes are needed in American higher education. As one early reviewer noted, to address our concerns about higher education, "we need to be well-informed and passionate about it." This film may lead to passion. But, if so, it will not be particularly well-informed. When a better understanding of higher education is so crucial to our nation's future -- that's a serious sin of omission.
Calling all HuffPost superfans!
Sign up for membership to become a founding member and help shape HuffPost's next chapter