Infinite Variety Productions (IVP) is a New York City not-for-profit theater company whose mission statement is "to shine a light on those unknown stories from women's history." In keeping with their mission, the company's current production, Censored on Final Approach, by Phylis Ravel at The Judson Gym, is an obscure account of the female pilots who trained to fly combat missions in World War II.
An estimated 25,000 women applied for the Women Airforce Service Pilots (WASP) at the height of the war in 1944 spurred on by patriotism and a love of flying that for some began watching barnstormers as children. Only 1,074 women passed the training and joined the military, although they were considered civilian personnel. Their story is relatively unknown because records of their service were classified and sealed for thirty-five years. Although they were allowed to join after completing the intense seven months of training (almost identical to the male cadets), the military did its best to keep the women from active duty. Thirty-eight women died ferrying aircraft or test flying. The play suggests the crashes designated as "accidents" were sometimes the result of poor maintenance, deliberate negligence or a damaged aircraft. Reports and evidence were quashed and labeled as classified information. The WASP were disbanded on December 20, 1944. It wasn't until the 1970s, when a group of veteran WASP organized to demand recognition for their service, that President Jimmy Carter had the WASP records unsealed and gave them veteran status. On March 10, 2010, the WASP were finally honored for their service and awarded the Congressional Gold Medal.
IVP's ensemble cast does an admirable job of dramatically bringing to life the passion for flying of these women and the challenges of sexism (both in the military and at home) and being first in their field. Being the first female military pilots, they were under constant pressure to prove themselves and to that end, many would volunteer to fly aircraft deemed too risky by the male pilots (test piloting). When the men saw that women were successfully flying and safely landing these planes, they quickly abandoned their reservations. Ravel's play takes a look at a handful of female characters (and their male counterparts) based on the real aviation pioneers, some of whom perished for their commitment.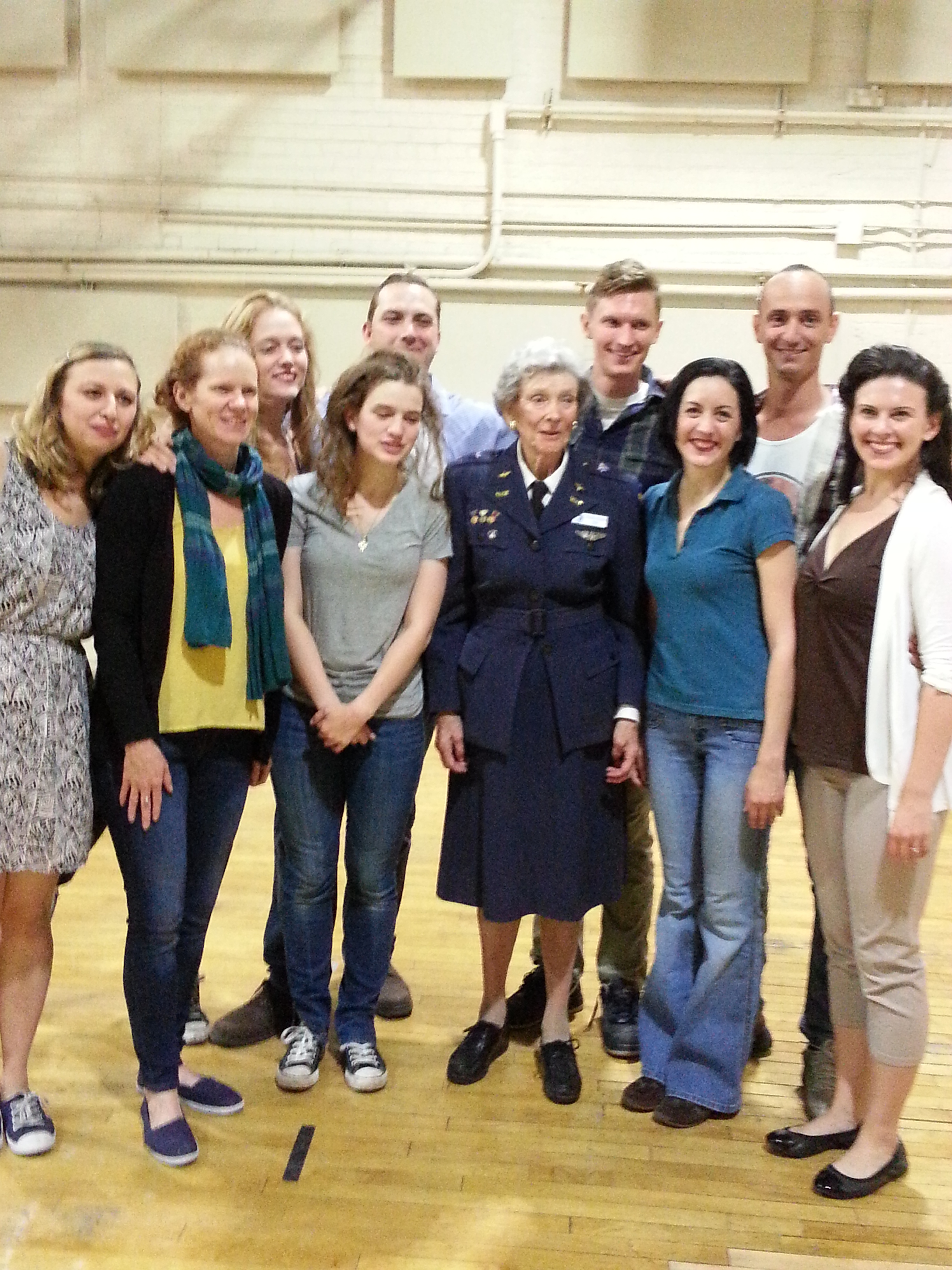 IVP cast and WASP, Bernice (Bee) Falk Haydu at August 24th after show talkback.
The Judson Gym is a small, spare space without a raised stage, but it is a testament to the acting, set design and the power of the imagination that theater inspires that the show works in the space. Colleen Britt directs with Ien DeNiro and Terry Gsell handling sound design and lighting/set design, respectively. The cast includes: Ashley Adelman (Artistic Director); Ross Alden; Olivia Rose Barresi; Kaitlyn Huczko; Greg McGovern; Elizabeth McNelis; Jessica G. Smith and Will Sturek. The play runs August 23 at 3 p.m. and August 24 and 26 at 7 p.m. After each performance, there will be a talkback featuring either a WASP or a relative of a WASP (at the August 18 performance, historian Amy Nathan gave some background about WASP, which she wrote about in her book, Yankee Doodle Gals). IVP has a www.indiegogo.com campaign to raise funds for a performance of the show on Veteran's Day at The Women in Military Service for America Memorial in Arlington (all shows will be free to veterans).
Sandra Kwesi Cameron is a writer who lives in New York City. She has reviewed The New York International Fringe Festival (FringeNYC) for nytheatre.com.
REAL LIFE. REAL NEWS. REAL VOICES.
Help us tell more of the stories that matter from voices that too often remain unheard.