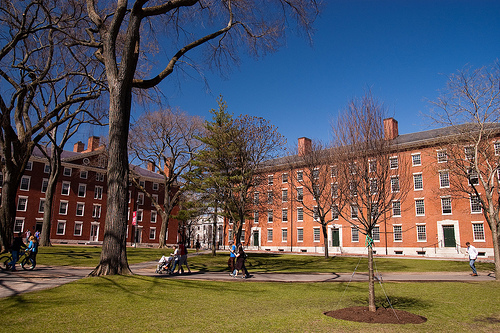 Preparing to release admission decisions at the end of this month, the Ivy League universities announced plans today to replace the traditional rejection letter with a punch directly to the gut of declined applicants. As a spokesperson for the elite eight-member consortium explained to reporters and families, "We have been sending conventional rejection letters for decades now, and the feedback we received is that the correspondence is too 'impersonal.' With a swift, underhanded blow to these losers' stomachs, we will finally be able to create the human connections that were missing before."
Comprised of the nation's most academically-selective universities, the Ivy League boasts an acceptance rate so low that the sheer volume of teens to be pummeled left many in the audience wondering how it could possibly be completed over the course of just a few days. As the spokesperson clarified, "We have instructed our team of Ivy Inflictors to first congratulate rejected applicants on their high school graduation before administering a single, brutal, targeted fist to the region just below the rib cage. This is an area of the body that, when struck forcefully, damages the core of a young person's self-confidence." When asked why the Ivy League universities decided to make this a sneak attack, the representative said, "Everyone loves a surprise."
The decision to toss out the standard college rejection letter in favor of this decidedly more personal and intimate approach was a "long time coming," explained the rep. "The Ivies are known for being the best, so anything less than the best, even for those we reject, was simply unacceptable. We did consider alternative methods of rejection. My personal favorite, for our rejected males, was to have an ex-girlfriend announce she's pregnant, and then say, "Just kidding! You got rejected from Harvard!" But then we got to the crux of the issue: the feeling of rejection. And we asked ourselves, 'How do we mimic that feeling you get when someone says you're not good enough, that visceral response like the wind has been taken out of you?' The only logical, sensible solution we could agree upon was to bash our rejects in the bowels."
Parents, preparing their canned you'll-be-happy-wherever-you-end-up speeches, expressed apprehension at the possibility of their child receiving more than one blow to the gut. One mother anxiously described her situation. "My son, Caden, stupidly applied to all eight Ivies, but he's got a C-minus grade point average and doesn't play any sports. What are our chances?" The spokesperson, first confirming that Caden was not a legacy kid, coolly replied, "To be perfectly honest, you should probably make an appointment with a gastroenterologist for later that day." Caden, seated next to his mother at the press conference, took this opportunity to stand up and voice his own opinion on the matter. "As an almost-confirmed rejected applicant, I take enormous pride in knowing that on one beautiful day of my life, I will have vicious physical contact with people representing all eight Ivy League institutions, a rare honor that no one can ever take away from me."
Author's Note: Congratulations to the high school graduating class of 2015! Wishing you a happy life. Please take a moment to read Frank Bruni's wonderful essays about college admissions. Here and here.
Calling all HuffPost superfans!
Sign up for membership to become a founding member and help shape HuffPost's next chapter