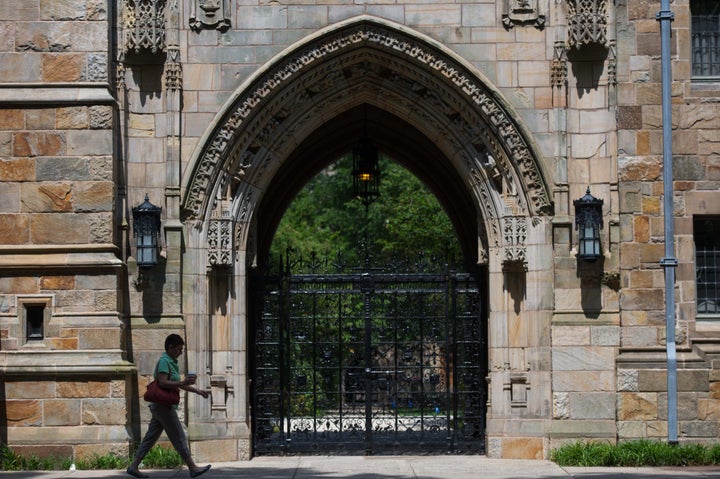 At first glance, Yale University doesn't seem like a school with much love for the current president.
When Donald Trump first issued his anti-Muslim travel ban in January, Yale's administration said it was alarmed by the move. When Trump announced the U.S. withdrawal from the Paris climate accord in June, Yale said it would do everything it could to combat global warming. And when Trump announced an end to the Deferred Action for Childhood Arrivals program in September, Yale's president told the student body how disappointed he was.
But you won't find Yale administrators at the vanguard of the resistance when it comes to Trump's labor policies.
Despite its liberal reputation, the Ivy League school has waged a bitter years-long fight to prevent its graduate students from joining a union, arguing that the students shouldn't be recognized as employees under federal law. Trump may have finally taken care of the university's big headache.
"They are absolutely counting on Donald Trump," said D. Taylor, president of Unite Here, the 270,000-member hospitality union leading the Yale graduate student organizing campaign. "Yale, like all these quote-unquote liberal Ivy League schools, is fighting [unionization] viciously. The hypocrisy is beyond belief."
Trump has already reshaped the federal agency that referees labor disputes so that it's more friendly to employers. His two picks for the National Labor Relations Board ― Republicans Marvin Kaplan, a former GOP Hill staffer, and William Emanuel, a former management-side lawyer ― have flipped the five-member board from liberal to conservative for the first time in years. The new board is expected to reverse current legal precedent and say that graduate students at Yale and other private schools are not eligible to join unions.
That would mark a significant blow to union organizing campaigns on college campuses around the country. Graduate students like Ruby Oram, a doctoral candidate at Loyola University Chicago, think their schools stand to benefit from Trump's presidency, even as the same schools criticize much of his agenda.
"I think it's disgusting," said Oram, who teaches in Loyola's history department. "Waiting for the law to change is unjust and really disappointing in a school that prides itself on social justice."
The legal question of whether graduate students who teach classes qualify as "employees" eligible to unionize has been a controversial one for decades. While many states have paved the way for collective bargaining at public universities, federal policy covering private schools has gone back and forth. Various iterations of the NLRB have ruled one way on the graduate student question, only to see their rulings reversed by a subsequent board of a different political makeup.
"Waiting for the law to change is unjust and really disappointing in a school that prides itself on social justice."
As it stands, New York University is the only private university where graduate students have a union contract. It appeared that would change last year when the then-Democratic majority on the NLRB ruled that graduate students at Columbia University were employees under the law. That decision led to a burst of union elections on college campuses ― some successful, some not.
But thanks to Trump's quick reshaping of the NLRB, the August 2016 precedent probably won't last long.
Labor lawyers expect that the newly conservative board will, sooner or later, take up the grad student issue once again. That would be a boon to elite schools that have been trying to stifle graduate student organizing, including the University of Pennsylvania, the University of Chicago and Cornell University.
In the end, those schools may not even need a ruling that reverses the current precedent ― merely the specter of one. Wilma Liebman, a former Democratic chairwoman of the NLRB, said a union organizing campaign facing a university challenge would now have to consider whether it wants a Republican board to rule on the dispute at all, given the danger that an adverse decision would set new precedent.
"These are strategic choices," Liebman said. "They have to weigh the very real possibility it will be reversed. I guess they might say to themselves, 'What do we gain by having a reversal of precedent?' Maybe [instead] they engage in pressure ― economic, political, whatever leverage they have ― on the university to move the ball along without risking a change in the law."
In 2000, Liebman was one of three NLRB members who first ruled that graduate students ― in that case, those at New York University ― had the right to form a union. In the U.S., collective bargaining rights are only afforded to those deemed employees under the law. The board reasoned the NYU students were employees because they performed work ― teaching undergraduate students ― in exchange for pay ― financial aid.
Then-board member Peter Hurtgen also ruled in the students' favor, even though he was a Republican sympathetic to the school administration's concerns. In a concurring opinion, Hurtgen clarified that he believed the NYU students were eligible to unionize because their teaching duties were not a necessary part of their education. Now in private legal practice, he said he wasn't surprised that the graduate student question still isn't settled 17 years later and may soon be litigated again.
"There's a strong ideological problem there that is not easily bridged," Hurtgen said. "That is, if these graduate teaching assistants are employees, then all the rights and trappings of the statute and collective bargaining would seem to follow them in their graduate program. The colleges and universities are wisely concerned that that poses a very difficult issue to deal with."
People go to graduate school to learn, although they also perform work there, including doing research for faculty members and teaching undergrads. Universities argue that collective bargaining by graduate students could disrupt their education and even infringe on academic freedom. But they rarely bring up their economic concerns with unionization, like having to pay larger stipends or improve students' health care plans.
Some schools have made a convincing case to their graduate students. Votes at both Harvard and Cornell earlier this year were too close to be conclusive, and Duke graduate students withdrew their union petition after a preliminary vote went strongly against it.
Ivy League schools in particular ― which conservatives often ridicule as hotbeds of radical liberalism ― have been at the center of higher education's fight against collective bargaining for grad students. In 2004, a conservative NLRB under President George W. Bush undid the NYU decision, ruling that graduate students at Brown University were not employees and therefore could not unionize. The Brown precedent prevailed until last year's ruling in the Columbia case, which reached the opposite conclusion.
Given the legal flip-flops at the labor board, many graduate student unionizing campaigns have gone on for years, decades even, waiting for an opening to hold an election. At Yale, the campaign stretches back to the 1990s. The graduate teaching assistants decided to file for an election after the board ruled against Columbia. They held a series of votes earlier this year.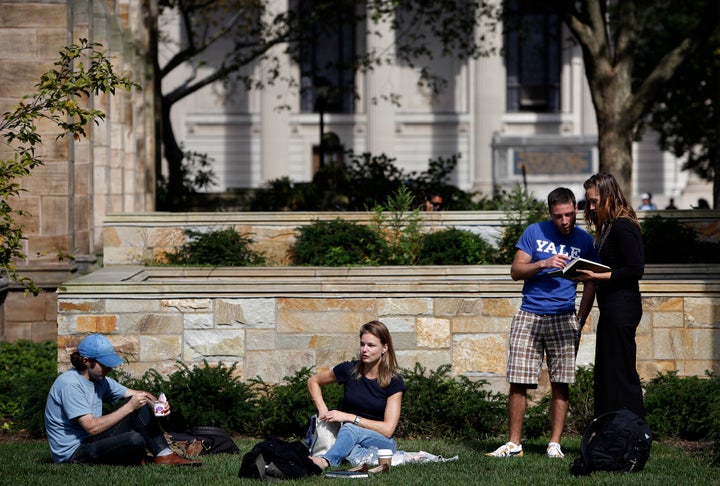 The union Unite Here won eight of nine elections held within individual academic departments at Yale in February. In addition to challenging the premise that graduate students are employees, Yale has appealed the election results on the grounds that Unite Here cherry-picked departments to obtain favorable results. The school has said it would prefer that all graduate students vote in a single election. Its appeal now sits before the NLRB.
In an email, Yale spokesman Tom Conroy said the departmental elections ― a format approved by an NLRB regional office ― "denied over 90% of Yale doctoral students the right to vote." He also charged that the union and its tactics "have not garnered strong support at Yale," noting that even the graduate student assembly objected to the department-by-department elections.
Conroy said the school has good relationships with its already unionized employees, including clerical workers, who are also represented by Unite Here. "But Yale and other universities consistently have believed that their graduate students who assist faculty with teaching as part of their education should not be considered employees under federal labor law," he said. "Over the course of six years at Yale, doctoral students' required teaching takes up less than one-sixth of their time."
Lena Eckert-Erdheim, who's pursuing a doctorate in history at Yale, helped in the organizing effort as she waited five years to cast her ballot. She wants a union for many of the same reasons that a nurse or factory worker would want one: consistent raises, better health care coverage and a grievance procedure, particularly as it relates to sexual harassment by faculty members.
Eckert-Erdheim said she's disappointed in the school's insistence that she is not an employee and that what she does is not technically work.
"When I teach, I get a paycheck. My taxes are withheld. I get a W2 like in any other job," she said. "I love teaching, but it is certainly work."
At other schools, the legal uncertainties created by Trump's election have brought a sense of urgency to union organizing. Last week, graduate students at the University of Chicago voted overwhelmingly to form a union, 1,103 to 479, leading to tears of joy from pro-union students. The school's administration had created a website with the sort of anti-union talking points typically crafted by consultants for corporate employers. Like Yale, the University of Chicago is challenging the election results on the grounds that the students are not employees.
At the University of Pennsylvania ― the Ivy League school Trump graduated from ― graduate students began rounding up signatures for support shortly after Trump won the presidency, in order to file for an election as quickly as possible.
"We talked about it as a race against the Trump clock," said Miranda Weinberg, a doctoral candidate in education at Penn. "We assumed that the university administration would use the Trump appointees on the board to try to take away the right of graduate workers to unionize."
"When I teach, I get a paycheck. My taxes are withheld. I get a W2 like in any other job."
The NLRB has not yet granted permission for an election at Penn. Even if it does, a broader, subsequent board ruling against graduate students could render the results irrelevant. But whatever happens afterward, Zachary Smith, a graduate student in Penn's political science department, said an election would finally make clear whether a majority of the graduate students want union representation ― and would force the school to either honor or disregard their will.
"We're always going to be reaching out to Penn to ask them to allow graduate workers to respect the results of the election and the bargaining unit as it's constituted," Smith said. "And we hope Penn will accept the results of the election. That's pretty much all we can say."
In a statement, Penn's administration said it was "extremely proud of our graduate students' accomplishments" but felt they were better off without collective bargaining. "At Penn, we view graduate students as students and our future colleagues rather than employees, and believe we can better support them without the intervention of a labor union," the school said.
Not all colleges have challenged the validity of graduate student unionizing. Tufts University said it was disappointed when an affiliate of the Service Employees International Union won an election there earlier this year. But the school has agreed to bargain with the grad student union rather than dispute its legitimacy. When grad students at Brandeis University voted in favor of a union in the spring, the school said it would begin negotiating immediately.
If more schools choose to honor union election results, it will become more difficult for Yale, Columbia, Penn, Chicago and others to hold out, particularly if their anti-union stances yoke them to Trump. Many pro-union graduate students vow to continue their campaigns for years if necessary, and they plan to function as unions regardless of whether their school recognizes them.
"I think the outcome of the election demonstrated very clearly to us ― and it should to the administration ― that Yale graduate employees want a union," Eckert-Erdheim said. "We really hope they won't continue relying on Donald Trump to avoid negotiating with us."
Popular in the Community