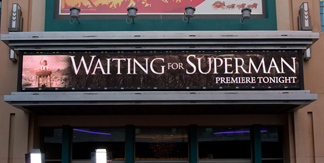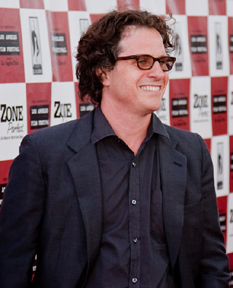 "Did anyone tell you this is a documentary?" said Academy-award winning director Davis Guggenheim in his welcome speech to an excited full house at the LA Film Festival. His comment was greeted with appreciative laughter. "You have to understand, films like this just don't get made. The funding isn't there," said Davis.
Thank goodness Jeff Skoll, Founder and Chairman of Participant Media, and Diane Weyermann, Executive Vice President of Documentary Production at Participant Media, funded this brilliant film. And then the news gets even better... on his way out to the Sundance Film Festival in January, Davis got a message on his iPhone that Paramount Pictures picked up the documentary. "It was really a miracle," said Davis in an interview with me. "Every kid has a dream, but our schools are failing them."
Waiting for "Superman" is the kind of film we need more of in Hollywood. I say this because it takes an important social issue (education) and educates all of us. It's really moving, and you'll end up crying. We all did. You get caught up in the lives of the kids the film is following. You'll be exposed to tragedies, but even more importantly, you'll be thrilled and encouraged by the successes and what is possible.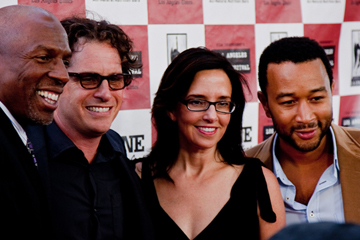 L to R: Geoffrey Canada (educator), Davis Guggenheim (director), Lesley Chilcott (producer), John Legend (title song)
We all know that our public education system is failing our kids, and that the vast bureaucracies set up originally to try to help are actually an impediment to making things better. Did you know for example that in New York, only 30 percent of eighth grade students are proficient in math? In Alabama, only 18 percent? Then add to this the high drop out rate. Here in Los Angeles, only half of public school students will graduate high school.
While it used to be common for failing schools to be blamed on failing neighborhoods, people are now waking up to the fact that it may be the other way around. Schools fail first, and then neighborhoods follow.
Waiting for "Superman" takes a look at the real issues going on inside public schools, the public school system, and the effect on children and their families -- and then shows what is possible through successful education programs initiated by inspired teachers and education reform leaders.
One outstanding program featured in the film is KIPP, a national network of free, open-enrollment, college-preparatory public schools dedicated to preparing students in under-served communities for success in college and in life. It was started by two teachers working in an under-served public school. They were inspired by a teacher who worked across the hall from them. She had figured out that her students could learn math best if she put certain math elements into a rap song. They adopted her innovation and opened up their own school based on the principle that good teachers don't necessarily teach from the text book, they teach from life. Sixteen years later there are 82 KIPP schools in 19 states and the District of Columbia, serving more than 21,000 students. KIPP students are proving that demographics do not determine destiny. "They don't just do better than other poor kids, they are doing better than everyone -- shattering the myth that poor kids can't learn," says Davis.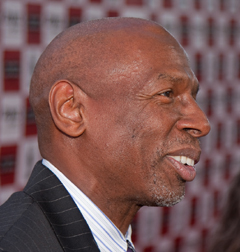 Geoffrey Canada, President and CEO of Harlem Children's Zone, agrees. "We know it's a lie that disadvantaged kids can't perform," he says. Geoffrey's pioneering project covers 100 blocks in Central Harlem combining educational, social and medical services for children beginning at birth and following them through to college. The work of Geoffrey Canada has become a national model for education reform.

I am a big fan of charter schools. If you are not familiar with these -- charter schools receive public funding, but are independently run. As Bill Gates points out in the film, "The top charter schools are sending 90 percent of their students to 4-year colleges." This is a big difference from the nationwide dropout factories, a nickname for high schools where no more than 60 percent of the students who start as freshman, make it to their senior year. Unfortunately, this description fits more than one in 10 high schools across America.
As Jonathan Alter, correspondent for Newsweek, pointed out in the film, "In today's world, if you don't go to college you are kind of screwed, and America is screwed too."
Waiting for "Superman" reminds us that while the problem is complex, the steps are simple. You can start by pledging to see the film. Click here for more information, or visit www.waitingforsuperman.com.

All photos by Lee Schneider

Calling all HuffPost superfans!
Sign up for membership to become a founding member and help shape HuffPost's next chapter