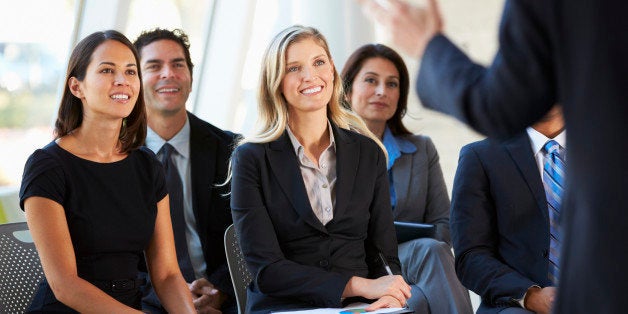 As an organization, NAMI-NYC Metro has always given people the tools they need to advocate for themselves and their loved ones to improve access to quality mental health care. However, we recognized that more needed to be done to alleviate the pressures of stigma and give people the tools required to advocate for changes in the system as a whole. That's why, in October of 2013, we launched the #IWillListen campaign.
With #IWillListen, people are given the opportunity to advocate for systemic change and end the discrimination of people with mental illness nationwide. They achieve this through the use of social media and initiatives on the ground, in communities, in colleges and universities, and in the workplace, where many adult Americans spend the majority of their waking day.
Although 1 in 4 of us, or more than 60 million American adults, experiences a mental health condition each year, it is often taboo to talk about mental illness in the workplace, forcing employees with mental health issues to hide their condition. This culture of secrecy prevents people from seeking treatment when they need it, resulting in presenteeism -- showing up at the job but not being maximally productive -- as well as absenteeism, which is not showing up at all.
For companies, the cost of stigma is high. Each year businesses lose between $80 billion and $100 billion in indirect costs associated with untreated mental health issues, according to The Partnership for Workplace Mental Health. If more companies were to accommodate employees with mental illness and encourage treatment, productivity -- and profits -- would soar. Luckily, executives across the country are wising up to this fact.
Two years ago, John Binns, a partner at Deloitte, feared that his two-month leave of absence from work due to depression would ultimately result in his termination. However, Binns was surprised that his supervisors and his colleagues at Deloitte offered support, assurance, and encouragement, which he credits to being "massively instrumental in speeding up [his] recovery."
After his positive experience, Binns created Mental Health Champions, a high-visibility program which selects and then trains senior executives to be available confidantes for employees seeking support and resources regarding their mental health and wellness. The campaign, which addressed the stigma of mental illness publicly and encouraged open dialogue in the workplace, inspired the creation of the Workplace Mental Health Summit in New York City, co-sponsored by NAMI-NYC Metro and the Northeast Business Group on Health (NEBGH).
Each quarter, we convene a group of 40 to 60 Fortune 100 companies, insurance plans, and other key stakeholders to meet and discuss workplace mental health issues and best practices in the U.S. and abroad. The employers set the agenda. Discussions have centered around improving access to quality mental health care and services, and eliminating the stigma of mental illness.
Twenty-five percent of adult Americans live with mental illness -- that's a big number. But an even larger number of Americans are affected by mental illness, because those 60 million people include individuals we love, befriend, and know at work. They may be our family members, our colleagues and co-workers, or ourselves. What is certain is that mental illness impacts us all.
That's why we are working to ensure that the #IWillListen campaign continues to grow and change the culture on college campuses, in places of work, and in our homes. We must encourage 4 in 4 Americans to break the culture of silence and alleviate the stigma of mental illness. If you're an employer or an employee, a student, a friend, or a relative, we encourage you to take our pledge today --

Will you listen?
Have a story about depression that you'd like to share? Email strongertogether@huffingtonpost.com, or give us a call at (860) 348-3376, and you can record your story in your own words. Please be sure to include your name and phone number.