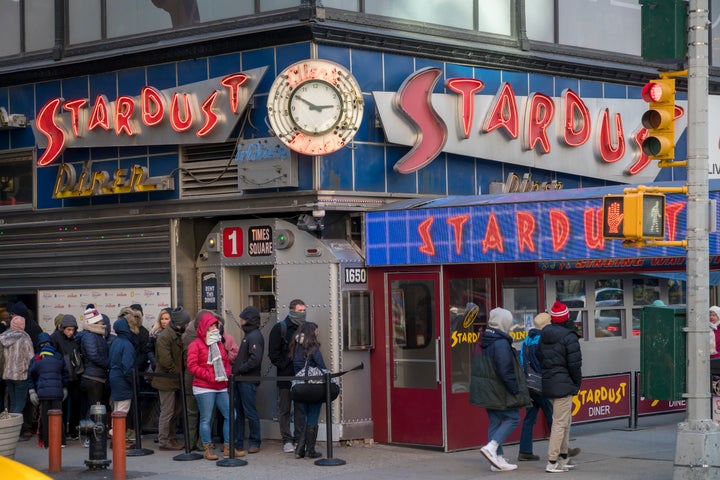 When Amanda Cestare started working at New York City's famous Ellen's Stardust Diner in 2008, she didn't know much about leftist politics or the labor movement.
Ten years later, she's helping to build a local chapter of the Industrial Workers of the World (IWW), one of the most radical unions in history. The group of 50 restaurant workers has found success through direct action, rather than taking the conventional route of trying to negotiate a contract with management.
Though small, the Stardust effort is one of several recent campaigns bringing fresh energy and ideas to the beleaguered labor movement as it tries to stage a comeback in the food and drink industry.
In the Portland, Oregon, area, dozens of fast-food workers earned groundbreaking union recognition this spring at two Burgerville stores, part of a larger campaign to organize all of the chain's 1,500 employees. Seventeen baristas at multiple locations for the Ithaca, New York-based Gimme! Coffee inked what's been hailed as a first-of-its-kind collective bargaining agreement at the beginning of this year. And in Brooklyn, a handful of servers just turned a strike against their former employer, House of Kava, into a new collectively-owned business venture.
Some of these efforts rely on support from groups like the Democratic Socialists of America or the IWW, rather than more traditional labor unions, and are drawing inspiration from the national Fight for $15 movement, which has helped raise worker pay across the country. And while they capitalize on the simmering unrest among young, politically-engaged workers, they also raise sticky questions about the utility of relatively small organizing efforts, and whether collective bargaining agreements should be a central goal.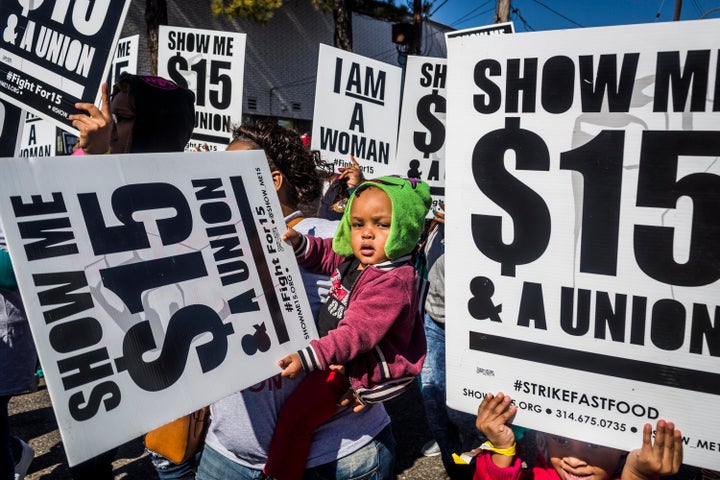 The effort at Ellen's Stardust Diner is illustrative of these trends. Tourists have long flocked to this venue for a unique dining experience, where waiters, often Broadway actors, perform showtunes between orders.
But in 2016, many servers were fuming beneath their show-biz exteriors. Longstanding mistreatment had worsened under new management, and Cestare said many employees were dealing with harassment and wage theft. Workers reached out to several unions for help, she said, but the IWW was the only one that promptly returned their calls.
The IWW occupies a special place in American labor history. Launched in 1905 at the end of the Gilded Age, the group aimed to replace capitalism with one big union, a "concentration of labor power to meet a concentration of ownership," Patrick Renshaw wrote in his 1967 book, "The Wobblies."
After membership peaked at 150,000 in 1917, government repression and group infighting helped reduce the union to a shadow of its former self by 1924. But the IWW clung to life over the next 90 years and has even had somewhat of a rebirth recently. It has 3,700 members as of 2016, or roughly double its 2008 level.
The IWW is in some ways an activist, leftist group as much as it as a union. It remains committed to the "abolition of the wage system" and invites workers to become dues-paying members regardless of whether the union has a foothold in their workplace. It identifies as a "class struggle union," one that eschews hierarchies or "dividing workers by skill or trade."
IWW offered the Stardust workers three mentors who could provide pointers on growing membership, identifying common grievances and taking collective action. Cestare, a waitress and actress, described the IWW's playbook as "agitate, educate, inoculate, organize, unionize."
"They really advocate that you go slowly and safely through those measures as opposed to acting very quickly in anger," she said.
At Stardust, that meant working for more than six months to get 50 of the restaurant's 100 employees on board. In July 2016, they went public as Stardust Family United, a new branch of the IWW. The Stardust workers have since won raises, reinstatement and back wages for fired workers, a functioning air conditioner, a new grill and a lactation room for new mothers, Cestare said. (Management of Ellen's Stardust Diner did not respond to a request for comment.)
But unlike most unionization drives, Stardust workers have not pursued formal employer recognition or tried to negotiate a union contract. The National Labor Relations Board oversees those processes, which can provide a level of security for a union and its members. It would also mean the union is subject to a government-mediated framework that generally restricts workers' right to strike and gives management sole authority over certain business matters. The IWW believes these constraints undercut worker power and prefers to avoid them ― though it does sometimes organize more formal unions as well.
This approach carries both greater risk and greater potential reward, said Jay Youngdahl, a labor attorney and visiting scholar at the CUNY School of Labor and Urban Studies.
"Without a binding collective bargaining agreement, a kind of daily democracy prevails," he said. "You have to be ready to fight every day, enhancing solidarity and militancy but leaving workers subject to greater daily employer pressure which can unduly influence the less engaged workers."
Cestare said she likes the strategy because "we don't have a separate entity bargaining for us" and "we can take direct action at any moment."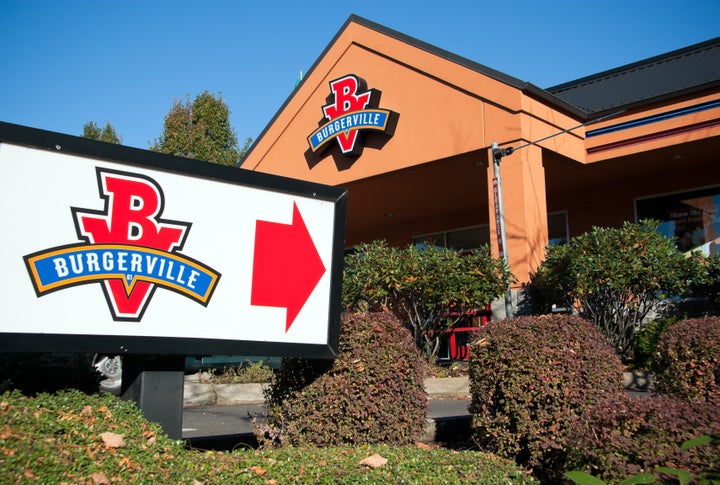 The Stardust diner campaign marks a bright spot for labor in an industry that often sees high turnover, widespread use of undocumented workers, thin profit margins and systemic disregard for labor law.
As of 2017, only 1.4 percent of workers in "food services and drinking places" were in unions, compared to 10.7 percent of the overall workforce, according to the Bureau of Labor Statistics. The organizing challenges have tended to be more acute with fast-food workers, in part because they are often employed by franchisers with limited control over business costs, and because of the public perception that fast-food jobs are meant to be temporary.
But the IWW sees an opening in this sector, too. In a campaign that more closely resembles conventional organizing tactics, IWW has been targeting Burgerville, a fast-food chain with 1,500 employees and 42 locations in the Portland area, with a unionization drive since April 2016.
The IWW ultimately petitioned for and won NLRB-sponsored elections to force the company to recognize the Burgerville Workers Union as the workers' exclusive bargaining agent at a Portland store in late April, and at another store in Gladstone, Oregon, three weeks later. Organizers claim they are the first employees of self-standing fast food stores in the United States to win union recognition ― at least in recent decades.
Members of the Burgerville Workers Union are still in the process of negotiating a contract, but have demanded a $5 raise, benefits for all employees and policies that offer more protection to immigrants, said Luis Brennan, an IWW member who is employed at another Burgerville location at the Portland International Airport. He has helped spearhead the chain-wide campaign, though workers at his store have not formally joined the Burgerville Workers Union at this point.
One tactic that has contributed to the campaign's success has been "salting," the practice of taking a job for the purpose of organizing a workplace. But Brennan said they still need to have buy-in from other staffers. "Because our union is based on the shop floor with our co-workers, nothing is going to happen if workers aren't ready to organize," he said.
Brennan was already an IWW member when he started working for Burgerville four years ago but said he didn't take the job with the strict intent of organizing. Other IWW members did, however, including a janitor who decided to take a second job at one of the now-unionized Burgerville locations both because he needed the money and because he "believed in the cause," Brennan said.
To press their demands, Burgerville workers have used strikes, social media campaigns and a boycott backed by faith organizations, community groups and a number of other unions. They decided to take the customary path of NLRB-supervised elections only after two years of pressure did not spur Burgerville to negotiate, Brennan said.
IWW-sponsored "worker committees" with plans to unionize have gone public in five other Burgerville locations, while a number of others are preparing to do the same. Brennan said 10 of 12 workers walked off the job during a shift at one of these locations in late August after they were told they couldn't wear buttons with political messages like "Black Lives Matter" or "Abolish ICE."
"That's the kind of thing that we can do, regardless of the legal status," Brennan said.
Burgerville management said by email that it "is and always has been pro-employee," and since the beginning of IWW's campaign, has "believed that every employee's voice needs to be respected and protected in determining whether they wish to be represented by a union."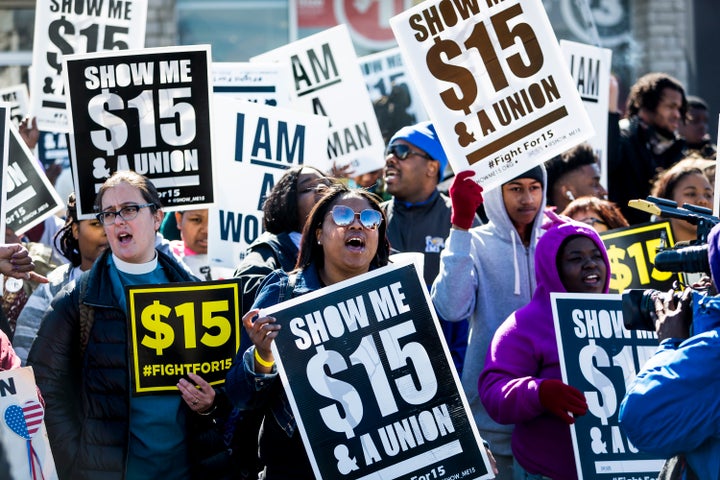 Brennan credits Fight for $15, the national living wage campaign that has helped win minimum-wage increases for many fast-food workers, with laying some of the groundwork for the Burgerville campaign. That campaign has helped foster a certain militancy among fast-food workers, not to mention more public sympathy for their plight, he said.
Brennan hopes the Burgerville campaign can show the movement and its sponsor, the 2 million-member Service Employees International Union (SEIU), that more can be done to achieve broad-scale union penetration in the fast-food industry.
"We saw an opportunity to take the next step for the movement," Brennan said.
So far, SEIU hasn't channelled Fight for $15 into an effort to formally unionize fast-food stores shop by shop. The union has instead focused on building a "critical mass" large enough to win representation for workers simultaneously across a broad swath of the industry, said Hector Figueroa, president of SEIU 32BJ, a New York City-based chapter with 163,000 members across the Northeast.
Figueroa argues that a shop-by-shop approach like the IWW's might leave a few, isolated union shops struggling to compete with non-union shops, which could potentially backfire for employees and sap the momentum of the fast-food workers' movement.
But the IWW, Brennan said, thinks the time has come to form self-sustaining "bases of power" in individual stores that can take independent action to wring concessions from employers.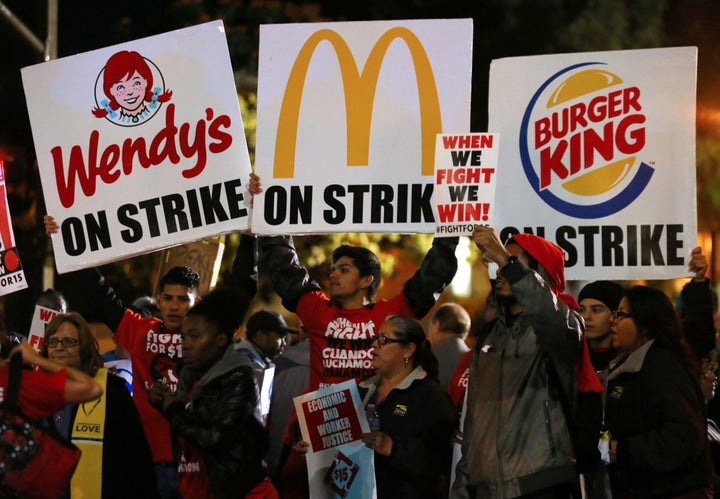 When evaluating the IWW's shop-by-shop approach against SEIU's more broad-based strategy, it's also worth considering that the Burgerville campaign may have benefited from the fact that the chain does not license independent franchisees to operate stores like McDonald's or Burger King. Burgerville owns all its stores and directly employs the people who work at them.
Franchised locations can be tougher to unionize because their semi-independent owners are squeezed from two sides: They must pay a hefty cut of their revenue to the franchisor while also operating according to the franchisor's strict business rules, said David Weil, who served as the head of the wage and hour division at the U.S. Department of Labor from April 2014 to January 2017.
That severely limits the ability of franchisees to control many of their costs, and worker pay is one of the few they can control. A union threatens that control, which makes franchisees "incredibly resistant" to unionization, Weil said. That leaves further room for doubt about whether the Burgerville shop-by-shop strategy can be scaled across the entire fast-food industry.
Brennan, the Burgerville employee, acknowledges that a union drive could put a franchisee that owns a single store between a rock and a hard place, but he said that franchisees that own large clusters of stores can certainly afford to pay more.
The IWW attempted to unionize workers at 10 Jimmy John's locations owned by a single franchisee in Minneapolis in 2010, but lost narrowly. Brennan thinks they might have a better chance if they tried today because of the groundwork Fight for $15 has laid around the country.
Millennials in particular are itching for a fight, he said ― a cohort "freshly pissed off" about their job prospects, as well as capitalism in general. His observation tracks with a recent Gallup poll that found Americans aged 18 to 29 have a more positive view of socialism than capitalism.
For these younger workers, efforts like the Burgerville campaign offer the "opportunity to feel powerful, and to feel like change possible, to hear their voice through a bullhorn," Brennan said in a recent panel discussion hosted by the Democratic Socialists of America (DSA).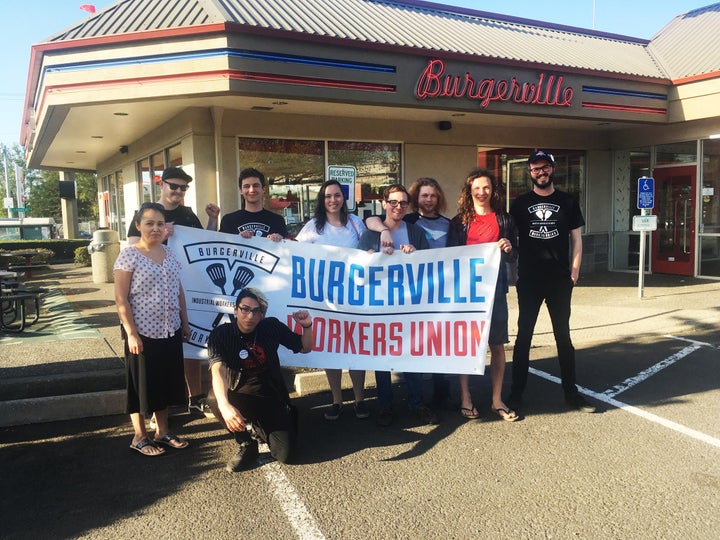 The DSA is another group increasingly involved in labor activism in the food and beverage sector. In the wake of Vermont Sen. Bernie Sanders' presidential run, the organization's membership has jumped from 6,000 in 2015 to nearly 50,000, and they're using that enthusiasm to force workplace change.
A recent revolt at a Brooklyn tearoom shows how the group can put muscle behind campaigns and embolden employees to take unusual risks.
In late June, five of the six servers at the Brooklyn tearoom House of Kava staged a DSA-backed walkout after management refused a meeting to discuss scheduling issues, said Kriss Marchena, one of the workers. House of Kava management disputed this account by email, saying it had agreed to meet with the strikers if they came to work, but that they chose to strike instead. The servers were ultimately fired.
DSA members, some of whom had been patrons at House of Kava, played a key role in manning the picket line and promoting a boycott of the teahouse, said Marchena, who has since joined DSA.
"DSA was pivotal in helping us come together and build our workers' identity," he added. "They were the ones that gave us the tools to build that identity in terms of making concrete statements and having the language necessary to express those ideas."
The community that formed around the dispute inspired the former workers to form their own co-operative popup kava bar. They've started out by hosting after-hour events in partnership with Caffeine Underground, a local coffee shop sympathetic to their cause, and hope to develop the project into a collectively-owned kava bar with its own space.
Workers who've participated in these struggles often find a new sense of purpose, with some even moving on to help with other organizing efforts.
That was the case with Korbin Richards, one of 17 baristas at four locations of the Ithaca, New York-based coffee chain Gimme! Coffee to win a union election last year. The workers negotiated a contract in February, and appear to be the only baristas directly employed by a coffee chain to have done so successfully in the U.S.
Now members of the local 2822 chapter of Workers United, the baristas received crucial backing from Tompkins County Workers' Center, a nonprofit that provides education, advocacy and organizing advice to non-unionized, low-wage workers.
The union drive gave Richards and her co-workers more pride in their work and a better understanding of class issues.
"There is a myth pedaled around that justifies low wages and no benefits at jobs like this," she said. "That's just not true, and is nothing but a tool to save the CEO profit."
Gimme! management did not respond to a request for comment.
All of these campaigns come at a time when Americans are more eager to join unions than they have been in at least four decades. Looking to help nourish this appetite, Richards, who has since left her barista job due to a disability, now advises other workers interested in organizing, while veterans of the Ellen's Stardust Diner campaign are helping unionize employees of other New York City restaurants, Cestare said.
Brennan said all of these efforts are creating a "culture of resistance on the job, and a culture of self-organization" ― a culture that is "going to be the foundation of rebuilding the labor movement."
Related
Popular in the Community