Though 42-year-old Mitchell recognized his same-sex attraction early in life, his adulthood was anything but open. After being told as a teen that his desires would send him to hell, Mitchell buried his feelings and allowed his fear to drive him into the ministry. He spent years preaching against homosexuality while trying to "pray the gay away" within himself. By his early 30s, Mitchell felt he was fully "healed" of his homosexuality.
He married a woman named Tiffany, a 20-year-old single mother of three, and the couple had two more children together. But two years into the marriage, Mitchell couldn't control his sexual desires. He began living on the down low, having a string of affairs with random men he met in public and online. Tiffany had no idea.
A few months after their fifth anniversary, Mitchell shocked Tiffany by telling her that he was gay. The two separated, but never legally divorced -- and Mitchell never confessed his numerous infidelities. Keeping this secret has become unbearable for Mitchell, who recently turned to life coach Iyanla Vanzant to help him sort through his decades-old pain, stand in his truth and unravel his web of lies, for the sake of his family.
Not long after their work began, Iyanla said it was clear that Mitchell could not see how his actions impacted everyone else in his life. To help, she gave the pastor a visual demonstration by having him draw the literal connections between his family members and the five men he had sex with during his marriage.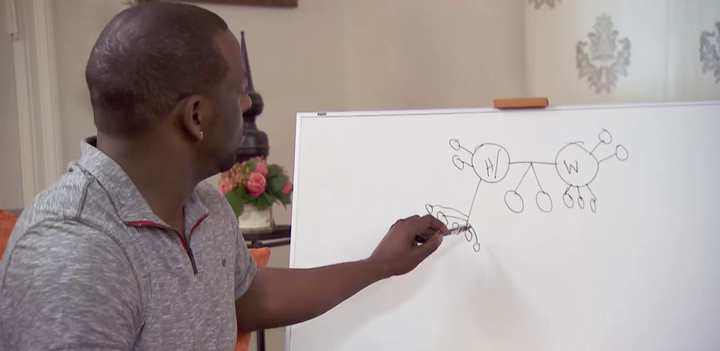 "So, you do get that those men are also now attached to your mother, your father, her mother, her father, the kids between you, her little kids," Iyanla said to Mitchell. "What got you there?"
"[I was] just at a point of, if I don't, I'm going to lose my sanity," he said, beginning to break down.
Recognizing these emotional scars, Iyanla gently told Mitchell to breathe through the pain. "That's the brokenness, right there, that would send you to strangers and then back to your wife and your babies," she told him.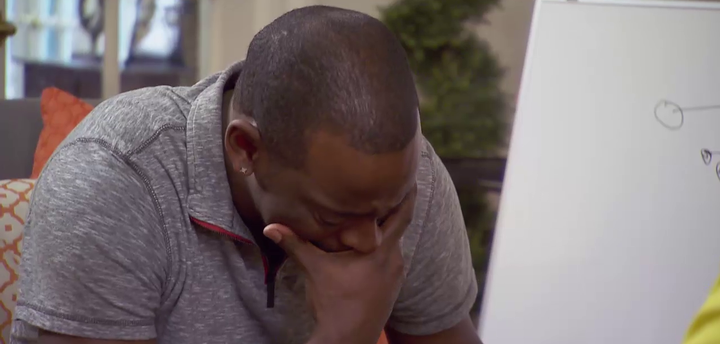 Though Mitchell took an important step by connecting those dots, Iyanla let him know that true healing couldn't take place until he faced the consequences for his deception -- and, she added, it wouldn't be an easy undertaking.
"It's going to be tough for you until you tell all the absolute truth," Iyanla said. "The reason I say that is because I really want you to be prepared to give your wife book, chapter and verse tomorrow. Book, chapter and verse. Because you've got to be clean between you and her; ya'll have got five babies to raise."
Mitchell comes clean to Tiffany about his affairs on Saturday's episode of "Iyanla: Fix My Life," airing at 9 p.m. ET on OWN. 
PHOTO GALLERY
Understated Celebrity Coming Out Stories
Calling all HuffPost superfans!
Sign up for membership to become a founding member and help shape HuffPost's next chapter