When Oprah surprised Iyanla with a total home makeover for her new house in Maryland, there was only one designer she had in mind for the project: Nate Berkus. He's completely transformed space after space over the years for countless clients, but he's never quite encountered someone like Iyanla before -- and that was never more clear than when the two got together to finalize the design plans.
Inside Iyanla's kitchen, Nate spreads out various design boards, fabrics and swatches for her approval. "This is kind of one family that we like," he says, gesturing to a light-blue-and-rust color combination.
Immediately, Iyanla snatches the solid blue swatch from the color family and removes it. "I'm not a 'blue' person," she says.
Nate is shocked, but manages to contain his surprise. The big problem, however, is that he has incorporated blue into many of his proposed designs. "Guess what? Iyanla doesn't like blue. Who knew? Had it all over my inspiration boards!" he says. "I like blue with rust. My design team likes blue with rust. Guess who doesn't like blue with rust? Iyanla Vanzant!"
As Nate and Iyanla look through the designs, she can't help but notice the offending color. "Nate. I see some blue," she says quietly.
"The blue's gone, don't worry," he tells her. "Take the blue away. We didn't know you didn't like blue."
Then, things get a little more complicated for the veteran designer. While flipping through several different fabrics, Iyanla stops dead in her tracks at a blue-and-cream pattern. She's in love. "Throw me on the floor and let me hoot," she says. "Love it."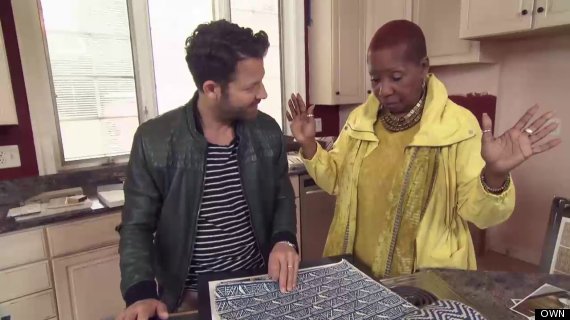 "But this is blue," Nate says, confused.
"Yeah, well," Iyanla says.
Trying to determine Iyanla's preferences and sense of style is challenging, but she certainly doesn't hold back when she sees something she likes. When Iyanla comes across another (non-blue) pattern, she shrieks. "There it is, Nate!" she says "Pow! Oh my God, OK, I can't take it."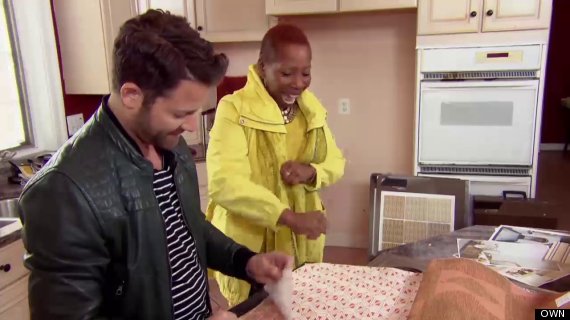 "Picture this in your living room as pillows on a white sofa," Nate says, holding the fabric.
"Picture me naked on this in the kitchen," Iyanla corrects him. "Picture that. Go ahead. Let your eyeballs fall out."
Her wild side is out and there's no holding it back. The "Iyanla: Fix My Life" host sees another pattern that makes her feel even more passionate. "This is the piece I would need to be naked in," she says.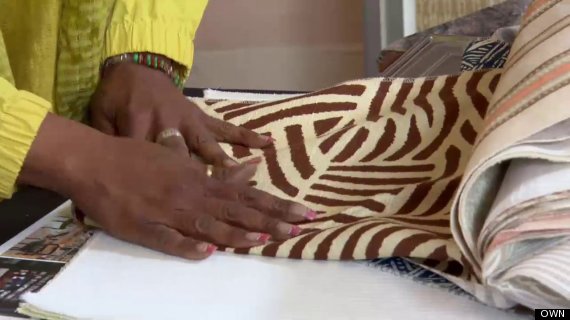 Without warning, Iyanla turns to Nate and licks his cheek. "Now I'm being licked," he says, laughing. "'Iyanla: Lick My Face' -- we have a new concept together... The side of Iyanla no one sees, here we are!"
To see how Nate's designs come together in the finished photos of Iyanla's surprise home makeover, pick up the January 2015 issue of O, The Oprah Magazine, on newsstands December 9.
BEFORE YOU GO
PHOTO GALLERY
Inside Nate Berkus' Office