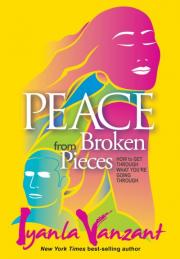 Iyanla Vanzant once stood in the bedroom of her then recently deceased daughter with a pink, pearl-handled pistol in one hand and prescription pills in the other; mulling over the decision as to the "best" way to finally end the pain.
Nevertheless, Iyanla Vanzant is still alive and has a testimony to share.
From leaving The Oprah Winfrey Show to the cancellation of her own television program; the downward spiral didn't crater with the death of her daughter at the age of 31 to a rare form of colon cancer -- on Christmas Day, no less. In an off-air conversation with me, Iyanla remarked, "watching them put my daughter in a box and throw dirt on her let me know I could deal with anything." The reality though was that things were to get far worse for far longer before they would get better. There was still an unexpected divorce (by way of email), loss of her house and tremendous trouble with the IRS still on the way. The fact that neither the pink, pearl-handled pistol nor the prescription pills won out is nothing short of amazing.
It's one thing to read the book of Job; it's another to live it.
Iyanla Vanzant is alive and sho 'nuff has a testimony to share.
In her new book, Peace from Broken Pieces: How to Get Through What You're Going Through, Vanzant displays the scars of her life with an authoritative honesty, in the hopes of helping someone who might travel a path similar to hers, hurting unceasingly and hoping for help seemingly never on its way.
Iyanla Vanzant is alive and well; today her testimony might bring tears to your eyes while also forcing you to question the depth and resolve of your own faith and relationship with the Lord. At the same time, she offers neither an excuse nor appeal for pity on her behalf. Iyanla in her book, tells the truth about the moments of her life leading up until now, from the death of her mother, being raped by her uncle and the pathologies set in motion by both.
Today in The Mo'Kelly Report, Iyanla and I discuss her journey from the elation of first stepping into Harpo Studios, to this moment in 2010 and the many life-changing moments in the intervening years, and why Eminem is presently her ringtone.
Click HERE for my audio interview with Iyanla Vanzant.
Morris W. O'Kelly (Mo'Kelly) is author of the syndicated entertainment and socio-political column The Mo'Kelly Report. For more Mo'Kelly, http://mrmokelly.com. Mo'Kelly can be reached at mrmokelly@gmail.com and he welcomes all commentary.
Calling all HuffPost superfans!
Sign up for membership to become a founding member and help shape HuffPost's next chapter