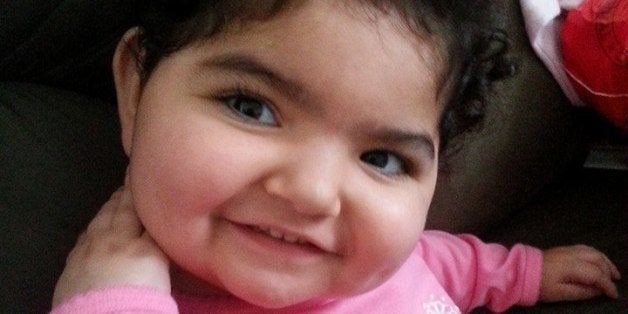 A Pembroke Pines girl who defied the odds by surviving a high-risk transplant surgery is once again surprising doctors with a will to live that even a rare inherited disease can't conquer.
A year after Izabella Neira became one of the youngest patients in the U.S. to receive a heart-lung transplant, her parents and medical specialists are increasingly optimistic the curly-haired girl with an irrepressible laugh and a new set of pink eyeglasses has a shot at a normal life.
"It has been fascinating to watch her development," said pediatric pulmonologist Pamela Schuler, who had been treating Izabella at Shands at the University of Florida. "I admit, I never thought it would be possible. It's a combination of excellent care, a persistent mom and a miracle."
PHOTO GALLERY
Izabella Neira
Mom is Krystina Lopez, who said that until her daughter, now 2, came home to join her twin less than 10 months ago, she did not know if Izabella was blind, deaf or had suffered brain damage during the year she was on a ventilator, fed through a tube and sedated.
"I hope to see her go to school, grow into a beautiful young child, get married," said Lopez, 26. "I want her to outlive me."
Fraternal twins Izabella and Jesubelle were born Dec. 7, 2011, in Memorial Hospital West in Pembroke Pines. They were three months premature.
Jesubelle was healthy, but Izabella was given a breathing tube immediately and days later moved to Memorial Regional Hospital in Hollywood. There she was eventually diagnosed with surfactant deficiency, an inherited disease that prevents the lungs from inflating properly.
Even as some medical specialists advised Lopez and the twins' father, Jesus Neira, to prepare for the worst, Izabella's determination to keep breathing inspired her parents to look for options.
In May 2012, Shands agreed to take on Izabella as their youngest candidate ever for double transplant surgery. At that point her name was added to the list of recipients kept by the United Network for Organ Sharing (UNOS), the nonprofit that manages a national organ sharing and matching system.
When a suitable donor was found, heart surgeon Mark Bleiweis headed the medical team that a year ago this month performed the five-hour operation.
"The odds were highly stacked against her," said Shands physician's assistant Cimaron Neel, who works with Bleiweis. "But she has such a loving family, and a strong will to survive that goes beyond what we normally see.
"When she got to her mother's arms, she started to become a person."
Developmentally Izabella is still an infant, awakening to the world. She is learning to crawl, sit up, and grasp objects. Although she still has a feeding tube, she is eating by mouth, and has said her first word -- "Mama," of course. "She is doing at two what an 8- or 9-month-old infant would be doing," said Lopez.
About the only drug she now takes are steroids, an anti-rejection regimen that makes her face puffy. "We call it chipmunk cheeks," said Lopez.
Her joyful disposition is evident. She bursts out in giggles when she watches the antics of her twin and older sister MiaKrystina, 3, and smiles often.
Izabella's medical issues and time in the hospital have prevented her from bonding with her twin, said Lopez. So Jesubelle and MiaKrystina, just nine months apart, have grown close.
Lopez, Neira and their three children relocated from Pembroke Pines to Gainesville to await the transplant call. Neira, a restaurant manager for Chili's, was granted a transfer from Coral Springs to Gainesville so he could continue working.
Izabella is still seen by Shands doctors. She goes in for twice-weekly physical and occupational therapy. A counselor from the Florida School for the Deaf & the Blind also comes to them weekly to help Izabella get used to her glasses.
The family hopes to move back to South Florida later this year, where many relatives, including Lopez's mother, Yaninna Pazmino of Miramar, have offered to help with child care.
"I am so proud of my daughter," said Pazmino, during a visit from Krystina and the kids this week. "She finds strength, and then helps others find it, too."
Lopez estimates the cost of her daughter's care has climbed into the "millions of dollars." Medicaid has paid most bills, she said.
When Izabella was born, doctors gave her a seven-month life expectancy, said Lopez. But fears of an early death have been surplanted by big dreams for the future.
"When the doctor recently told me, 'I expect this child to do great things,' I just started crying," said Lopez. "And these were tears of joy."
(c)2014 the Sun Sentinel (Fort Lauderdale, Fla.)
Distributed by MCT Information Services
REAL LIFE. REAL NEWS. REAL VOICES.
Help us tell more of the stories that matter from voices that too often remain unheard.