Colombia may not be known for reggaeton, but J Balvín wants to change that.
Balvín released his first album "Real" back in 2007, but it wasn't until his single "6 AM" featuring Puerto Rican artist Farruko hit the airwaves in 2013 that the singer began his steady climb on the charts, both in his native Colombia and the United States.
Now that the Colombian artist has reached new levels of success in South America, he told The Huffington Post he's excited to hit the international stage when he goes on tour with Enrique Iglesias and Pitbull in September.
Take a look below at what Balvín said about working with Ariana Grande, his new single "Ay Vamos" and why Colombians are ready to conquer the world.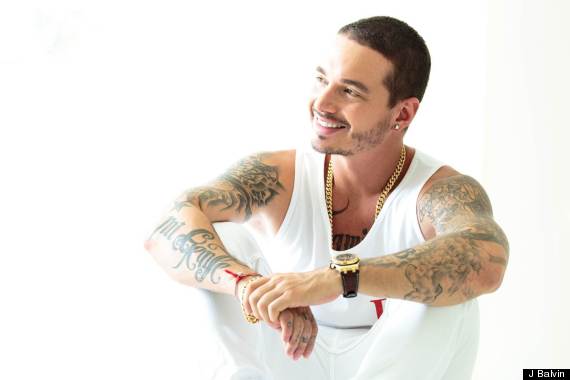 First you collaborated with Ariana on "The Way" and now you two have tackled "Problem." How did this all come about?
The collaboration on "The Way" was actually just the record label looking for new blood, a Latin Urban artist that wanted to contribute to the song and, well, it ended it up being me, thank God. But now with "Problem" it was really Ariana, who just liked how we sounded together and thankfully I have the opportunity to repeat [the experience] with "Problem." It's obviously a great opportunity for me, to keep growing in the Latin market and for audiences... to keep getting to know more about J Balvin.
Your single "6 AM" was a hit in Colombia and in the U.S. -- in fact, it's been at the No. 1 spot on Billboard's Latin Rhythm Airplay chart for two months. What's it been like to hear your song all over the world?
Well, it's really been a huge blessing because we didn't just make on the Latin American and Hispanic level, but we've reached different continents… [You can hear the song] in places like Istanbul, Dubai. Seeing that the music is growing and being played in different countries where Spanish isn't a familiar language, it's truly a dream, I don't know how to explain it.
When people talk about music from Colombia you often hear names like Shakira, Juanes, etc., and not much when it comes to urban artists. You're sort of a trailblazer in that sense, how does it feel?
It's always been my dream to be among the big names of Colombia. Obviously when they talk about Colombian music [they mention] Juanes, Shakira, Carlos Vives, Jorge Celedón and various other great artists from our country, but I always felt that there needed to be an urban pillar. There's vallenato, there's pop, there's rock but we need the urban part and thankfully we've been able to do it little by little. Obviously we're still in the process of growth, but there's been a clear vision for the public that there's good Urban music coming from Colombia for the world.
There's a lot of competition in the U.S. when it comes to reggaeton, you have big players straight from places like Puerto Rico and the Dominican Republic. How do you plan to set your music apart?
The fact that it's from Colombia already gives it a totally different flavor and freshens up the music market on a global level… [The music] comes with a different melody and we come with a hunger to conquer the world because the doors are just starting to open for us around the world.
It seems like you might be on your way. You just released a new single, "Ay Vamos," which has had a good amount of success in Colombia and is picking up steam in the U.S. Tell us more about this new song.
It's a single that even if you don't understand Spanish, the melody is going to come in through your veins and you won't be able to get it out of your head. If you're Latino and understand Spanish, well then it's a song with a theme that happens to 100 percent of the human race, regardless of your social condition much less sexual orientation, this song is for everyone and people identify with it easily.
It means so much to me because it's a gateway to a new level within music, it's a gateway to make myself known to different audiences and be in the most important venues in the United States and learn from the greats, because Enrique and Pitbull are both masters of Latin crossover music, and that is one of my dreams, to be like them.
Listen to "6 AM" above and "Ay Vamos" in the video below.
Calling all HuffPost superfans!
Sign up for membership to become a founding member and help shape HuffPost's next chapter
BEFORE YOU GO