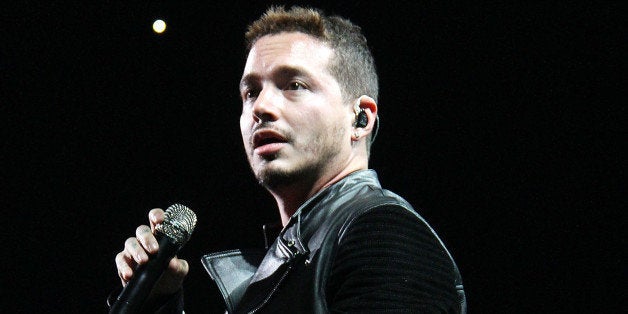 The Colombian reggaeton star has won over fans and the Latin Recording Academy with his morning-after anthem "6 AM," and he's not stopping there. Balvín, 29, who is currently opening for Enrique Iglesias and Pitbull on the "Sex and Love" tour, spoke to The Huffington Post after his Sept. 25 performance at Madison Square Garden about life on the road and his nominations.
Balvín finds himself far from his native Medellín, but in an earlier interview with HuffPost, the artist said he wanted to show what Colombia could offer the urban genre.
"It's always been my dream to be among the big names of Colombia," the singer told HuffPost in August. "Obviously when they talk about Colombian music [they mention] Juanes, Shakira, Carlos Vives, Jorge Celedón and various other great artists from our country, but I always felt that there needed to be an urban pillar. There's vallenato, there's pop, there's rock, but we need the urban part -- and thankfully we've been able to do it, little by little. Obviously we're still in the process of growth, but there's been a clear vision for the public that there's good urban music coming from Colombia for the world."
Now Balvín finds himself among some of those greats as a Latin Grammy nominee. Juanes and Carlos Vives will be representing the South American country at this year's awards, along with Fonseca, Don Tetto and Doctor Krápula. But Balvín will be the only Colombian artist in an urban category.
You were nominated for three Latin Grammys, congratulations. Tell me about how you found out.
Actually it was early, at 6 a.m., like the song. [laughs] They called us and I was just overcome by the beautiful feeling of being nominated. I've dreamt about this for many, many years -- I think since I decided to become an artist. It's one of my biggest dreams and, well, we'll have to see what happens. We're still working. That's what's important, to work and keep moving.
I was about to say, it's one of the biggest dreams an artist can have. So what's J Balvín's next big dream?
So many, there are so many dreams -- [like] filling the Madison Square Garden in a year or two. We're working so we can keep growing, so that people don't just talk about the music but also identify with our mentality of arduous hard work and discipline. In life you always have to keep fighting. It's not easy.
Right now you're on tour with Enrique Iglesias and Pitbull, but what artists would you like to collaborate with in the future? Someone who maybe inspired you as a child?
There are so many artists that have inspired me. Juan Luis Guerra, Juanes, Pitbull, Enrique -- I admire many things about every great artist.
Would you ever collaborate with someone in a drastically different genre?
Yeah, I have no problem jumping on any [project] as long as we do it right.
You've been on the road with Enrique and Pitbull for over two weeks now. What has the day-to-day been like with these two Latin music greats?
Incredible, incredible. They're both super humble, and that speaks to their greatness even more.
The 15th Annual Latin Grammy Awards will air November 20, 2014, on Univision.
Calling all HuffPost superfans!
Sign up for membership to become a founding member and help shape HuffPost's next chapter
BEFORE YOU GO