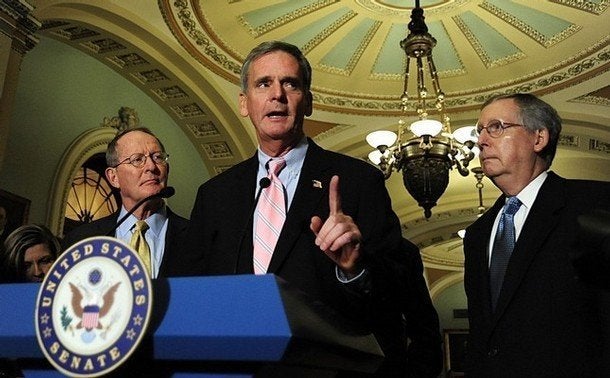 UPDATE 2/3: Democratic Gov. John Lynch has picked Republican Bonnie Newman to replace GOP Sen. Judd Gregg, President Barack Obama's nominee for commerce secretary.
Lynch's announcement Tuesday that the businesswoman and former government official would become senator came hours after Obama nominated Gregg to the commerce post. Gregg had indicated he would take the Cabinet job only if the balance of power in the Senate didn't change.
Lynch confirmed that Newman has agreed to serve only the remaining two years of Gregg's six-year Senate term. Gregg's departure should make the seat more competitive next year for Democrats.
While Newman is seen as a moderate choice, Wisconsin Senator Russ Feingold has issued a statement excoriating the agreement as "alarmingly undemocratic."
"But the apparent behind-the-scenes deal-making that went on to determine who will fill Senator Gregg's vacancy is alarmingly undemocratic. Once again, Americans will be represented in the Senate for nearly two years by someone they had no hand in electing. As the number of Senators appointed to their seats continues to rise, it's increasingly clear that we need to fix this constitutional anachronism. It is time to pass a constitutional amendment to end appointments by governors and the political gamesmanship they encourage."
Feingold makes no specific mention of Newman, suggesting that he is not hating the player so much as he hates the game.
The word on Newman is that she is highly competent and sufficiently experienced to replace Gregg in the Senate. From the Boston Globe:
Newman served as assistant secretary of Commerce for economic development in the Reagan administration. She was in charge of administrative operations for the George H.W. Bush White House.

She was chief of staff to Gregg when he was a congressman in the 1980s, and she was one of the first Republicans to publicly endorse Lynch in his 2004 challenge of then-Republican Governor Craig Benson, and co-chaired Republicans for Lynch.
As the AP reports, this is hardly the first time Newman has been called upon to fill a vacancy, serving as an interim president for the University of New Hampshire in 2006 and 2007 and, during the Reagan administration, leaving her Commerce Department job to head the New Hampshire Business and Industry Association. More from the AP:
New Hampshire Gov. John Lynch selected Newman on Tuesday for her most visible job yet: to replace Judd Gregg, the new commerce secretary nominee, in the U.S. Senate. If Gregg is confirmed, Newman would finish the last two years of his Senate term but has agreed not to run for the seat in 2010.

Though she's never held elective office, Newman has held leadership positions in government, higher education and the private sector. She was Gregg's chief of staff in the 1980s, oversaw administrative operations for the White House under George H.W. Bush, served as interim president of the University of New Hampshire and was executive dean at Harvard University's Kennedy School of Government.
Newman has also served as an executive dean at Harvard's John F. Kennedy School of Government.
Popular in the Community