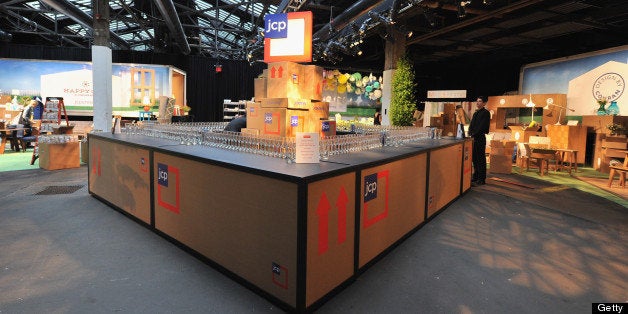 J.C. Penney's fully revamped home department, outfitted with gleaming displays of name-brand merchandise from Martha Stewart, Michael Graves, Bodum and more, was supposed to be a "pivotal" point in the department store chain's transformation. But insiders say J.C. Penney is still in a period of flux as chief executive officer Myron Ullman tweaks the strategies he inherited from his predecessor.
Warren Shoulberg, editorial director of several home furnishings publications for Sandow Media, wrote on the retail industry website The Robin Report on Tuesday that shoppers "should run, not walk, to the nearest Penney store to see the new home store." That's because Ullman will likely axe the department soon, Shoulberg said, predicting it will be a "train wreck on the bottom line."
"The lifespan of this Penney home department will be short ... very short," he wrote. "The home re-do will likely be a financial disaster, with shockingly horrible sales and profitability, even in the context of the store's performance over the past 18 months."
Credit Suisse analyst Michael Exstein agreed, saying that J.C. Penney's new home stores will hurt the ailing retailer, not help it. After store visits, he concluded that "the home launch may have actually added to the challenges in front of management, rather than serving as a catalyst for improved traffic and merchandise perception."
The home department re-design was the brainchild of former J.C. Penney CEO Ron Johnson, who was ousted after a tumultuous 17-month tenure that resulted in plummeting sales and the alienation of much of the company's customer base. Ullman, thus far, has decided to carry Johnson's vision for the home department to fruition by rolling out the design to stores across the country.
But a J.C. Penney executive who spoke to The Huffington Post on condition he not be named, fearing employer retaliation, said Johnson's strategy for the home store was fundamentally flawed, and changes could occur as early as the last week of July.
"Turns out the Johnson era of 'brand names sell' did not work," the executive said. "Customers don't care what brand of towels they buy, they want to see all the towels together by price."
A deal with Martha Stewart, one of the prized pieces of the new home department, remains in limbo. Macy's took J.C. Penney to court over its agreement to sell certain Martha Stewart products exclusively, accusing the rival department store chain of interfering with its contract. For now, a judge has allowed J.C. Penney to sell home goods under the "Everyday" private label, but it is not allowed to advertise the association with Stewart's brand.
According to the J.C. Penney executive, some members of Ullman's new management team are actually hoping the Martha Stewart deal falls through. One regional store environment manager recently said in a visit to stores, "Let's just hope we lose the lawsuit, then we can turn that space into something that will actually make us some money." Another regional manager told others to expect the Martha Stewart space to convert into a "dorm or holiday shop" once the stores "re-do the home department."
J.C. Penney did not respond to a request for comment for this article, but management changes are already evident within the home department. Paul Rutenis, senior vice president and general merchandise manager for the home division, has left the company, a spokesperson confirmed to Buzzfeed. He had been in charge of "re-energizing the home merchandise assortment" at the retailer.
Under Johnson, the new home department's launch was riddled with errors and inefficiencies that caused repeated delays, according to company insiders with knowledge of the situation.
"We were slated for a remodel in February, but it was announced it was canceled," a J.C. Penney associate who works in the window section of a home store told HuffPost. She complained about the lack of stock before the remodel, as empty shelves forced her to order "most items" online.
Such problems were foreseen by some employees early in the process, prompting them to jump ship.
"I left because I knew the construction of the home shops was going to be a mess," said a 14-year veteran supervisor at J.C. Penney who quit her job earlier this year. "Permits were not secured. The whole organization had lost credibility with me."
The new department's launch was postponed for weeks due to problems with construction. "As is typical with most construction projects, there have been ... construction delays in some of our stores," a J.C. Penney spokeswoman told Dow Jones at the time.
Though the company declined to explain the delays in detail, employees said the impediments were due to issues with contractors.
Contractors were initially hired to demolish old home departments and install "The Street" -- a 15-foot concrete aisle that will run through stores. But they weren't hired to begin installation on anything else, as many construction firms rejected the retailer's early bids. Complications with the contracts affected other parts of the company, forcing J.C. Penney to postpone the openings of new in-store Sephora shops that were slated for May and June.
Home goods have been the retailer's worst-performing category for the past seven years, according to CNBC, and Ullman has been put in the difficult situation of overseeing the tail end of the department's lengthy restructuring under his predecessor. Still, he knows that in the end, it's up to him to fix it.
"I'm responsible no matter what happens," he told CNBC in June. "That's what you sign up for."
Calling all HuffPost superfans!
Sign up for membership to become a founding member and help shape HuffPost's next chapter
BEFORE YOU GO
PHOTO GALLERY
Epic Product Fails