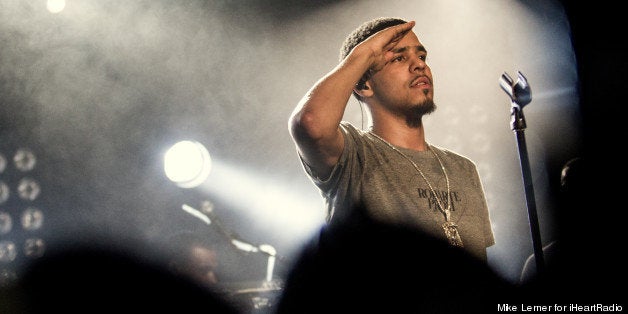 Like Drake before him and Kendrick Lamar sort-of after him, J. Cole's one of those rappers who doesn't pretend he's free of emotions. He's the dude who makes a song with TLC about feeling insecure about his looks ("Crooked Smile") and has an affable nice-guy air that's punctuated by moments of impressive aggression ("Looking for Trouble").
But niceties aside, Cole's feeling pretty good about himself.
"I feel like I've done a lot for hip-hop, in terms of where it is right now and where it's going," he says backstage before his show at New York's iHeartRadio Theater. "I still have a lot to do, I'm not satisfied, but everyone helps the next."
That sort of confidence, the type that emboldens a rapper prepping the release of his second studio album to place himself on a Kanye-Jay-Nas-Pac-Biggie level, and say he changed the recording industry's "business model" as Cole has in other interviews, is attractive if you're in the crowd that has placed Cole on a pedestal as some sort of Real Rap messiah. It also underscores his claim that today's crop of young rappers will never carry the torch if they're afraid of being burned by the legends that came before them. There's definitely an argument to be had in that direction: Cole is certainly one of hip-hop's best storytellers, twisting his words upon one another with a clarity pierces the din of today's trap/party rap, (yep, like Jay) and he does it over beats that he produces all by himself (yep, like Kanye). But it seems like lately, no one -- not even hip-hop's bloggerati -- is as impressed with Cole as Jermaine Lamarr Cole himself.
He may be in on it, too. Cole opens "Born Sinner," his forthcoming album, with the line, "Sometimes I brag like Hov," and he moved the record's release date up a week to go head-to-head with Kanye West's "Yeezus" on June 18. Ask Cole when he became self-assured enough to feel comfortable publicly voicing comparisons to rap's titans, and he'll say it wasn't until the past few months, "when I finally finished up the album and realized what I had."
"A year ago, I might have played some of the same songs for people and they'd be like, 'Yo this is fucking incredible,' and I'd be like, 'Well, thank you,' but I was so focused on the album that I couldn't really appreciate what they were saying," he explains. "But when I was finishing the album, I got to hear it like a fan would, and I was like 'Holy shit.' And that's what gave me the confidence that I can hang. I always knew I could, but it's like, 'Here's the fucking proof.'"
The body of work that Cole's holding up as "proof" was first shared with fans and critics at a series of digital listening parties, which took place at certain coordinates across the country that were tapped for eager consumers to stream "Born Sinner" on their iPhones. The album leaked shortly thereafter, allowing for extending listening. "Born Sinner" certainly sparkles, but it's perhaps as notable for what it's missing as much as what it offers. It features TLC, James Fauntelroy, Amber Coffman, Kendrick Lamar and Miguel (all of whom sing), and not a verse from Jay-Z, Cole's rap godfather and label head.
There's a healthy, if tired, amount of skepticism about Jay-Z and Cole's relationship online, in part because they seldom appear together and because Cole says he was floundering while making "Cole World," his 2011 studio debut under Jay's Roc Nation imprint. (For what it's worth, Cole's not the only one -- Jay Electronica has yet to release an album, Rita Ora hasn't really exploded in the states and no one else on the label has made much of an impact.)
This time, it's different. "You're really going to be able to tell how I think," Cole promises of "Born Sinner." "I was listening to a lot of my earlier stuff, even my mixtapes, and you can hear my comfort level. I was only this comfortable at 'The Warm Up.' The rest of it was trying to find the comfort of being a 'signed rapper.'"
What, then, is the point he's trying to get across with this rediscovered voice? "I can say it, but I don't want to give away too much," Cole demurs. "It's not like it's a big secret, but I want people to hear it and take from it what they want. I guess it's about balance -- the struggle to keep your balance, as a human being period. And not just as a rapper -- I'm telling a story from a rapper's standpoint, because that's where I've been, but I think this story, of losing your balance, can happen to anybody in any walk of life. I guess that's the theme, but there are a lot of different threads."
There are certainly sterling fibers that weave through "Born Sinner," especially when Cole plays meta-critic and blasts both urban (XXL) and indie magazines (The Fader) for not giving him the love he thinks he deserves. There's also "Let Nas Down," an intriguing bit of inside baseball that retells the story of Cole being told that Nas hated "Work Out," Cole's most radio-friendly and least critically appreciated single. It's this song that perhaps best captures both Cole's willingness to reveal emotions that other performers would deny until death ("apologies to the OG's for sacrificin' my art") and his flashy bravado ("You made 'You Owe Me' dog, I thought you could relate," a reference to Nas' much derided 2000 song, a radio play that saw the venerable rapper telling women he expected sex in return for jewelry).
Unfortunately, though, Cole disappoints with moments that belie an immaturity that at once aligns him with the Jay-Z and Kanye West of a decade ago and distances him from his idol's current states. On the album's lead track, "Villuminati," Cole tries to dance around the word "faggot" in a way that's at once provocative and responsible. Here's the result, which ends up being neither:
"My verbal AK slay faggots

And I don't mean no disrespect whenever I say "faggot," OK, faggot?

Don't be so sensitive

If you want to get fucked in the ass

That's between you and whoever else's dick it is

Pause, maybe that line was too far

Just a little joke to show how homophobic you are

And who can blame ya?"
Using an anti-gay slur for impact and trying to divorce it from its definition is a fumble made more jarring by the artist that Cole identifies as someone he admires. "Look at Macklemore," Cole says. "He has ['Thrift Shop'], the No. 1 song in the country, and there are kids who don't even listen to rap who live by him. So as much as people hate, he's opening the door for someone like me to come back on the Billboard charts with 'Crooked Smile.'" Macklemore also has pro-gay marriage anthem called "Same Love." (After hearing "Villuminati," we asked Cole for comment. In a statement sent exclusively to HuffPost, Cole said the following: "There will soon come a day when people in general, and rap artists specifically, are going to have to answer for their past usage of the word 'faggot,' much like the Grandfathers who are ashamed that they used the word 'nigger' as kids. At a time when public acceptance of gay rights is soaring (rightfully), hip-hop culture and general are still battling with homophobia (not excluding myself). Rather than run from it I chose to attack it playfully. Those lyrics are meant to make everyone uncomfortable for the sake of this very conversation.")
Backstage at iHeartRadio, it's time to go. Given Cole's level of confidence, it seems fitting that he be his own judge, so I ask the 28-year-old to think back across his own catalog and identify his three favorite verses. "Ooh, that's hard," he exclaims. "'Villematic,' just all the way through, 'Looking for Trouble' and 'Too Deep for the Intro,' first or second verse."
"Villematic" is a mixtape cut that features Cole rapping over the beat to West's "Devil in a New Dress," "Looking for Trouble" is a song West produced, raps on and released. "Too Deep for Intro," though, is Cole's own.
Before You Go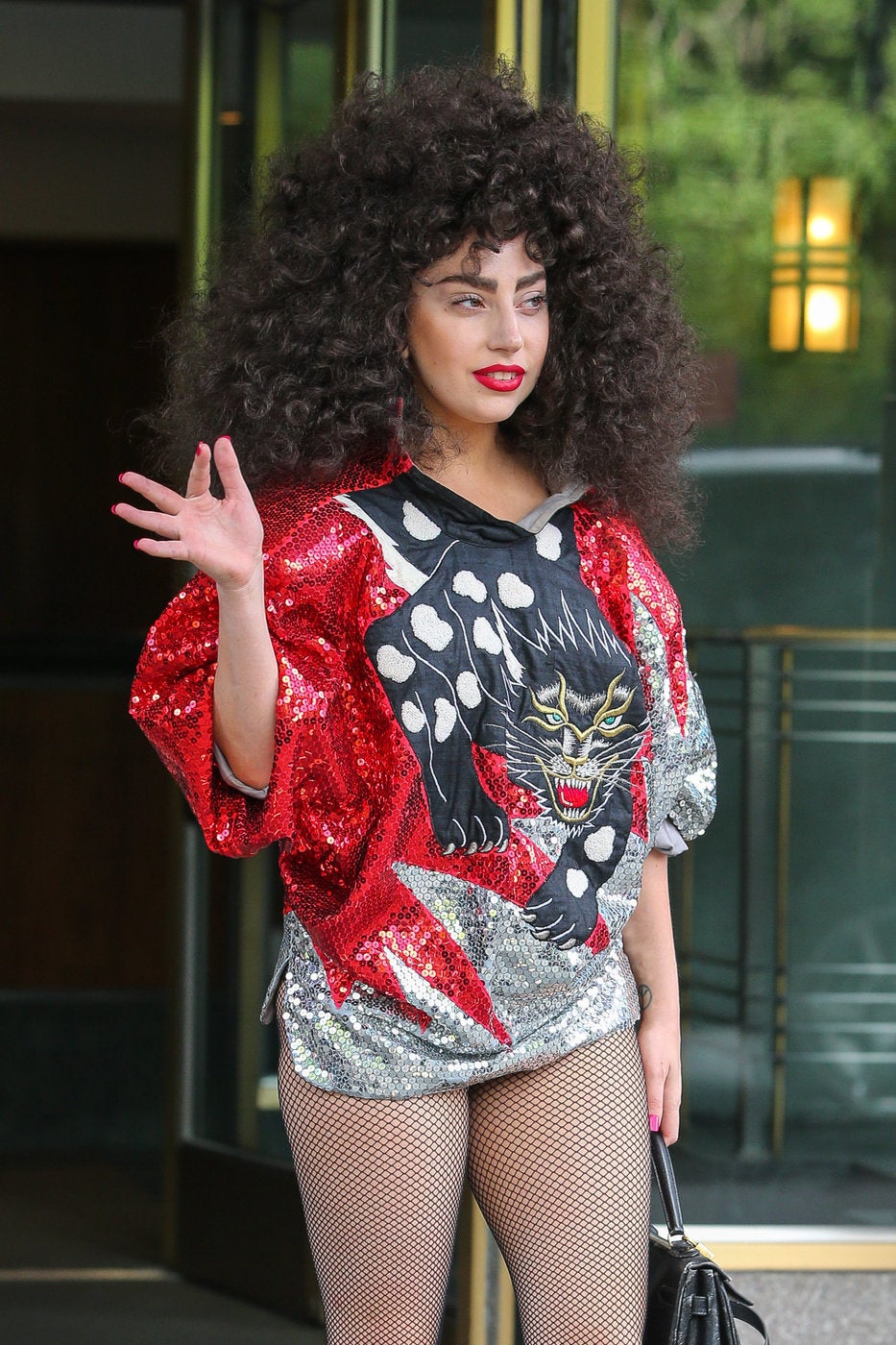 Celebrity News & Photos
Popular in the Community