There are some shirts so classic and timeless, they become staples in just about everyone's wardrobe. The J. Crew Gingham print button down is one of those shirts. Guys either have one or want one --and we all know someone who has worn one.
Need proof? You'll find it on this clever Instagram account, aptly called "thatjcrewginghamshirt." We chatted with the brains behind the sartorial operation Jonathan San about how he came up with the idea, why he thinks the shirt is so popular and of course, if he has one of his own.
So, do you own the shirt? If so, in what color?
Yep, in navy. Navy blue gingham is patient zero in my book.
How did you come up with the idea?
I probably first noticed how ubiquitous the shirt was last year. I remember going to a movie with one of my friends and we both ended up wearing that J. Crew gingham shirt. From then on, I started seeing that same shirt everywhere just walking around New York City. Then a few weeks ago I was watching "The Internship" and I saw Owen Wilson wearing it, and I was like "that shirt"! I saw someone wearing it in line at Pret A Manger the next day and knew that I had to make an Instagram.
Mostly because I see it everywhere and 90% of my friends own it. Honestly, when I walk around I see people wearing the shirt and those who are not. It's like seeing the world in black and white, except it's gingham and not-gingham. And if you don't own that J. Crew gingham shirt you're either lying or just seriously out of the loop. Go buy it.
Why do you think so many guys have it?
I would go with it being a "safe choice." Your dad can wear it, your taxi driver -- I recently was in a taxi with a driver wearing it -- can wear it, your boyfriend can wear it. It's the bacon of men's shirts, and who doesn't like bacon? Also, vegans and vegetarians are totally allowed to wear this shirt.
Where do you find most people wearing it?
I've seen them all just walking around New York -- I see at least one a day. Now a lot of my friends will see one and take a photo and text it to me. It's hilarious. I've seen I think three in one night, that might be the record so far, although now some people are tagging me in their own photos. I recently was tagged in one photo of a girl wearing it, which is the first. The first GingGirl...we're breaking through the glass ceiling for sure.
Has anyone ever confronted you about taking their photo? Have you had any issues?
Nobody's ever confronted me. I don't think anyone's ever noticed. You'd be surprised how close you can get to someone and take their photo and they have no idea. Plus it's all in good fun.. and everyone looks good in that shirt.
Head here to follow the LOL-worthy Instagram.
Related
Before You Go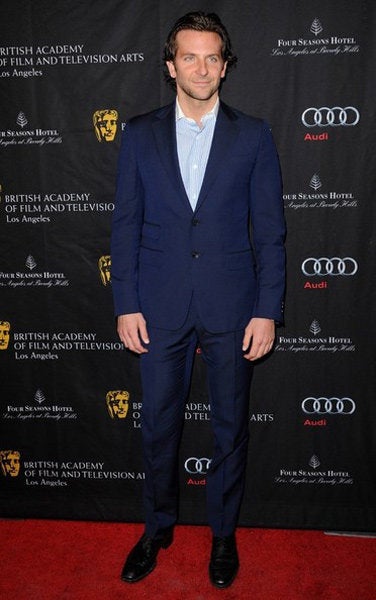 Stylish Male Celebs