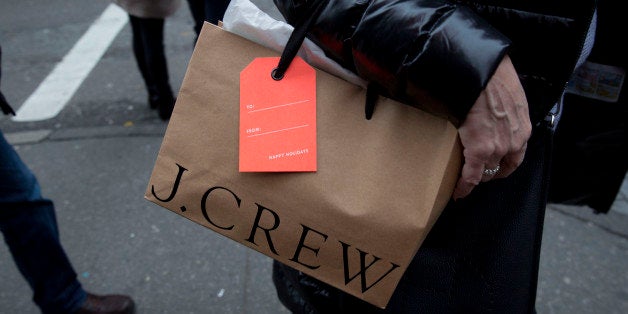 UPDATE: Women's Wear Daily reported Tuesday on comments made by J.Crew CEO Mickey Drexler that the company would have "more friendly" prices in 2014. And of course, we all rejoiced. However, it turns out this is not exactly the case.
A representative at J. Crew clarified Drexler's remarks to The Huffington Post, stating that the retailer will not in fact be lowering their prices. The goal, however, is "simply maintaining a balance of pricing across the board and better communicating to our customers what we have and why it is worth the price it is."
Great news for all you J. Crew lovers: Come this spring, you might actually be able to afford to shop there.
The brand, which has evolved into a mecca of designer-level clothing for the masses over the past two years, has certainly made its impression on consumers, both in stores and online. One of the most noticeable changes, however, has been the jump in price. These days, you are pressed to find something (that is not on sale) for less than $50.
In an effort to maintain its relationship with the masses as well as create a middle ground for shoppers, the company is moving in another new direction -- downward. In fact, from the sounds of CEO Mickey Drexler's speech at The New School Tuesday night, warmer temperatures are not the only thing we have to look forward to come spring. According to the report in Women's Wear Daily, we can expect more reasonable price tags on the racks at J. Crew as well.
"For spring, you'll see our prices much more friendly this year," said Drexler. "We can't compete with designers. Our Madison Avenue and 66th Street Collection store does an enormous amount of business."

A selection of items from Collection, a higher-priced line using more luxurious fabrics, will still be available in select J. Crew stores. It's the "middle of the road" merchandise that will come down in price in some cases.
Perhaps they were persuaded to drop prices by customer complaints. Or maybe they caught wind of these hilarious price adjustment suggestions. Either way, this is great news for consumers who want that J. Crew quality on a budget and even better news for the company, which will likely benefit from appealing to an even broader audience than it already does.
We've reached out to J. Crew for more details on the change. In the meantime, if there was only a way to look as good as FLOTUS every time we stepped out in one of their designs...
The woman behind J. Crew's style evolution: