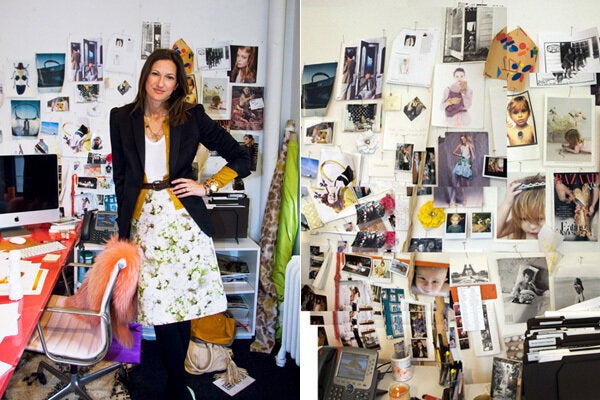 Meet Jenna Lyons, the creative director of J. Crew, the face behind "Jenna's Picks," and the resident visionary responsible for catapulting the retailer into a realm of success never seen by the likes of most brands. From her wall of inspirations, notes and cards from luminaries in the art and fashion worlds, countless magazines and books, photographs of her son coupled with handmade art from her husband, and samples for upcoming J. Crew designer collaborations, I got an inside look at Jenna's workspace from both a personal and professional standpoint. It's no wonder that the retailer, with 207 stores nationwide and a thriving e-commerce component, still continues to do swimmingly well amidst the current economic climate (it also doesn't hurt that Michelle Obama is a fan). See below for a look into Jenna's office and learn what's inspiring her right now.
Photos by Brandon Perlman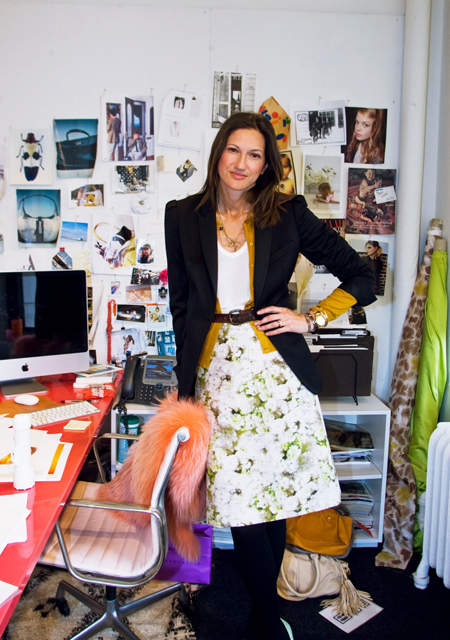 Rachel Strugatz: What are you wearing?
Jenna Lyons: The t-shirt is Alexander Wang, the cardigan is J. Crew, the blazer is Burberry, the belt is vintage, the skirt is Giambattista Valli, and the tights and shoes are both J. Crew. I'm also wearing a vintage Rolex from J. Crew and studded bangles by Philip Crangi.
RS: Describe your personal style.
JL: There is always something borrowed from the boys and something borrowed from grandma. There is always some sort of tailoring and a more structured element, and then a piece that I might have found in my grandma's attic. I like to pair something a little too sweet and sugary with something more tailored.
RS: What are your J. Crew must-haves for the summer?
JL: The things I am obsessed with for summer definitely include big earrings, especially for summer nights. The Stripe Cotton Popover is my favorite little shirt -- I love it! And if you don't already own a pair of skinny jeans, you must get the "toothpick" jean in dark denim. You need some pair of gladiator sandals, and the studded ones happen to be my favorite. The Garden Dress is a beach cover-up and it has all these little cut-out flowers -- it's really cute and it's a bargain.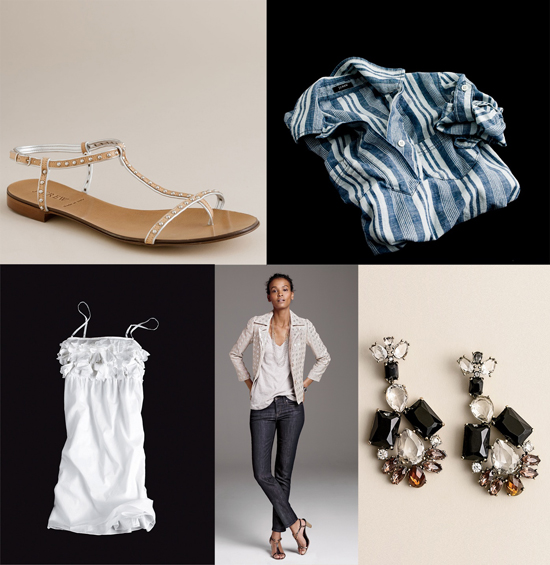 RS: What's inspiring you right now?
JL: Anything and everything -- from artists, art, magazines, photography, to people in the street and traveling -- really anything and everything. I have been doing a lot work on the Miami store and I have been reading a lot about Ilse Crawford because we're trying to find ways to do interesting things with lighting. We are looking at some of his work and it's been really inspiring. We have this interesting scenario with the store in Miami that we can really utilize the light and Ilse Crawford is a great source of interior inspiration.
Five Things About Jenna...
1. She has been collecting Vogue for 25 years. Her first Vogue was the August 1984 issue with Isabella Rossellini in the cover.
2. She is obsessed with The Kills after recently seeing them in concert.
3. Alexa Chung is her new inspiration for future shoots because she loves her style and her hair.
4. Her favorite reads are The New Yorker and Monocle.
5. She only wears high heels.


On Jenna's Desk...
Hand-Painted Note from Isabel and Ruben Toledo -- "This is the nicest note I have ever gotten. Ruben painted the front and Isabel wrote on the back. She told me it was nice to be a part of the inauguration with me, although we never even met."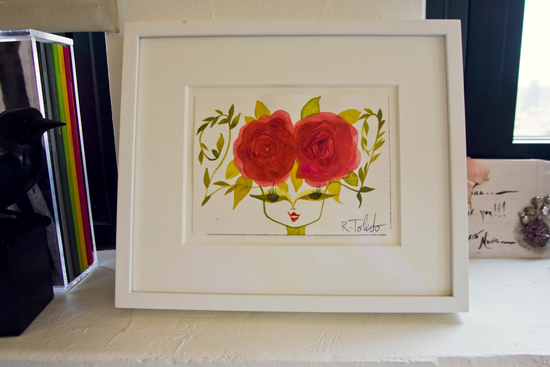 Pink Desk -- "It's embarrassing. You know why I chose this color desk? Because they had it displayed and I sat down and my husband took a picture of me while I was sitting at the desk and I looked at it and I was like 'I look great!' The pink was reflecting on my face and I said, 'I'll take it!'"
Crown of Js -- "I got this 'Crown of Js' last year from the team for my birthday."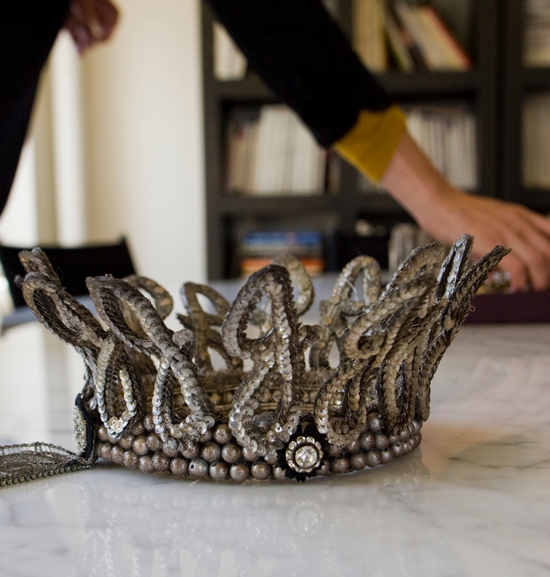 July Issue of Allure Magazine -- "Here's our swimsuit on Fergie [on the cover]. Look at how hot she looks! She makes that seersucker suit look insane. I am totally blown away by her. I love her and I love that she's totally fit and looks amazing."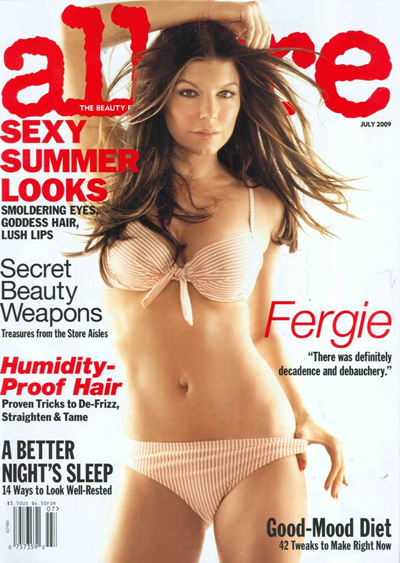 Vintage Polaroid SX70 -- "It was a gift for our CEO Mickey. His daughter got him this camera. It's here because we want to see if my husband can figure out how to work it properly. Also, we collect Polaroid film since you can't buy it anymore."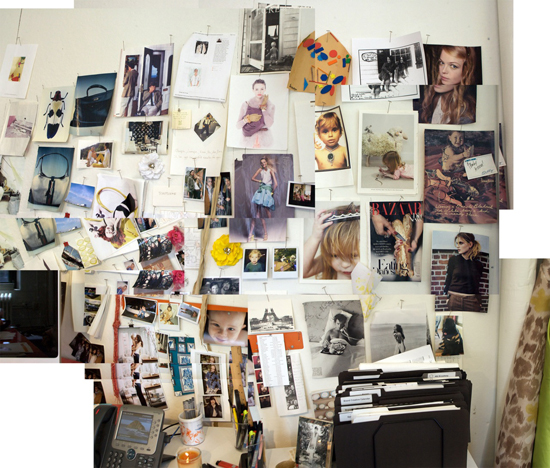 Photograph of 2-and-a-1/2 Year-Old Son Beckett -- "He's the best thing ever. This is him running down the street bringing me flowers. He stole them from the deli. He's really good friends with the people who work at the corner deli. They are always giving him free stuff. My child is like the mayor of our neighborhood. I kid you not, he is running down the street because he knows he's being bad. We have a rule that 'you are only allowed to smell the flowers, we don't touch,' but every once in a while he breaks the rules."
Turpan Flashlight -- "These are from a company called Turpan. We're buying them custom-made for our store in the Hamptons."
Sample of J. Crew's "Toothpick" Jeans -- "This is a sample of jeans that I just got. I get samples all the time, stuff to try, and just sort of see. I'm the fit model for talls, so if they want to try something for talls I get them. They are the 'toothpick.' They are totally skinny and sexy."
Red and Beige Plaid Shirt -- "It's a sample from Crew Cuts. I love the shirt and it got dropped so it's on my desk to remind me to try and get it back in the line."
Wrapping From a Gift from Tom Sachs -- "Tom Sachs has his own branded tape and he wrote a message on it to make sure I wouldn't miss it. I cut it and opened it up and I just liked the wrapping."
Mix CDs -- "My team made me CDs. They are all personalized and they are awesome. They are so fun because you hear their personalities through the CDs that they made. This is where I learned about The Kills and I'm totally obsessed. We went to see them out in Brooklyn."
Vintage Jewelry by Miriam Haskell -- "The quality and workmanship is so amazing. It's crazy -- her stuff is all one-of-a kind pieces. She almost never made two things that are the same. We're actually working with a person who reworks jewelry to make it feel a little more modern."
Casted Epoxy Mini Garbage Bag Sculpture -- "This is one of my husband's artworks. It's a little garbage bag and it just says 'I love you, Blue' because he calls me blue."
Photograph of Steven Klein's Great Danes -- "He has Great Danes, but my husband used to work with him so he would shoot his dogs for me because I love them so much."
Linesheets of Quoddy Moccasins -- "All these moccasins from Quoddy are amazing. Wait until you see these -- they are beyond! We are buying them for holiday. They make them all by hand in Maine, they are still doing them the same way they have done forever."
Rachel Strugatz can be contacted at rachel.strugatz@gmail.com

Calling all HuffPost superfans!
Sign up for membership to become a founding member and help shape HuffPost's next chapter