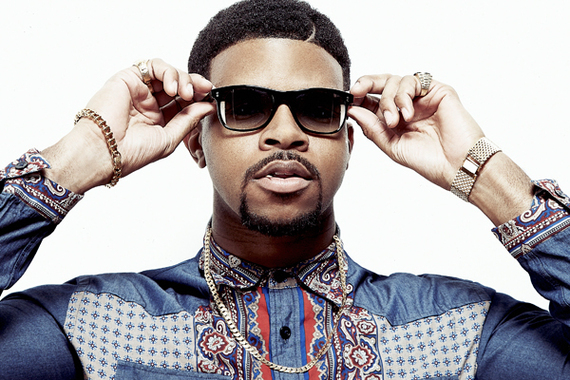 His famous last name automatically gets him recognized but J. Drew Sheard definitely holds his own in the music industry. The multi-talented singer and producer has dropped his second EP, appropriately titled "The Long Way Home", and if you have followed his career you can understand why that is the title of the project. If you're reading this and you have no idea who J. Drew is; he comes from a musical family. His mother, Karen Clark Sheard, is a member of the famous gospel group, "The Clark Sisters" and his father Bishop John Drew Sheard, the dynamic pastor in the Detroit area. However, even with his fantastic pedigree, J. Drew is as talented as the supreme family of musicians he comes from.
Like many of the pieces I write involving music artist, I also first heard the sounds of J. Drew while taking in music during this showcase in New York City at SOB's where superstar singer Faith Evans was headlining. After the concert that night I decided to do some research on the singer from Detroit and stumbled upon a reality show that documented the lives of him, his mother and father, and his sister Kierra "KiKi" Sheard. Together they make up a music dynasty. I think it's safe to say that J. Drew is creating his own path, out of the shadow of his gospel family, which brings me back to the title of his newest EP, "The Long Way Home." The four songs EP is a follow up to his first EP "Never Coming Back." After listening to both of the projects, you can hear the maturity in J. Drew's sound. I wanted to talk with the singer about his music and so recently I sat down with J. Drew to talk about his music, his family, and the future.
KM: J. Drew thanks for taking the time to talk with me. Congrats on the success of the EP.
J. Drew: Thanks so much K! It really is a pleasure.
KM: I want to start by talking about your hometown Detroit. What influences has it had on your life and your music?
J. Drew: The Motor City, where do I start the home of Motown, a lot of great music has come out of this city. I can't say enough how this city has shaped my music. I mean from my mom and the famous Clark Sisters to all of the greats that Motown produced. I love living in this city and I don't take it lightly the importance of how people here have gravitated to my music and accept me.
KM: Speaking of your famous mom and even your sister "KiKi" another outstanding gospel singer. What is it like being a Sheard?
J. Drew: My last name carries so much integrity. There's a lot of power that comes with this name and I couldn't be any prouder to have been born into this family. My family is great in supporting my music and my career. R&B music has been constant in my life and my parents support that. It's not a bad thing to be in their shadow. I have a lot of confidence in my music. I do believe that people are starting to accept me for me, J. Drew the artist.
KM: Great segue; let's talk about your music, "The Long Way Home." I like the EP, each song just flows right into the next. How would you describe your music and you as an artist?
J. Drew: I have grown tremendously with this EP. I'm at a different place in my life now and the music reflects that. I feel with this project I was able to give people a body of work that they could listen to all the way through. My family has also inspired my music and has helped me grow personally. This EP is a reflection of all the things I have learned over the years. I have children now and everything around me can inspire me in so many ways. "The Long Way Home" is a collection of work for people who enjoy my music and it's also what they can expect from me in the future. As for J. Drew the artist, he's someone that is very passionate about music. I will do what I need to do in order for it to happen the right way. I want to be great. I like to write great music. I'm here to create a legacy for my children. J. Drew is a family person.
In my conversation with J. Drew, I met someone who genuinely loves music and the process of making music. J. Drew the producer has been working in the industry for a while. He is signed with mega-producer and artist Pharrell to produce beats for artist. Just like his producing skills, J. Drew the complete artist is on the come up. As he rises to success he hopes one day to work with three people he says stand out in the industry, Jay-Z, Beyonce, and Kanye. He has established a solid fan base and that base continues to grow as new people listen to his soulful voice. Of course he has a lot to live up to with the last name Sheard and his mother and aunts The Clark Sisters. J. Drew however is carving out his own path and laying the foundation for his own lane. "The Long Way Home" not only shows his growth but it's the road that will lead him to ultimate success.
Calling all HuffPost superfans!
Sign up for membership to become a founding member and help shape HuffPost's next chapter