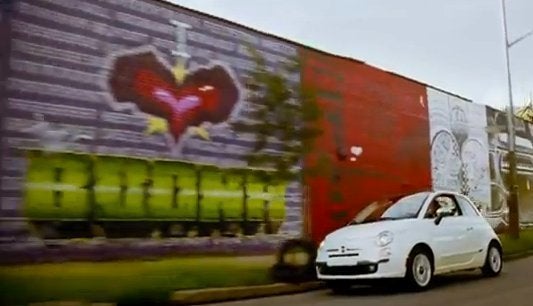 J-Lo's Fiat car commercial wasn't so Jenny-From-The Block to begin with-- it features the pop star expressing her deep love for the Bronx, ahem, from a soundstage in LA-- and now, the ad's managed to upset some established graffiti artists in the boro of her birth, perhaps prompting a copyright lawsuit.
Six seconds into the minute-long spot, the Fiat glides past an "I Heart The Bronx" mural, which actually exists in the real Bronx, underneath the 6 train station in Parkchester. It appears that whomever made the commmercial, however, forgot to ask the artists's permission to use the image.
Wilfredo Feliciano, 45, an artist with TATS Cru, says no one from the group was contacted before Fiat ran the shot of the graffiti, which he said has been copyrighted.

"Everyone started congratulating us on the commercial and we're like, what commercial?" he told The Post, adding that they've called their lawyer.
The lawyer, Stacey Richman, said that the advertising agency and Chrysler, a subsidiary of the Fiat group, have yet to respond to the charges, according to The New York Times. A spokesman for Fiat told The Post the company is investigating whether the image was "appropriately secured."
"This has happened to us in the past, and it's not cool. We had to do something about it," Feliciano said.
TATS Cru went from illicitly tagging the subways in the 80s to getting commission to create murals fir big corporate clients like Coca-Cola, Reebok, Nike, Pepsi, Sony and Ford. They've also given lectures at Hunter College, M.I.T., University of Massacusetts, Cortland University and Brooks School.
Check out the ad below. As of this writing, the video on YouTube has 595,000 views and many unkind comments. Currently it has only 203 "likes" compared to 1,215 "dislikes."
Calling all HuffPost superfans!
Sign up for membership to become a founding member and help shape HuffPost's next chapter
BEFORE YOU GO