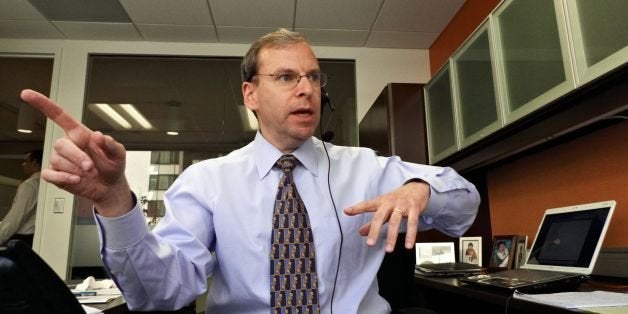 WASHINGTON -- Advocates of a two-state solution to the Israeli-Palestinian conflict weren't too discouraged by Israeli Prime Minister Benjamin Netanyahu's much-criticized promise ahead of his election victory last week that a Palestinian state would never be created on his watch.
In fact, attendees of the annual J Street conference, held in Washington over the last four days, seemed energized by Netanyahu's remark -- as well as by the possibility that President Barack Obama's administration would start taking a harder line against Netanyahu.
About 3,000 delegates assembled from Saturday to Tuesday for the conference hosted by J Street, which supports a two-state solution and has frequently criticized Netanyahu. Of these, about 1,100 were college students from the organization's J Street U wing. The event featured a diverse and, at times, conflicting set of perspectives about how to facilitate peace at a time when Netanyahu and Obama are experiencing one of the lowest ebbs their relationship has ever seen. Notable speakers included White House Chief of Staff Denis McDonough and chief Palestinian negotiator Saeb Erekat.
Conference speakers said they would support the U.S. taking more aggressive steps in the wake of the election to promote peace between the Israelis and the Palestinians. In a Friday interview with The Huffington Post, Obama said his administration would "evaluate what other options are available."
"We are very glad to hear the Obama administration is reconsidering its approach to the Israeli-Palestinian conflict," J Street President Jeremy Ben-Ami said at the conference. (When the Palestinians first took their statehood bid to the United Nations, J Street opposed the effort.)
Much of the discussion focused on potential moves the U.S. could make at the U.N., such as shifting to support a Security Council resolution laying out the parameters of a desired peace deal or no longer vetoing resolutions calling on Israel to halt settlement expansion.
Journalist Peter Beinart said that Netanyahu's comments had "forced the Obama administration off the sidelines" and that J Street should capitalize on the opportunity to support any action Obama may take at the U.N.
"[Obama] needs support from you, because this effort is the most important move that he can realistically make in the rest of his presidency," Beinart said on a panel discussing the future of liberal Zionism. "He is more willing to take that on if he knows that he will have people in the Jewish community behind him."
Beinart also said that Netanyahu's new right-wing government should serve as a justification for J Street to shift to the left. Since its founding in 2008, the group has attempted to keep one foot in the Jewish establishment and one foot in a more left-leaning camp, but has nonetheless struggled to gain acceptance from more mainstream Jewish groups.
"This is a great moment for J Street, because J Street has always had to look over its right shoulder, worrying about what others are saying about it," Beinart said. "But you know what? Now J Street is going to have to look over its left shoulder -- a lot of it is because of Benjamin Netanyahu. What is growing fastest is to J Street's left, and that is very liberating for J Street, because it means there is going to be a price to be paid no matter what, there is going to be no safe political space, and it is going to liberate people in J Street to do what they really believe."
"I think the distinction between right-wing policy and left-wing policy is now clear and this is a better starting point for the next elections," she said. "One of the things we have to realize is if we put on a mask of 'center,' if we resemble Bibi, nobody's gonna buy that stuff."
Despite the enthusiasm for mobilizing against Netanyahu, some conference speakers criticized J Street for being too centrist. For instance, Noam Sheizaf, a co-founder of and writer for +972 magazine, said the group should have taken a stronger position against the war in Gaza last summer.
"The problem is Gaza," Sheizaf said. "Attacking Netanyahu is easy for everyone on this panel and everyone in this room, but I think we should talk about the position we took about Gaza."
Ben-Ami said on a panel discussing the peace movement that J Street had "struggled" with how to talk about the war.
"It is my personal view, and the organization took this view, that in the moment when the rockets were falling and people were scrambling to shelters ... was not the moment to litigate the underlying issues of the conflict that have been going on for 48 years," he said. "The moment of time to do that is now. There's a moment for deep discussion and argument and there's a moment when people's lives are at stake on both sides, and there's loss on both sides, and fear and panic and for J Street, we felt that the appropriate response was to stand back and not to raise those particular questions, and to say our sympathies were with both people."
Another fault line at the conference concerned the movement of Boycott, Divestment and Sanctions against Israel, otherwise known as BDS, which J Street does not support. While speakers like Beinart -- who is known for his advocacy of "Zionist BDS," or boycotting goods produced in West Bank settlements -- called to increase nonviolent pressure on Israel following the elections, others argued that would be counterproductive.
"One thing you must understand is that when you support the BDS movement, you actually are helping Netanyahu, because Netanyahu is playing on that fear, that almost every Israeli Jewish citizen is feeling, that there is a possibility that the world will just turn against us," Stav Shaffir, a member of the Knesset from the Labor party, said.
A number of other efforts were discussed at the conference, such as mandating that Jewish-American organizations use maps of Israel with the so-called "Green Line," which delineates the boundaries of the territories the country seized in the 1967 war. J Street will also advocate for those groups to be transparent about their funding of settlement construction in the West Bank.
Another strategy was boosting the political power of Israeli Arabs.
"We helped put together funding for a get-out-the-vote effort in the Arab community," said Kenneth Bob, the president of the progressive Zionist Ameinu, responding to Netanyahu's controversial comment that Arabs were heading to the polls "in droves" and that "tens of millions of dollars" had been spent to defeat him.
One of the loudest rounds of applause at the conference came in response to a speech by Nabiola Espanioly of the communist Hadash party, which is a member of the Joint Arab List, the incoming Knesset's third-largest party. Espanioly said that the left's messaging needed to promote "a common concept of security" for both Palestinians and Israelis.
"The center left and the left weren't talking that way," she said, referring to the other parties' rhetoric ahead of the election. "I'm pleased to hear here, 'occupation.' We stopped speaking about the occupation in Israel, we stopped speaking about the Green Line in Israel. It's about solving that conflict by giving the rights of the Palestinians and the Jews to live side by side in peace, in two states."
Calling all HuffPost superfans!
Sign up for membership to become a founding member and help shape HuffPost's next chapter
BEFORE YOU GO
PHOTO GALLERY
Obama's Handshakes Around The World