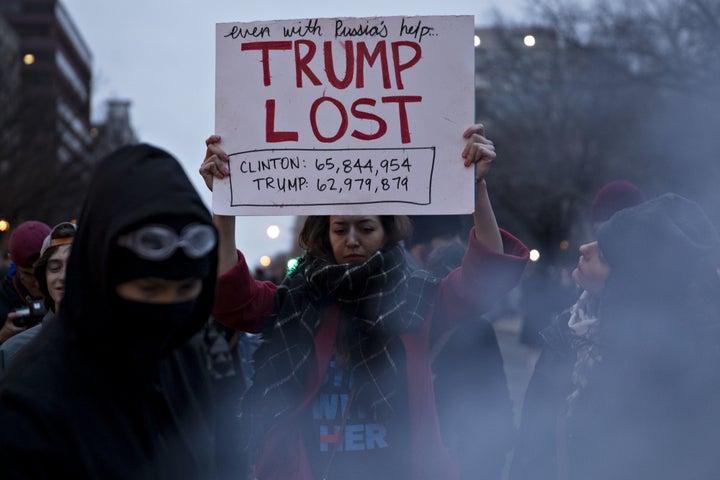 WASHINGTON ― A judge overseeing the jury trial of six individuals facing felony charges for non-violent conduct during a protest of President Donald Trump's Jan. 20 inauguration acquitted all six of a single felony count of inciting a riot on Wednesday. But D.C. Superior Court Judge Lynn Leibovitz declined to issue a judgement of acquittal on any of the other seven charges, instead ruling that a jury will be able to hear the seven remaining charges, including five felonies.
Out of the presence of the jury, Judge Lynn Leibovitz issued a judgement of acquittal as to the inciting charge on Wednesday morning, the day after the prosecution and all six defense teams rested their cases. Leibovitz found that no reasonable jury could find that any of the defendants intended to urge a riot, stating that she believed the inciter had to be someone who was deliberately causing others to act.
The bad news for defendants came in the afternoon. Judge Leibovitz declined to issue a judgement of acquittal for any of the remaining charges, including two misdemeanor charges for engaging in a riot and conspiracy to riot, and five felony counts of property destruction, which the defendants would be held liable for if found to have engaged in the rioting conspiracy.
The prosecution, led by Assistant U.S. Attorney Jennifer Kerkhoff, has conceded that none of the voluminous evidence in this case indicates that any of these six defendants engaged in any property destruction or violence on Jan. 20. The six individuals currently on trial were among more than 200 individuals arrested en masse that day by the D.C. Metropolitan Police Department after individuals within a large group of mostly black-clad demonstrators smashed windows in downtown D.C. ahead of Trump's swearing-in. Police conduct that day has come under scrutiny, and the chief detective in the case is a police union official who had tweeted disparagingly about activists.
The trial, which opened on Nov. 20, is being prosecuted by attorneys from the U.S. Attorney's Office for the District of Columbia. In D.C., the types of crimes that would typically be prosecuted by local prosecutors are instead prosecuted by federal prosecutors who take their cases before D.C. Superior Court judges who are appointed by U.S. presidents.
Kerkhoff argued on Wednesday that Alexei Wood, a photographer who has been charged in the case, was giving "energy" and "encouragement" to those who were destroying property. "This is more than just tacit approval," Kerkhoff said of comments and expressions that Wood made during a livestream of the event. "This is very expressive, active encouragement."
Kerkhoff said she was focused on his conduct, not "whether he believes he was a journalist or not," and argued that the presence of cameras can "influence ... conduct." She said Wood was almost giving "PR" ― meaning public relations ― by broadcasting a Facebook livestream that was only being watched by two views at one point.
Judge Leibovitz heard lawyers for each defendant argue why their case should be tossed before it got to the jury. Leibovitz apparently bought into the theory that "street medics" could be aiding and abetting a riot if they "remained there to assist" any rioters. At one point, Leibovitz compared street medics to a "getaway driver" who could still be part of the conspiracy, even if the robbers didn't use the getaway driver's service and instead, for example, took a bus.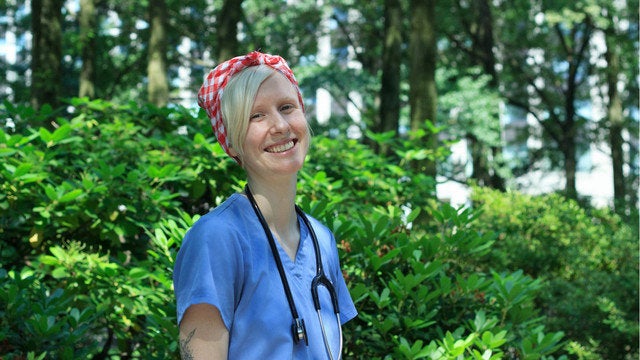 They were discussing the case against Britt Lawson, a nurse from Pittsburgh who treated cancer patients until she was forced to quit her job to deal with her trial.
On Tuesday, Lawson's former boss, Valerie Hess, flew into D.C. from California, where she was on vacation, to testify about her dealings with Lawson. When Hess started explaining how "oncology patients are super special," the government objected. When she was asked whether Lawson had been a good nurse, the government objected. Hess was allowed to tell the jury that Lawson responded to aggressive patients calmly.
"I have not experienced her to be violent in any capacity," Hess testified.
On Wednesday, Judge Leibovitz seemed concerned that Lawson seemed "entirely nonplussed by some pretty serious violence" happening around her. "I guess it's just another day at the office?" Leibovitz said.
Leibovitz called the masks worn by defendants "pretty forbidding," and said that while black clothing didn't make for a riot, wearing black clothing could be seen as an indication that an individual knew of plans for a demonstration and was seeking to hide their face.
In all cases, Judge Leibovitz said she was satisfied that a reasonable juror could conclude that a riot was occurring and conclude that the defendants engaged in a conspiracy to riot.
Both sides will likely make their closing arguments to the jury on Thursday.
Ryan Reilly is HuffPost's senior justice reporter, covering criminal justice, federal law enforcement and legal affairs. Have a tip? Reach him at ryan.reilly@huffpost.com or on Signal at 202-527-9261.
Popular in the Community