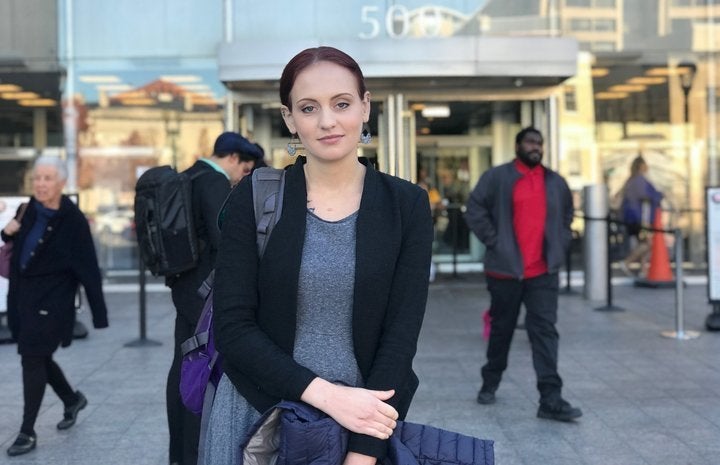 WASHINGTON ― Justice Department prosecutors have dropped charges against eight additional defendants they'd been trying to convict of felonies in connection with their arrests during a protest of President Donald Trump's inauguration.
Prosecutors with the U.S. Attorney's Office for the District of Columbia, a component of the Justice Department that prosecutes local and federal crimes in the nation's capital, had originally charged more than 200 defendants with felonies. They alleged that the defendants were part of a rioting conspiracy, and sought to hold them responsible for more than $100,000 in damages to various businesses in downtown D.C. during a "black bloc" demonstration on Jan. 20, 2017.
Charges against another 10 defendants were dismissed because a judge found the government had withheld evidence that was provided to authorities by Project Veritas, a conservative group headed by James O'Keefe. With Wednesday's dismissals, there are fewer than 40 defendants still facing felony charges.
Elizabeth Lagesse was one of the defendants who had her charges dropped on Wednesday. Lagesse, who has been a consistent presence in the courtroom for hearings in cases against other demonstrators, said the case has had a "huge impact" on her life. She ended up moving to D.C. to deal with the trial, and said it's a "huge weight" off her shoulders to no longer be facing felony charges.
Lagesse is part of a lawsuit from the American Civil Liberties Union that takes aim at the tactics used by the D.C. Metropolitan Police Department. She believes her involvement in the lawsuit, and her advocacy for other defendants, are part of the reason the charges against her weren't dropped long ago.
"I think it's because they didn't want to drop someone who was part of the ACLU's civil suit, and I think it's because they didn't want to drop someone who had sort of been a stick in their eye," she said.
Lagesse's partner, Michael Weberman, is still facing charges and is set to go to trial in October.
CORRECTION: An earlier version of this story misstated Weberman's name.
Ryan Reilly is HuffPost's senior justice reporter, covering the Justice Department, federal law enforcement, criminal justice and legal affairs. Have a tip? Reach him at ryan.reilly@huffpost.com or on Signal at 202-527-9261.