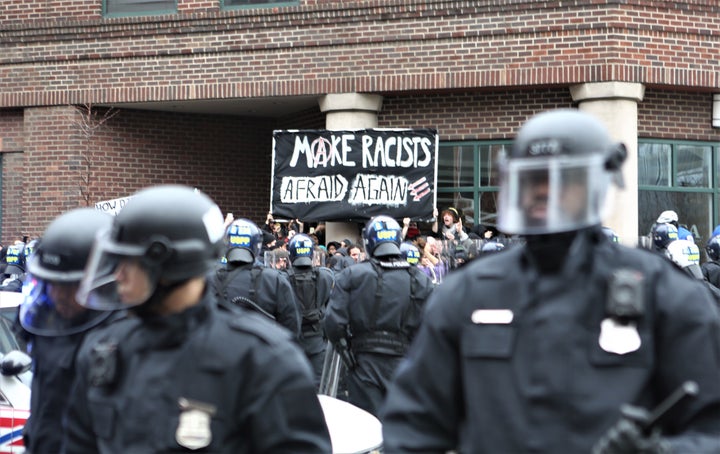 UPDATE: June 6 ― A jury on Wednesday acquitted one defendant, Seth Cadman, on eight of nine charges. The jury was deadlocked on a single misdemeanor charge of engaging in a riot. The judge told the jury to continue deliberating on the charges against the other two defendants at trial.
WASHINGTON ― A D.C. jury deciding the fate of three people facing felony charges in connection with destruction during protests against President Donald Trump's inauguration appears to be deadlocked.
The jury foreman wrote a note to the judge on Tuesday, saying jurors couldn't reach a verdict on any count and that their views seemed unlikely to change.
The government originally charged more than 200 people with
but has yet to convict any defendant at trial. Forty-seven individuals are still facing felonies, including the three defendants currently on trial.
After closing arguments last week, a juror passed a note to the judge saying she had seen graffiti in a bathroom stall reading "Google jury nullification," referring to the concept of jurors voting defendants not guilty because they don't support a law or the potential punishment for the crime. The juror said she had looked up the term, then discussed jury nullification with other jurors.
The concept of jury nullification could be particularly powerful in this trial because of the severity of the charges and the potential penalties against defendants who might otherwise be facing only misdemeanors.
If the jury convicts the defendants of conspiracy to riot, they could be held responsible for several counts of felony destruction of property even if they didn't personally destroy the property. Theoretically, the defendants could face decades in prison if convicted on all charges, although such a sentence is unlikely.
Ryan Reilly is HuffPost's senior justice reporter, covering the Justice Department, federal law enforcement, criminal justice and legal affairs. Have a tip? Reach him at ryan.reilly@huffpost.com or on Signal at 202-527-9261.
Popular in the Community