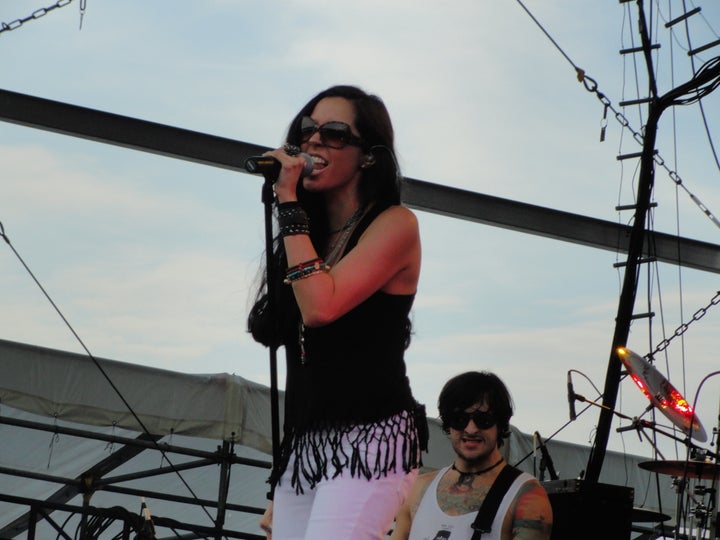 Clearfield, Pa. -- Ticket holders at the 152nd annual Clearfield County Fair recently got a chance to hear the up-and-coming stiletto-heeled Pop sensation Jac&Jill.
The up-and-coming band, fronted by Jaclyn Quatela and Jill Winter, opened for 80s rock sensation Twisted Sister and popular hair band Great White on Saturday. While both veteran bands received the expected welcomes from fans, the audience appeared to be awestruck by Quatela and Winter's profound voices and inescapable beauty. The talent of drummer Steve Pace, synth musician Shawn Keys and bass guitarist Bryan King did not go unnoticed either.
The band received much welcomed attention by playing a few covers, including "Best Of You" by the Foo Fighters, but it was their original song, "Me Without You," that really got the crowd going. The tune is said to be on the band's first album, which is due out sometime this summer.
PHOTOS FROM THE EVENT: (Story Continues Below)
PHOTO GALLERY
Jac&Jill, Great White And Twisted Sister
While the New York band's appearance in Pennsylvania was successful, there is concern that their fans may not get to see them perform as a group again. On Thursday, a message was posted to the band's Facebook page that stated they had decided to part ways.
"We'd like to take a moment to let everyone know that Jac&Jill have mutually decided to part ways," the message read. "We appreciate everyone's continued support and still have the utmost respect for one another as we've decided to go in different directions. We thank you again and wish everyone the best."
Based on their latest performance, it seems to be an inopportune time for the band to suddenly split. Fame can be a fiercely fleeting beast, so here's to hoping -- for the sake of fans and critics alike -- that a reconciliation is possible.
Calling all HuffPost superfans!
Sign up for membership to become a founding member and help shape HuffPost's next chapter