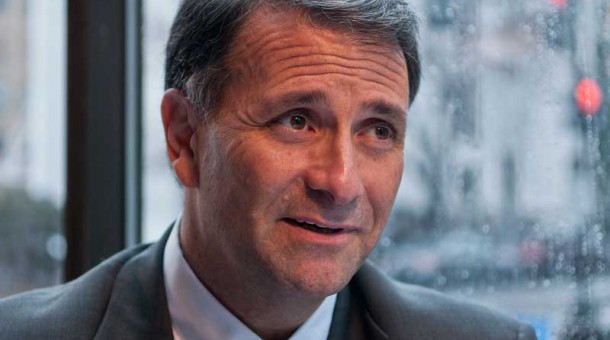 Jack Abramoff is used to tough crowds. The Bush-era lobbyist was at the heart of a scandal that led to the conviction or plea bargains of 21 others, including White House officials, fellow lobbyists, Congressional staffers, and Representative Bob Ney. The picture of him leaving the federal courthouse clad in a Michael Corleone-style fedora and trench coat is as indelible an image of the Bush years as the Mission Accomplished banner. But if there are no second acts in American politics, Abramoff has clearly not been informed.
I am in the audience at the University of San Francisco to watch Abramoff give a talk about the sordid details of his rise to power, detailed in his new book: Capitol Punishment: The Hard Truth About Washington Corruption From America's Most Notorious Lobbyist. Up close, he has a passing resemblance to detective Elliot Stabler on Law and Order: SVU. He is wearing a boxy, dark D.C. suit and a red power tie. But he doesn't look the way he talks. He makes dorky dad jokes, pretending to talk into the wrong end of a cordless microphone. He rehashes old episodes of Seinfeld in great detail. The audience, despite itself, begins to laugh. I can see why the man was good -- excellent -- at his job. He oozes charm as he talks about how Washington should be fixed by restricting the power of lobbyists and money.
He mixes in some red meat too. He recounts how one Southern Congressman refused to deal with him for years, holding himself up as too pure to be sullied by contact with the lobbyist. That is, until the official's son wanted to see Michael Jordan play with the Washington Wizards. Then, all of a sudden, Abramoff -- and what he calls his "Jack Nicholson" courtside seats -- didn't seem so bad after all.
When I catch up with him after the speech in the green room, I wonder how far his antipathy to the ways of Washington goes...
Popular in the Community