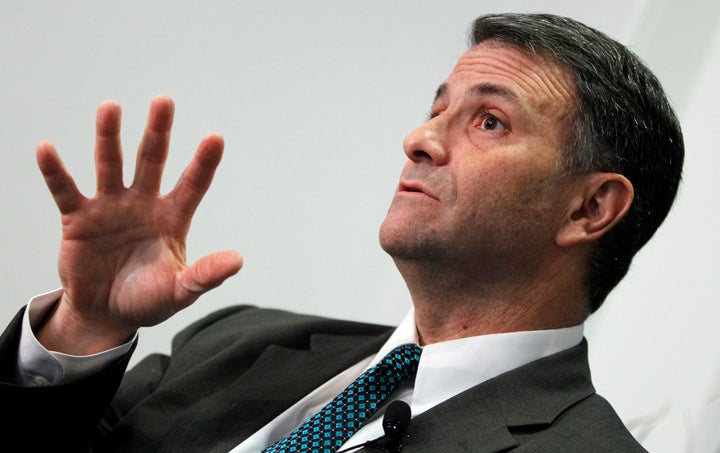 WASHINGTON -- On Monday night, the National Press Club played host to the country's most infamous lobbyist, Jack Abramoff. Sitting in the front row were Tom Rodgers, Rick Hill and other members of Native American tribes. They had come to deliver a message not just to Abramoff, but to official Washington: Abramoff's crimes against the tribes will not be forgotten.
They are angry that while the convicted felon reinvents himself as a Washington reformer, advocacy groups and the media seek out his views and largely ignore the Native American tribes who were his biggest victims.
"Native Americans see him as nothing more than a modern-day Custer," Rodgers, a Washington-based tribal lobbyist, told The Huffington Post.
Rodgers, a member of the Blackfeet tribe, and Hill, the former chairman of the Oneida Nation of Wisconsin, were instrumental in unraveling Abramoff's criminal activities after they were tipped off that he was meddling with the internal politics of his tribal clients and charging exorbitant lobbying fees.
But Abramoff's resurrection is being built chiefly on his atonement for just one aspect of his criminal record: the corruption of public officials.
Yet the crime with the toughest potential sentence to which Abramoff pleaded guilty was the wire and mail fraud he committed against his tribal clients. Abramoff routinely overcharged tribal clients without telling them that he received 30 percent of their payment to his law and lobbying firm. He also directed tribal clients to pay his partner Michael Scanlon's grassroots political consulting firm millions of dollars without telling them that Abramoff and Scanlon were splitting the profits. Abramoff still owes his former tribal clients more than $20 million in restitution under his plea bargain with the government.
Hill told HuffPost how he felt after watching Abramoff talk at the Press Club. "It's all bulls**t. ... You look at Jack -- though he took money from my elders and our kids, and now he comes here, and he gets to prop himself up, and it's an acceptable part of D.C. culture. He wouldn't stand a minute on the reservation," Hill said.
During a question-and-answer segment at the Press Club, Rodgers reminded listeners of Abramoff's crimes against Native American tribes and highlighted the lobbyist's emails calling them "morons," "troglodytes" and "monkeys."
Frustrated with what he sees as the media's soft treatment of Abramoff today, Rodgers also asked Abramoff whether in his heyday he had tried to influence journalists to report favorably on his clients and whether he had worked closely with journalists to purchase one of the two main Capitol Hill newspapers, The Hill and Roll Call.
Abramoff, whose expression changed from quizzical to stern during Rodgers' extended statement, responded that he could not remember if he had worked with any journalists when he considered buying the papers.
In his many post-prison media appearances, Abramoff has faced few questions about defrauding Native American tribes. A rare exception was a Nov. 9 appearance on "The Last Word with Lawrence O'Donnell" on MSNBC.
O'Donnell grilled Abramoff on his derogatory emails and asked him specifically about a plan to milk money from the Tigua Tribe after they ran out of money to pay for his services. The notion was to take out life insurance policies on the elders of the tribe and have the insurance payout money go to a private school in Washington, D.C., that Abramoff supported.
As he had done in his book, Abramoff apologized for his emails while stating, "I sent 850,000 emails over the course of time I was a lobbyist. That's a lot of emails. There were probably 50 emails that were jocular, stupid, dumb ... and ridiculous. They didn't represent what I felt."
He also expressed regret for his actions, albeit while also describing the defrauding of tribal clients as "this small, aberrant behavior."
One part of that "small, aberrant behavior" was the defrauding of the Tigua Tribe in Texas of at least $4.2 million, which left them largely bankrupt.
"What he did to the Tiguas in Texas," Hill exclaimed to HuffPost. "That community doesn't have anything. He made sure they didn't have anything at the end of the day."
In December, Abramoff offered an apology to the Tiguas in the El Paso Times, but tribal leaders said it was too little, too late. "You might have hurt us, but we've been through this before, we will survive," Tigua Lt. Gov. Carlos Hisa told Indianz.com.
Perhaps the largest reward for Abramoff's "small, aberrant behavior" was the $32 million he charged the Louisiana Coushatta Tribe for grassroots consulting and lobbying. The vast majority of that money -- $27 million -- went to Scanlon's consulting firm, which in turn paid out money to both Scanlon and Abramoff.
Another tribe targeted by Abramoff and Scanlon was the Saginaw Chippewa of Michigan. When the Chippewa tribal council was reluctant to offer a big lobbying contract to the two men in 2001, they poured money into tribal elections to elect a slate of tribal leaders who would approve a $150,000-per-month deal. (The previous lobbyist for the tribe had made $10,000 per month.) The new council would also approve a bloated contract with Scanlon's consulting firm, which again split the profits with Abramoff.
Monica Lubiarz-Quigley, a lawyer who once represented the Chippewas, said she was pushed out of her job after she raised questions about the high-priced contracts that tribal leaders were signing. She views the reemergence of Abramoff as a voice of reform with skepticism.
"It's business as usual in Washington," Lubiarz-Quigley said. "Certainly the tribes and what happened to the tribes seems to be like an 'Oh, well,' and it doesn't surprise me. ... That's how the insiders in Washington see it. They're not terribly concerned with what happened to the tribes. And that's how they got away with it in the first place."

Popular in the Community