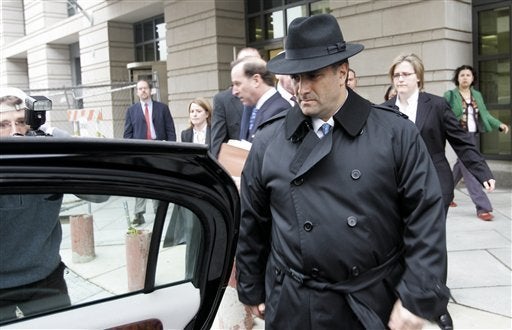 WASHINGTON -- Jack Abramoff doesn't name names in his new book. He does, however, take a few shots at people he felt did him wrong.
But Abramoff appears to offer no significant new details about his corrupt dealings beyond what's already in the public record. And by and large, his friends and colleagues get a free pass.
Instead, he attacks the people he feels wronged him, particularly the members of the Senate Indian Affairs Committee, whose blistering 2006 report exposed the extent of Abramoff's corruption.
"The worst part for me was the hypocrisy of the whole thing. Most of these senators had taken boatloads of cash and prizes from my team and our clients," Abramoff writes about the committee.
The committee's chairman, Sen. John McCain (R-Ariz.), is a "classic narcissist" who has "continued to milk the scandal he helped ignite," he writes.
Abramoff recalls the experience of taking the Fifth before the former Republican senator from Colorado, Ben Nighthorse Campbell.

I stared stonefaced at Campbell as he hurled invectives at me. I wondered how he'd react if I reminded him about the twenty-five thousand dollars in campaign checks I delivered to him during our breakfast meeting at posh Capitol Hill eatery La Colline the morning of April 23, 2002. I'll never forget that breakfast. After I handed him the envelope full of campaign contributions, he let me know that my clients would be treated well by his Indian Affairs Committee. That's what I wanted to hear. We left arm in arm.

But Campbell said nothing remotely like that ever happened. "I would say he's a damned liar. Just a damned liar," he told HuffPost.
Campbell said it's conceivable that Abramoff "might have been at some damn reception" that they both attended. But, he said, "I didn't remember this guy from Adam, until I actually saw him in front of the committee. And if he's implying he gave me any money for a quid pro quo or something, he's a goddamned liar. "
"We looked through our campaign things and I can't find anything that related to Abramoff at all," Campbell added. "I don't know what he's talking about."
And in his book, Abramoff tries once again to ensnare Democrats.
He takes a shot at Byron Dorgan, the former Democratic senator from North Dakota: "Byron Dorgan railed against the 'cesspool of greed' surrounding my practice. I guess it wasn't a cesspool when he had his hand out to take over $75,000 in campaign contributions from our team and clients."
Dorgan's reaction: "He's probably pretty upset with me because I helped lead the investigation that helped send him to prison." The former senator told The Huffington Post that he never met Abramoff and never took any money from him. And though Dorgan said he did receive some money from tribal donors, the record shows that Abramoff steered Native American money away from Democrats, not toward them.
"He was both a liar and thief," Dorgan said. "What we do know is that he was corrupt. That's what we do know. For him to allege corruption of others is pretty Byzantine."
Abramoff repeats an old accusation that former Sen. Chris Dodd (D-Conn.) agreed to support an amendment in return for a $50,000 contribution to Democrats. But the record suggests that Dodd was not party to any such agreement, and Dodd has long denied it.
Abramoff also tries to raise suspicion about Senate Majority Leader Harry Reid (D-Nev.) and his relation to Abramoff's campaign to block a tribe from getting approval for a proposed casino.

Reid was very much a secret weapon in our lobbying efforts. In 2002, we hired Eddie Ayoob, Reid's legislative director and top political operative. Eddie was a master lobbyist and connected to virtually every office on the Hill, but his real power derived from his history with Reid. The clients showered Reid and his staff with contributions, tickets to events, and every other gratuity imaginable, and they responded in kind. During the first Jena battle, Reid fired off a firm letter to the Interior Department to protect our clients. When the next fight erupted, his staff coordinated with ours to stop the Jena tribe from gaining their casino.
But Reid spokesman Adam Jentleson told HuffPost: "The allegations made against Senator Reid by disgraced former lobbyist and convicted felon Jack Abramoff are false. The Abramoff affair has been thoroughly investigated and we have nothing further to add."
And Ayoob dismissed Abramoff's argument as preposterous and said his facts are made up. "His assertions are just plain wrong. He knows very well that I was never Senator Reid's legislative director nor would ever claim to be his top political operative," said Ayoob, who worked for Reid from 1997 to 2002 as legislative counsel.
Ayoob also insisted that Reid's "decision to sign or send letters is always based on what's in the best interest of Nevada. Any suggestion otherwise is clearly self-serving."
The people who were actually close to Abramoff generally fare pretty well in the book.
Former Rep. Robert Ney (R-Ohio) -- the only member of Congress jailed in the Abramoff scandal after confessing that he essentially sold himself and his office -- comes off as a pliant tool.
Despite evidence that Republican activist and power broker Grover Norquist solicited and funneled funds from Abramoff's Indian gaming clients, Abramoff insists in the book that Norquist simply got money because the tribes admired his stand against taxation.
Resurgent GOP operative Ralph Reed, who secretly worked with Abramoff on behalf of the Coushatas Tribe, is depicted as a bad sport at golf and a bit of a blowhard. When Reed told Abramoff that newly-elected president George W. Bush "personally" told him "that his presidency would make all of us very rich," Abramoff discounted it as Reed's "hard sell." But Abramoff thinks Reed's only real mistake was in publicly denying that he took money from tribes: "He should have been proud about it."
In the last chapter of his book, Abramoff portrays himself as someone who supports genuine reform -- advocating, for instance, that members of Congress and congressional staffers be barred for life from ever working for any organization that lobbies.
But he doesn't help identify the people he corrupted who are still on the Hill.
And when he advocates on behalf of a new organization to fight the influence of money, he writes that it "should be modeled like the effective and powerful group Grover built, Americans for Tax Reform."

Calling all HuffPost superfans!
Sign up for membership to become a founding member and help shape HuffPost's next chapter