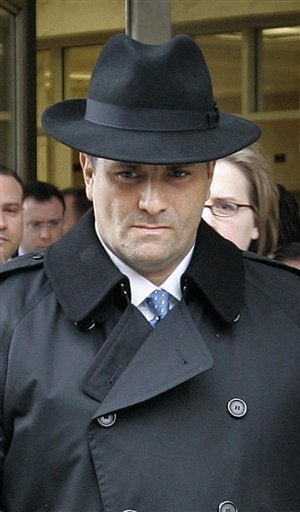 BALTIMORE (AP) -- Disgraced Washington lobbyist Jack Abramoff has landed a new job at a kosher pizzeria in Baltimore soon after his release from prison.
Abramoff began working Monday at Tov Pizza, Ron Rosenbluth, the restaurant's owner, said Tuesday. The former Washington power broker, whose activities led to the conviction of a congressman, is learning about the business and will eventually be helping with its marketing, Rosenbluth said.
Abramoff was released from a minimum-security prison camp in western Maryland on June 8 after serving about 3 1/2 years for fraud, corruption and conspiracy. He reported to a halfway house in Baltimore and remains under the supervision of the Bureau of Prisons until his Dec. 4 release date.
Abramoff previously owned a kosher restaurant in Washington. Rosenbluth said he reached out to Abramoff because he thought he could bring in business to the 26-year-old establishment.
The restaurant has employed more than a dozen people out of halfway houses in the past, Rosenbluth said.
"It's something that we did because I think it's the right thing to do," Rosenbluth said. "He's been exactly the same as everybody else here."
Abramoff's employment with Tov Pizza was first reported by the Baltimore Jewish Times. Abramoff is an Orthodox Jew, and the restaurant is located in a heavily Jewish section of northwest Baltimore.
Abramoff got the job through a Baltimore halfway house run by Volunteers of America, a national nonprofit.
Gretchen Crosland, a vice president with Volunteers of America Chesapeake, told The Baltimore Sun that Abramoff left the halfway house after a few days and is now on home confinement, a decision she said was made jointly with the prisons bureau.
Crosland could not immediately be reached, and Courtney Dunn, a spokeswoman for Volunteers of America Chesapeake, said she could not comment on individual halfway house residents. Bureau of Prisons spokesman Edmond Ross said he did not know Abramoff's specific whereabouts. Abramoff's wife, Pamela, declined to comment.
Abramoff was sentenced in 2006 to nearly six years for a fraudulent casino deal. He got a concurrent four-year sentence in 2008 for conspiring to defraud the government, corrupting public officials and defrauding his clients in a separate case.
Abramoff cooperated with the Justice Department after his convictions, helping explain how he manipulated government decisions and who else was involved.
The scandal led to the convictions of former Rep. Bob Ney, R-Ohio, who acknowledged taking bribes from Abramoff, and David Safavian, the former chief procurement officer President George W. Bush's administration, along with several congressional aides.
Popular in the Community