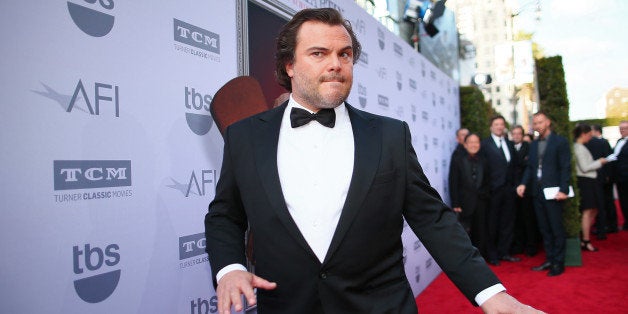 The following article is provided by Rolling Stone.
When Jack Black was a first-grader, he loved "The Six Million Dollar Man" so much he tried to convince other kids that he was bionic: "I'd go to school with these wires poking out of my sleeves," he says. Black is at a brunch spot in Los Angeles. He's wearing a T-shirt with a chaotic magic-marker whorl on its chest, courtesy of his youngest son, Tommy, and he's recalling the origins of his own chaotic creativity: how he first got hooked on hoodwinking other people. "There was a lot of fraud in my youth," he says. In addition to his bionics infatuation, Black was fascinated by the supernatural, so "I orchestrated a séance with a Ouija board, where I rigged a room with strings to make the books and stuff move, and invited kids over, dimmed the lights and made everything perfect, so the kids would say, 'This is real!' I wanted them to believe in magic." He pauses. "And I also wanted them to believe in me."
Things weren't great at home. Black's parents, both scientists, fought their way toward divorce during his childhood; as Black mediated between them, he contemplated someday working as a therapist, in order to help others connect. When he went into show business, he did so out of a similar desire, although more specious motivations were at play, too: "When I see cults, or people that have that cult-leader impulse, I feel like I can understand that. They're frauds, just trying to get people to believe in magic. Under different circumstances, I definitely could have started my own cult."
Black is in the midst of a run of impressively unmagical roles. In "The D Train," a bleak indie comedy, he stars as a high-school-reunion coordinator who cruelly deceives the people who love him and has a very debauched hookup with his idol from adolescence (James Marsden). "He's an irredeemable guy," Black says of his character, grinning. Coming later this month is the grim HBO sitcom "The Brink," in which Black plays an unscrupulous White House minion who stumbles into a geopolitical crisis. Think "Dr. Strangelove" for the "Homeland" era: "There's so much human error at the high levels of government, which felt underrepresented in television," he says. TV's Best and Worst Series Finales
Black's willingness to sully his cuddly persona is remarkable. "Maybe that's just what turns me on now," he says. "It feels more realistic to me, more like what people are really like." He connects this change in artistic priorities to a reversal in his personal life. "There was a flip-flop," he says. Back in his crowd-pleasing "School of Rock" period, "I was the guy who hated weddings, thought they were all tedious and maudlin. And now I cry my eyes out at weddings, but I only want to play really shitty people. Maybe having kids transformed me: Maybe you want to play the thing you're not." He's got two boys and a wife of nine years. Black plays Minecraft with his sons, ages six and eight, and lets them blast Die Antwoord and Kanye: "They know the words you can say in the car and the words you can say at school."
In Black's twenties, his acting hero was John Malkovich. "He seemed like the crazy guy from the desert. My other favorites were Christopher Walken, Gene Wilder — these people who seemed like they had a screw loose. For a long time I was just doing imitations of them." When Black found a more authentic voice, it came through comedy. "The marker I put in the sand is when I started writing and performing live with Tenacious D" — his loopy joke-rock duo with buddy Kyle Gass. "High Fidelity" and "School of Rock" made him a movie star, but a lead part in Peter Jackson's "King Kong" gave him reservations about being one — he's complained about the tedium of sitting around in trailers for hours. Smaller films followed; the best was Bernie, in which Black portrayed an adorable murderer. His ingenious performance earned a Golden Globe nomination but didn't fling open the prestige-picture floodgates as wide as he might have liked. "Not that many things come my way that are like, 'Holy crap, I have to do this,' " says Black. "Paul Thomas Anderson's not calling me."
On the horizon are tentpoles like "Kung Fu Panda 3," and smaller passion projects. In his spare time, Black collects rare coins. "I like the 1916 Standing Liberty quarter. When it was originally minted, she had an exposed breast, and you actually can gauge its quality by its definition." He's considered collecting fine art, too, but hasn't dived in. "I had an opportunity to buy a charcoal by Basquiat of Mr. T for a hundred grand." He let the chance pass. "It felt like he might be dissing Mr. T — he had this sad gold chain, no shoes, and I think Basquiat was saying, 'Look, this is your sad American dream for the African-American man.' " It turns out there are limits to Black's desire for art with a bitter aftertaste: "It was provocative, but it was also 'Don't you say that about my Mr. T!' "
Calling all HuffPost superfans!
Sign up for membership to become a founding member and help shape HuffPost's next chapter