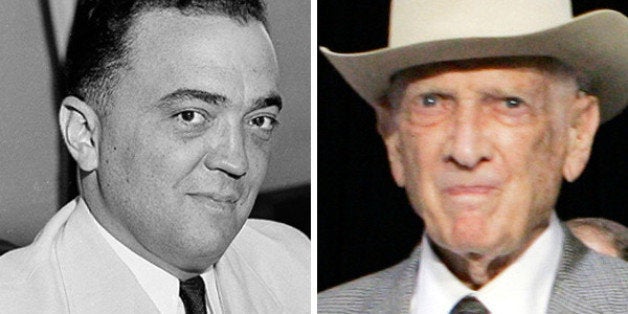 WASHINGTON -- J. Edgar Hoover ordered his bureau to ignore Rep. Jack Brooks back in 1958 after the then-36-year-old Texas Democrat reportedly badmouthed the FBI director during a standard background interview concerning a potential judicial nominee, according to Brooks' FBI file.
"He is to be ignored," Hoover handwrote in a June 1958 memo.
Brooks, who served in Congress for 42 years and was in John F. Kennedy's motorcade when the president was assassinated, died last year at the age of 89. Brooks served in Congress until the mid-1990s, when he was defeated by Rep. Steve Stockman (R-Texas) in 1994.
In his FBI file, obtained by The Huffington Post through a Freedom of Information Act request, agents note that Brooks might have attended a meeting of the Young Communist League in Austin in 1943 when he was a student at the University of Texas. The FBI noted that Brooks was "favorable" toward "the Inter-Racial Group at the University YMCA" in articles he wrote for The Daily Texan.
Not long after he was elected in 1952, Brooks was interviewed by an agent from the FBI's Washington Field Office about a potential nominee for the federal bench. During the interview Brooks allegedly made "certain statements of an unfavorable nature concerning the director," according to a memo sent to Hoover's office shortly after the interview took place.
Brooks reportedly said that he had held Hoover in very high regard until the FBI director "testified against the Democrats" about the fact that President Harry Truman kept a known Soviet spy in his administration. Brooks reportedly said the director "cooked his goose" and that "he's going to have to go." The FBI special agent reported that he told Brooks that Hoover and the FBI "have always been non-partisan in their activities."
In a memo, Gordon A. Nease, who at the time was assistant director of the FBI's Records and Communications Division, wrote that he ordered a file check on Brooks as the result of his comments, and told the FBI field office not to contact Brooks without approval.
"He is 36 years of age and was elected to Congress in 1952. He seems to be an 'up-start' and depending upon the file check I am inclined to think I should call on him and either straighten him out or tell him off," Nease wrote.
Later, in 1962, Cartha DeLoach (then in charge of the Criminal Records Division) wrote, "We don't owe Brooks anything!" when the congressman reportedly asked the FBI to assist an investigation being run by the House Government Operations Committee.
After Hoover's death, records appear to indicate that Brooks enjoyed a more cordial relationship with later FBI directors Clarence Kelley and William Sessions. All of the pages released by the FBI from Brooks' file can be read below:
Calling all HuffPost superfans!
Sign up for membership to become a founding member and help shape HuffPost's next chapter
BEFORE YOU GO
PHOTO GALLERY
FBI Directors Through The Years