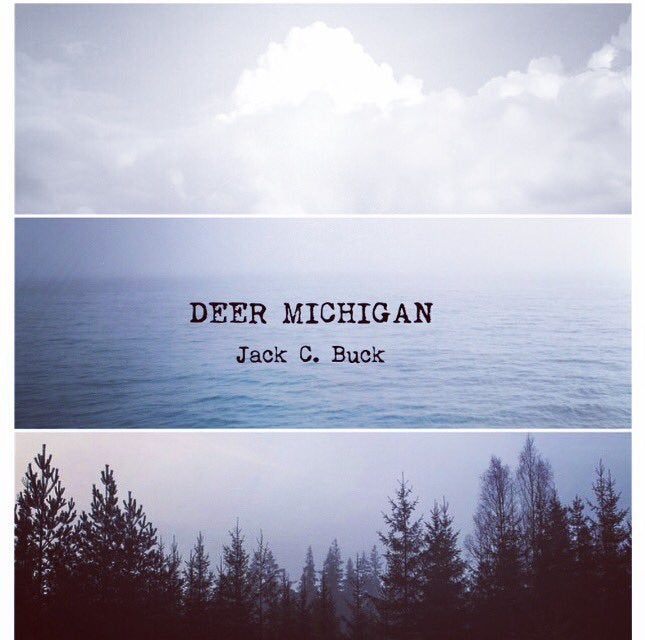 Jack C. Buck lives in Denver, Colorado, where he teaches at a public school. He is the author of the book, Deer Michigan, a collection of 62 flash fiction stories.
Loren Kleinman (LK): Why flash fiction for Deer Michigan?
Jack Buck (JB): I don't think I'm a strong enough writer to conceive a full-length novel. A decent amount of the pieces in the book were written with the physical place and memory of a time with Michigan, but the individual writings weren't necessarily intended to go together as some have read it as. Additionally, I didn't have a theme or end-goal in mind, besides having a good time with it. I love literature. Most of all, I love reading. For me, writing is fun when it's fun. I won't bother writing anything if it isn't enjoyable or necessary. Traditionalist wouldn't define my book as flash fiction. The structure, formatting, genre label doesn't matter to me whatsoever. At the end of the day, I believe I am writing for the right reasons, and that's what matters. If anything, I want to be able to know that for myself, and hopefully others notice my intentions to be good too.
In college I had a professor fail me immediately upon reading one of my essays. He wrote all over the front page, in red pen "You made up your own question then decided to write about it. Perhaps college isn't for you. Instead, maybe go write for a newspaper." It had a lasting impression of me. I drank a lot of beer in college, so I don't recall much specifics of the four years, but I do remember that interaction after class. After the brief conversation in his office, I attempted to get some of the money back for the cost of the course, then I skipped my next class for the day and walked over to the campus library to read a book of poems for the rest of the afternoon.
LK: What can flash fiction do for a reader vs. poetry?
JB: I don't think in terms of one form versus another form. What I like about flash fiction in particular is how it forces the writer to pay extra attention to what's being presented - which in turn is good for the reader. There's very little room for error in the short form. It can be obscure and "out there" but it still has to make some sense because it's believed to be a story, whereas poetry doesn't even have to remotely make sense and people will be fine with naming it poetry.
LK: Is flash fiction the new prose poem?
JB: Flash fiction is part story, part prose poem. As long as there is some story or background of a story I can get away with calling it flash fiction. My goal is to write a piece lasting enough for the reader to want to turn around and read it all over again from the beginning. I especially like the pieces that are a combination of both forms, where a reader could call it a story and/or a poem. Bringing in the element of poetry in between the lines of the story allows for a better read aloud as well - if that's what you are going for - and at times I do write with a knowing I will likely be sharing/reading this particular piece more often aloud to an audience at a reading.
LK: You're a public school teacher in addition to being a writer. How does the act of teaching influence your writing?
JB: It keeps me healthy being around kids five days of the week. Side benefit is we write a lot of 5 paragraph essays, during the revision process our class talks a lot about writing what is important and not to bore the reader.
JB: I'm currently focusing on another flash fiction collection - this time not too Michigan based. I'm looking forward to what I can think of next. A lot of Deer Michigan was my reflecting on the past, my memories and time spent living in Michigan. It has now been six years of living in Colorado. I'm looking forward to taking in more of the mountains of the West and seeing what my imagination can come up with. Colorado is phase 2 of my living - it's time to focus more on my new home.
Related
Popular in the Community