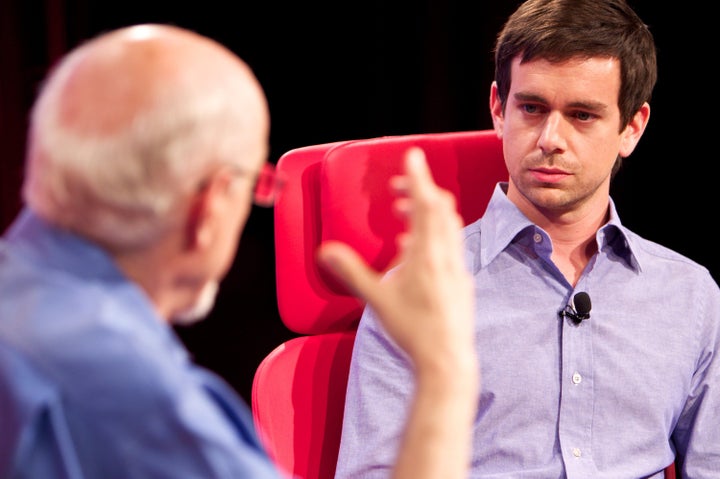 ‪

‬
By John Paczkowski
Jack Dorsey has been called "the James Franco of the Internet," and with good reason -- his calendar is easily as jam-packed as that of the notoriously over-scheduled actor. As executive chairman of Twitter and CEO of next-generation payments service Square, Dorsey holds not one, but two of the more high-profile jobs in tech, both of them equally disruptive. With Twitter, Dorsey is bringing a new and powerful immediacy to the way we communicate. With Square, he's changing the way we buy and sell goods.
1:02 pm: With lunch ended, attendees are filing back into the auditorium to Sly and the Family Stone's "Thank You." Dorsey should be on stage any minute now.
1:05 pm: Walt takes the stage, followed by Dorsey.
1:06 pm: Walt kicks things off with something of a personal question: How do you split your week between Twitter and Square when you're so personally involved in both companies?
Short answer: "Both companies are within three blocks walking distance from my apartment."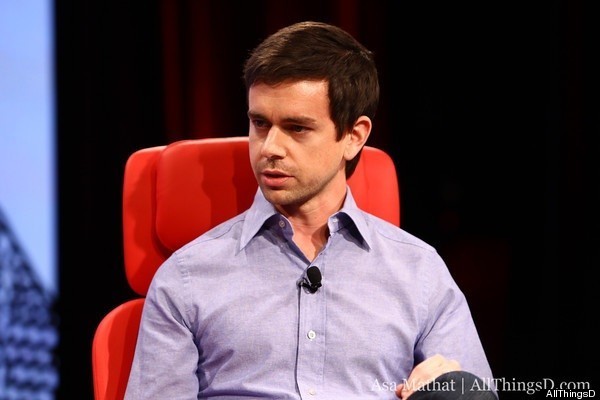 1:08 pm: Walt notes Dorsey's repeated use of words like "magical" and his focus on aesthetics and notes that they recall Apple's Steve Jobs.
Dorsey says Jobs is one of his inspirations. "More than anything else, Steve has taught me to be a better human. He really took his work for a personal dimension and made it fulfilling."
1:10 pm: What is Twitter?
Dorsey says if you ask the people in the room, you'll get hundreds of different answers. "Twitter reflects what people what they want it to be." Dorsey notes that things like the hashtag arose organically from the Twitter community.
Walt jumps in with a quick plug for #AsiaD ...
1:13 pm: Is Twitter a big deal in Asia?
Dorsey says it is. "We launched Twitter officially in 2007 and we saw a massive amount of activity in Japan ... so by 2008, we were translating to Japanese. ... Back in 2008 we used to have this public timeline that showed every tweet running through the system and every day at a specific time we'd notice an explosion of cat icons in the feed. And what we discovered was that they were tamagotchis from Japan. Someone in Japan had used our API to create them and they became very popular."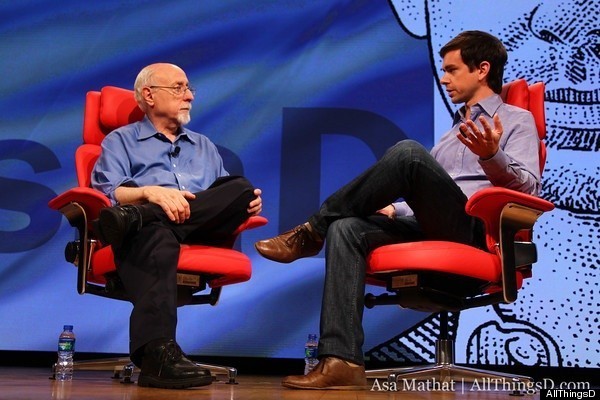 1:16 pm: How big is Twitter in China?
Dorsey says there's lots of interest in the service in the country, but it's not easy to access in the country.
1:17 pm: Do you aspire to be the bearer of identity on the Web?
Twitter isn't just online identity, says Dorsey. People use it in offline ways. People put their user names on their business cards. And when you take that information and plug it in online, you discover all this additional information about them. So you can easily encounter something offline, go online and discover more information about it.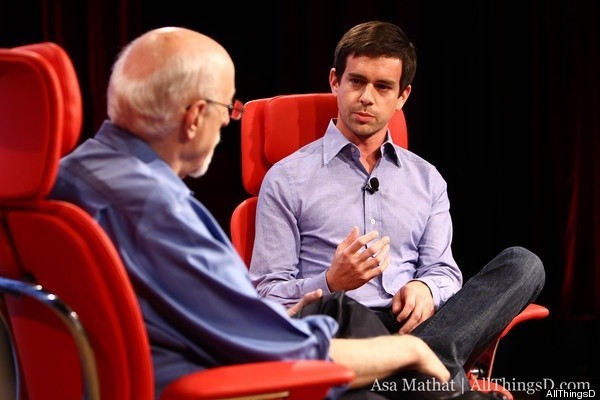 1:19 pm: Conversation shifts to talk about Twitter's integration with Apple's iOS 5. Dorsey notes that Twitter sign-ups have tripled since iOS 5 debuted.
Walt: So are you going to follow this strategy with Windows Phone and BlackBerry?
Dorsey: "We're definitely open to it."
1:23 pm: How does Twitter extend its success to emerging markets, asks Walt.
"Twitter was built so it can degrade gracefully to every device," says Dorsey. "So we've always had an ability to reach any device." He notes a new deal with Airtel in India that will bring Twitter to the better part of the country.
1:25 pm: You recently lost your CTO, says Walt. Is there trouble in paradise?
No, Dorsey replies. "With every company there are stages. Some people are great at the early stages, some people are great at the later stages. Mike (the former CTO ) was great at the early part."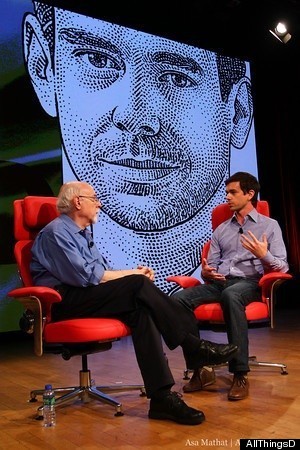 1:27 pm: Moving on now to Square. How many merchants are using it, Walt asks.
Dorsey: "A year out, we have 800,000 merchants using square. ... We're seeing massive uptake. ... $8 million a day in transactions. $2 billion a year.
1:31 pm: Tell us about CardCase, says Walt referring to the consumer app that works with Square's point-of-sale system.
Our intent with CardCase is to make receipts actionable, says Dorsey. We want to make receipts something that consumers can interact with. What it allows you to do is that once your get a receipt you can download information about a merchant."
CardCase essentially broadens the point-of-sale system, allowing users to access menus, and even enabling in-the-background purchases.
1:35 pm: We have 20,000 merchants in the country using CardCase today, Dorsey says. We continue to roll it out and make it bigger and bigger, and we've got some cool new features we'll be adding in the future.
1:36 pm: There's a lot of action in the payments sphere these days, Walt observes. Can all the players survive?
Dorsey says there's a lot of room for everyone. That said, he argues Square is one of a kind, a company that covers the entire payments stack and offers a "magical" experience.
1:38 pm: "Square isn't about impulse purchases," says Dorsey. "We're enabling people to buy what they really we want."
1:39 pm: Walt circles back to Dorsey's dueling roles at Square and Twitter, recalls a conversation with Steve Jobs who once said that he spent Fridays and Pixar and the rest of the week at Apple.
It's largely an issue of discipline, says Dorsey. "I've been theming my days. So Monday is Management. Tuesday is product development, Wednesday is marketing ... Friday is internal issues ... I've been doing this for about six months and I've found it to be pretty successful."
1:42 pm: On to the Q&A ...
1:42 pm: How do you future-proof Square?
"The most important thing is continue to innovate," says Dorsey. "You've got to stay ahead of the game. ... At the end of the day we must make sure that we're constantly innovating and keeping ahead of where the market is going."
1:43 pm: Thoughts on Chinese micro-blogging services like Weibo? Can Twitter compete with them in China?
"At the end of the day, we just can't compete. Weibo can compete in our markets, and we're certainly interested in what that means for us. I've looked at Weibo and it looks fascinating the way that people are using it. We would love for Twitter to be strong like that in China, but we're not allowed to do that."
1:47 pm: Is Twitter profitable?
Dorsey: "One of the benefits of being a private company is that we don't have to answer questions like that."
1:48 pm: Another question about China and Twitter's future in the country.
"We have a lot to learn here in Hong Kong and here in Asia," Dorsey replies. "We want to build a service that people can communicate freely on, no matter where they are in the world, no matter what they're doing with their lives" and which can be used to communicate with the "entire world and the entire world can engage with them...that's the most important thing for us to uphold and the most important thing for us to defend."
1:50 pm: And that's it. Next up: the Silicon Valley entrepreneurs panel with SurveyMonkey's Dave Goldberg, Joyus' Sukhinder Singh Cassidy and Airbnb's Brian Chesky.
More from AllThingsD:

Popular in the Community