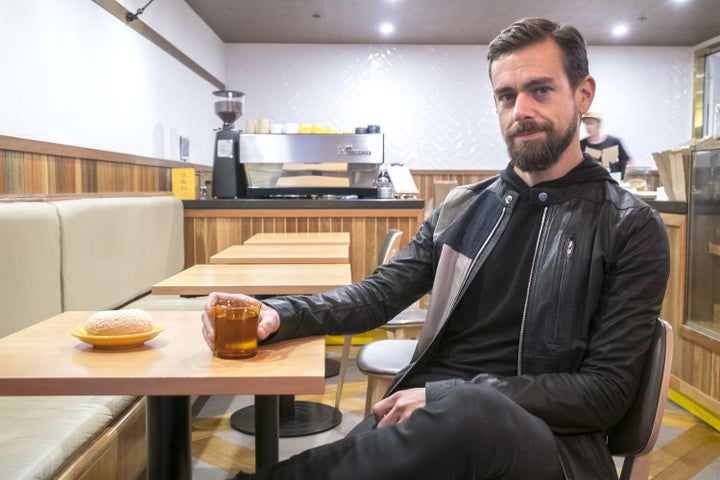 Speaking for about 25 minutes on Hannity's radio show, Dorsey reiterated statements he made Tuesday, steered clear of mentioning Jones and answered softball questions. Hannity has pushed a number of outlandish conspiracy theories on Fox News and his other platforms about President Barack Obama's birthplace, Hillary Clinton's health, and the murder of a Democratic National Committee employee.
"We haven't done a great job of communicating our principles, the guidelines that help us make the decisions in the first place," Dorsey said of banning and suspending accounts.
"We do not shadow-ban according to political ideology or viewpoint or content. Period," he continued
The two agreed that users should mute or block accounts that offend them ― though people who feel victimized by Infowars conspiracy theories would likely remind them that Alex Jones' followers have been known to terrorize his targets.
Dorsey's comments came the day after he announced that he would not take down Jones' personal account or his Infowars account ― even though nearly every other major social media platform did so in recent days. The fringe broadcaster has used social media to push conspiracy theories, including that the Sandy Hook massacre was faked, as well as hateful and false comments toward immigrants, transgender people and the Black Lives Matter movement.
"We didn't suspend Alex Jones or Infowars yesterday," Dorsey wrote in a series of tweets. "We know that's hard for many but the reason is simple: he hasn't violated our rules. We'll enforce if he does."
If this was Dorsey's attempt at damage control, giving an interview to a figure as controversial as Hannity was a strange choice. Several journalists noted on Twitter that Dorsey can be hard to land an interview with, so his decision to go on Hannity's radio show packs an extra punch.
"NBC Nightly News" correspondent Jo Ling Kent said Wednesday morning that she's been requesting interviews with Dorsey for five years.
"He's going on Hannity today," NBC's Ben Collins tweeted later in the day, noting Kent's long-standing interview request. "This is getting ridiculous."
Dorsey's choice of outlet raises more questions about how much he and other tech CEOs want to appeal to conservative forces. In June, The Washington Post reported that Dorsey, in an attempt to assuage conservative critics who think his platform is biased against them, took a private dinner with Republican leaders and conservative commentators in May.
However, a spokesman for Twitter told HuffPost that the Hannity interview had been scheduled long beforehand, when Dorsey decided to open a dialogue with conservatives over bias claims.
The spokesman added that Twitter is working to line up additional interviews next week with outlets that have different views from Hannity's.
This story has been updated to include a statement from a Twitter spokesman.
Popular in the Community