WASHINGTON -- Several dozen of K Street's powerful trade group leaders and lobbyists flocked early this summer to the American Petroleum Institute's offices for a fundraising and political powwow with several top Mitt Romney campaign officials, including finance chairman Spencer Zwick, transition chief Michael Leavitt and political director Rich Beeson.
Jack Gerard, president of the American Petroleum Institute (API) and longtime Romney backer, spearheaded the previously unreported conclave, which included business powerhouses like the National Association of Manufacturers and the National Federation of Independent Business, according to two attendees.
It was fitting that Gerard hosted the confab in which Zwick encouraged the trade group honchos to become more involved in fundraising. Over the past year, Gerard has provided the Romney campaign with a gusher of financial and political support, helping lead several Washington fundraisers that raked in millions. Gerard organized another fundraising strategy session early last month for business group leaders and lobbyists at API headquarters with Zwick in attendance. Its aim was to prep for two upcoming D.C. money bashes -- first with the GOP presidential nominee and then with his running mate, Rep. Paul Ryan. And Gerard has hosted at least one dinner at his home that Romney attended.
At the summer fundraiser, Leavitt talked briefly about early presidential transition efforts, suggesting that down the road, input from the lobbying groups in the API conference room would be welcome. It was an understatement.
Jack Gerard is not just another big-shot oil lobbyist with ties to a GOP campaign. He's in a class by himself. A fellow Mormon, Gerard is close friends with Romney and widely considered one of his most trusted allies in Washington. Ann Romney acknowledged the lobbyist's sizable help by mentioning Gerard's name after the Super Tuesday primaries, and Gerard and his wife shared a box with the would-be first lady earlier this year during an event at DAR Constitution Hall in Washington. Gerard's son, Jack Jr., is a press aide with the campaign.
"All roads lead to Jack," said one business lobbyist who has raised big bucks for the Romney campaign. "Jack is number one in town for Romney by far, and there's no number two. He's Romney's go-to guy in D.C., not just in terms of fundraising but politically as well."
Another business lobbyist who knows Gerard well and has raised large sums for Romney added, "I'd be shocked if Jack is not in the administration if he wants to be. Romney doesn't know that many people well in Washington. Gerard could influence Romney on mid-tier Cabinet posts like Commerce, Energy, Interior and maybe Labor."
These lobbyists and others who spoke on background requested anonymity to protect their relationships with Gerard and the Romney campaign.
The oil industry is used to pulling the levers of power. For decades, the industry has fought off efforts to combat climate change, first by funding public relations campaigns denying it was happening at all and second by pumping money into the political system to block legislation. The Obama administration has sometimes disappointed environmentalists with its support of "clean" coal and natural gas and its failure to pass climate legislation when Democrats controlled Congress. But the Obama administration has given the fossil fuel industry even more conniptions, by imposing new regulations on emissions and other climate change measures, while giving new financial support to alternative fuels. The White House regularly attacks oil and gas tax breaks worth billions a year and has put new curbs on oil and gas development on federal lands.
Now, even as a storm of historic proportions threatens to swamp the East Coast, Big Oil is ready to transition from defense to offense. A Romney victory would put a friend and ally of Washington's top oil lobbyist in the White House. Banking on Romney's support, the industry hopes to open more land for drilling, cut back on regulations and wipe out subsidies for renewable energy sources such as wind and solar.
Gerard's high-octane efforts as a fundraiser for Romney underscore the financial bonanza that Romney has reaped from fossil fuel companies and their CEOs. Romney's campaign, allied super PACs and ideologically attuned advocacy outfits have received tens of millions of dollars from fossil fuel interests, including the heads of giant coal and gas companies as well as the billionaire brothers Charles and David Koch, who run Koch Industries with its energy and other manufacturing holdings. The Kochs are well known for their opposition to climate change measures and have spent big attacking the widely accepted conclusions of climate science that increases in fossil fuel usage have contributed heavily to rising global temperatures.
While Romney fundraisers in D.C. consider Gerard a huge money harvester, actual figures on his haul are not publicly available. Two K Street lobbyists who have raised big sums for Romney say that Gerard, like some other lobbyist-fundraisers for the GOP nominee, apparently lets others receive the credit for what he brings in -- which is perfectly legal. Thus his name doesn't appear on the list of lobbyist bundlers that the campaign files with the Federal Election Commission.
Four veteran lobbyists familiar with Gerard and the Romney campaign say he's very well positioned if Romney wins to wield considerable influence and perhaps become White House chief of staff or land a plum Cabinet post. There's been speculation about both job possibilities.
One of the lobbyists with ties to the Romney campaign says that Gerard has had talks with transition officials and is "in line" to lead the transition efforts for the Department of the Interior, which has huge sway over fossil fuel regulations. The department has been at the center of a regulatory dustup between the Obama administration and oil and gas companies over proposed new curbs on the controversial use of hydraulic fracking techniques on federal lands. (Most fracking takes place on private lands, and the Environmental Protection Agency this year issued some limited rules on that.)
"I could see Romney calling on Gerard in a role such as White House chief of staff and in the transition," said one veteran energy lobbyist who knows Gerard. But the lobbyist added that placing Gerard "in a Cabinet position such as Energy or Interior seems a little far-fetched given his years of work representing Big Oil." A top Republican lobbyist also cited Gerard's long work for the industry as an obstacle to confirmation, but said that his power within the administration would nevertheless be immense.
Gerard has led API for almost four years and previously ran two other powerful business lobbies: the American Chemistry Council and the National Mining Association.
Asked about Gerard's heavy support for Romney, a spokesman for API said that "everything he's done for Romney has been on his personal time." With regard to a possible transition role, the spokesman said he couldn't comment on rumors. Gerard declined to be interviewed or to comment himself. A spokesman for the Romney campaign said it does not comment on speculation about transition efforts.
Fossil fuel lobbyists as a group are bullish on Romney. And they think that if he were elected, his administration would significantly lift their bottom lines by boosting drilling and mining on federal acreage, giving a fast green light to the Keystone XL pipeline and loosening EPA curbs on air toxins and greenhouse gas emissions. Lobbyists also are banking that Romney would preserve the industry's treasured tax preferences that the Obama administration wants to end and that are worth about $40 billion over 10 years. Their optimism is well placed: Romney has promised to build the Keystone project if he has to lay the pipe himself.
A onetime critic of coal who backed efforts to limit carbon emissions as Massachusetts governor, Romney has clearly won the battle for the hearts, minds and checkbooks of traditional fuels. "There's no doubt that the oil and gas industries as well as the traditional energy community has invested a lot of time, energy and money towards a Romney victory," concluded a veteran oil lobbyist.
The Romney campaign has received more than $4.7 million in donations from oil and gas interests and more than $600,000 from mining interests, according to the Center for Responsive Politics. And the two super PACs backing Romney, Restore Our Future and American Crossroads, have received more than $10 million from wealthy executives and their fossil fuel companies. Over the summer, the Romney camp raised $7 million at a single fundraiser in Houston, led by the CEO of Exxon Mobil.
Romney's top energy adviser is billionaire Harold Hamm, the CEO of Continental Resources, which has huge oil holdings in booming North Dakota. Hamm has given $985,000 to Restore Our Future and has also raised large sums for the campaign. His distaste for President Barack Obama's policies was underscored in an op-ed he wrote for The Oklahoman last year charging that the administration "will drive us headlong into the magical fantasy of alternative and renewable energy."
Millions of dollars in traditional energy's largess has been poured into waves of attack ads and grassroots drives against the Obama administration's regulatory policies.
"We think they're targeting fossil fuels because they don't like them," said former Koch Industries lobbyist Tom Pyle, who is now president of the American Energy Alliance, a dark-money group that this month launched a $1 million ad drive in Ohio and Virginia charging that Obama wants to "kill affordable energy" and bankrupt coal companies. The alliance has a $7 million budget to promote its fossil fuels agenda and has been participating in pro coal rallies in those two key states.
Americans for Prosperity, the conservative grassroots group founded by the two Koch brothers that plans to spend over $100 million this year on ads and other efforts to help GOP candidates, launched a multimillion-dollar ad blitz in January targeting Obama administration backing for Solyndra, the failed solar company. And this month, the group upped its efforts in Ohio with a pro-coal radio ad; it has also participated in pro-coal rallies in the Buckeye State.
Other ad blitzes aimed at the EPA, for its tougher regulation of air toxins and greenhouse gases, are accelerating in the campaign's final days. The American Coalition for Clean Coal Electricity, an advocacy group backed by coal, utilities and railroads, is on track to spend some $23 million on ads stressing the importance of coal and attacking the EPA's regulations as onerous. "The EPA is making it hard to use coal in existing plants and almost impossible to build new ones," said Evan Tracey, who runs communications and grassroots efforts for the coalition.
Meanwhile at API's offices, top officials aren't shy about taking shots at the Obama administration for its regulatory curbs on oil and gas development and tax policies. Senior economic adviser Rayola Dougher told The Huffington Post that "87 percent of the acreage offshore is limited to development. You can't say you're for development and keep 87 percent of federal acreage" off-limits.
Dougher also said that API is very concerned about the administration's calls for ending billions in annual corporate tax breaks and urged an "end to calls for punitive new taxes."
Under Gerard's leadership, API has reportedly spent almost $40 million this campaign season on TV spots touting the need to expand oil and gas drilling in the U.S., part of an issue advocacy campaign with a populist patina. Using folksy names like Vote4Energy and Energy Citizens, the API ads extoll the virtues of oil and gas development and stress jobs and economic growth.
These ads are part of the industry's public relations offensive to build support for more oil and gas drilling and less regulation, lobbyists say. While API states that its PR efforts aren't partisan, they mirror many of the energy stances that the Romney campaign has embraced with gusto.
Overall, one veteran oil lobbyist thinks Gerard and API should be in the catbird seat if Romney wins. "The API seems to take great pleasure in throwing barbs with great frequency at the current administration," he said.
Before You Go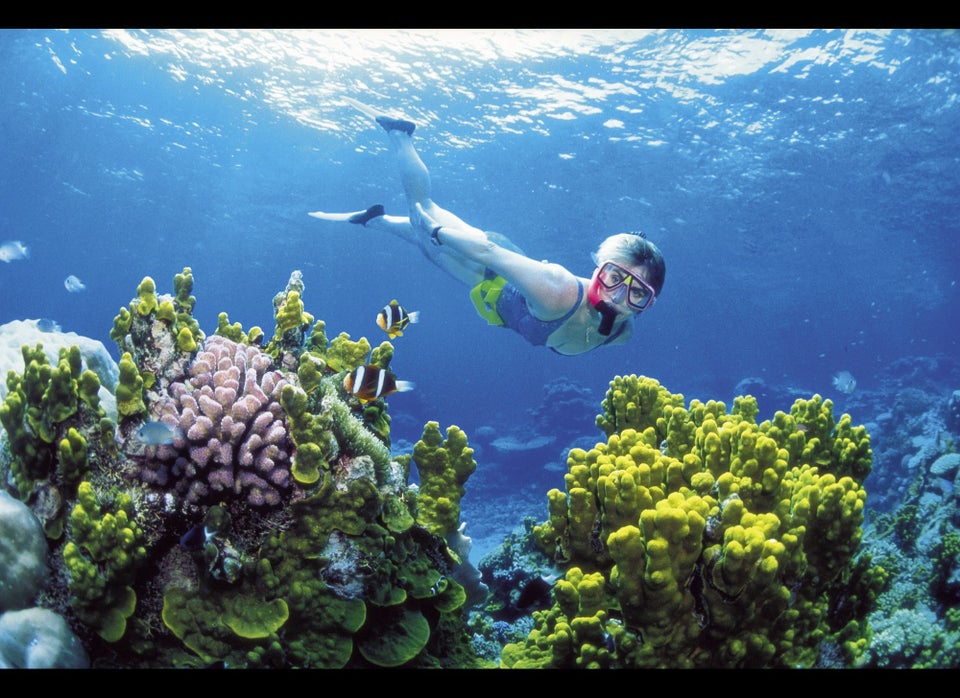 What Climate Change Just Might Ruin
Popular in the Community