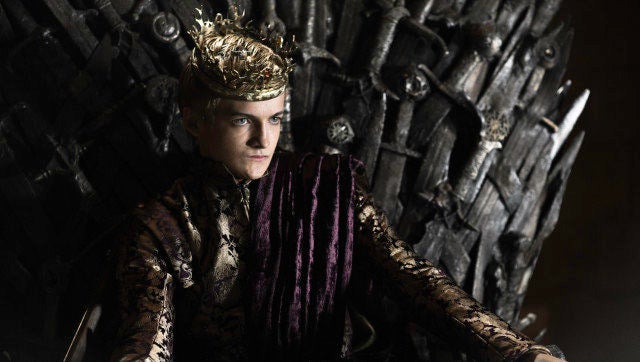 But it almost happened ...
Before "Game of Thrones" made its debut, now-20-year-old Gleeson -- who is an accomplished student at Trinity College in Dublin -- was asked to be a double for the original actor being considered for the role of Joffrey. "Game of Thrones" co-creators David Benioff and D.B. Weiss told reporters during a conference call that Gleeson was so impressive, they knew he had to play Joffrey, even though Gleeson himself was the complete opposite of the evil character.
"When it came time for the audition, it was like he flipped a switch and he became the most despicable teenager on the planet," Benioff explained. "He's genuinely one of the sweetest guys I've ever met."
Still, he went on to explain, "We were a little surprised at first by what an impression Joffrey made on the audience."
Benioff and Weiss said they owe so much of Joffrey's stirring effect on "Game of Thrones" fans to Gleeson's performance. But because of his convincing portrayal of such a loathed young man, Weiss said, "We're always worried about him." Benioff feared he'd get punched at a bar, but they both hadn't heard of anything horrible happening to Gleeson yet.
"He could not be further from his character," Kit Harington, who plays Jon Snow on "Game of Thrones," said of Gleeson on HuffPost Live recently. "He's the nicest, most calm, interesting young man. He's not like Joffrey at all and I'm sure he gets loads of stick on the street and people throw abuse at him."
Despite his impressive acting skills, it doesn't seem to be Gleeson's career path forever. Benioff said he sees Gleeson eventually going on to be a professor. "After 'Game Of Thrones' I'd be happy to do some amateur plays, but I don't think I want to do any more professional acting," Gleeson himself told the Irish Independent in April 2012. "I'd like to be an academic, a philosophy lecturer if possible. I'd do a Masters in Ancient Hebrew maybe, and a PhD hopefully, if I get in."
"Game of Thrones" Season 3 premieres on Sunday, March 31 at 9 p.m. ET on HBO.
PHOTO GALLERY
"Game Of Thrones"
Calling all HuffPost superfans!
Sign up for membership to become a founding member and help shape HuffPost's next chapter
BEFORE YOU GO