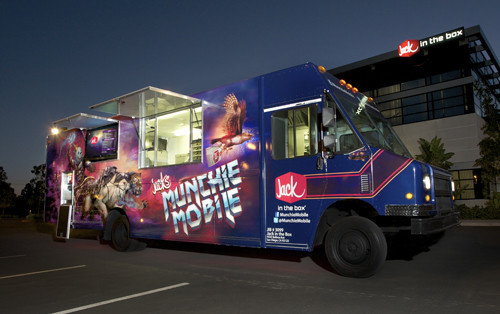 The latest food truck on your block might be owned and operated by...Jack in the Box.
The burger chain has jumped on the food-truck bandwagon by creating its own bandwagon.
JITB's "Munchie Mobile" debuted Friday in San Diego, CA and will travel over the next few months to neighboring Orange County and then Los Angeles.
Inspired by retro '70s silk-screened vans, the 34-foot vehicle bears a bold "lifelike" image of Jack in chest armor, helming an ancient Roman-style chariot borne by a tiger and a bear, their fangs bared.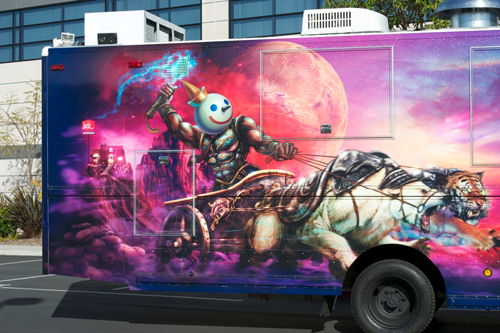 Its outside is equipped with a window for ordering and pickup, and a menu displayed on a flat-screen TV. (The Munchie Mobile will offer a limited selection of burgers, fries and tacos.) Its interior is outfitted with a grill, fryer, and toaster.
"Food trucks are a popular trend these days," says JITB spokesman Brian Luscomb, "and our guests have been asking, 'Why doesn't Jack offer a food truck?' So we built the biggest and baddest food truck we could possibly imagine."
The Munchie Mobile will also be used at concerts and sporting events as well as community functions.
Its rear panel bears the message: "My other truck is a restaurant."
Now, I'm no expert on trademarks and the legalities of business nomenclature, but... there was a catering business called Munchie Mobile in Oxford, MS, which recently went out of business. Did JITB pay its owners to use that name, or once a business goes kaput is its name up for grabs? Some of my best friends are lawyers, but they're not awake yet.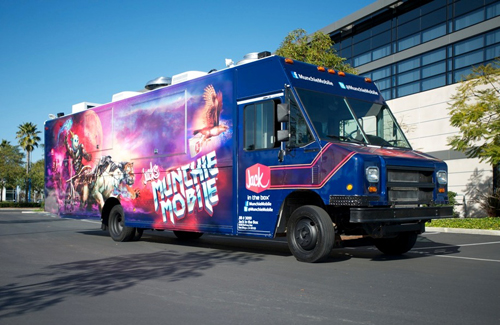 All photos from Jack in the Box
Calling all HuffPost superfans!
Sign up for membership to become a founding member and help shape HuffPost's next chapter