Jack in the Box announced the launch of "Brunchfast" the daypart that BurgerBusiness.com reported in June that it had trademarked and in August reported that it was testing in California.
At this week's Wells Fargo Retail, Restaurant & Consumer Forum, Jack in the Box Brand President Frances Allen announced the roll out, saying that in doing so Jack in the Box is "blazing a new trail in the so far untapped daypart."
Like everything on the Jack in the Box menu, the Brunchfast items will be available all day. But they constitute a new premium-price tier of breakfast foods for the brand.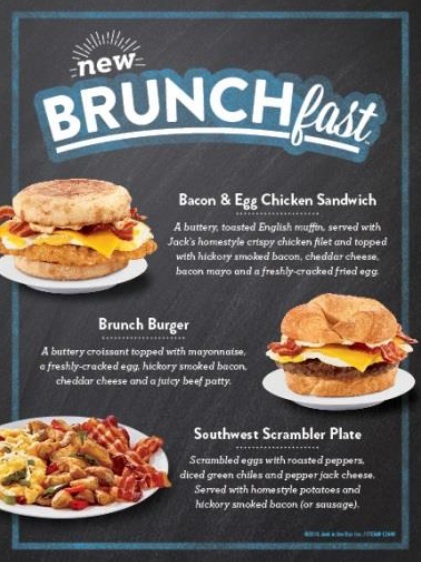 As reported earlier, the menu includes a Brunch Burger (above), tested at $3.99 alone/$5.79 as a combo, with a beef patty, bacon, Cheddar and a fried egg on a croissant bun. The Bacon & Cheddar Brunch Sandwich, with chicken breast fillet and a fried egg on an English muffin was tested at $4.49. A Southern Scrambler Plate with scrambled eggs and pepper, home fries and a croissant was tested at $4.59. A Blood Orange Fruit Cooler stands in for a Mimosa or Bloody Mary.
Two Brunchfast items that were tested but that don't appear to have made the rollout menu are an Omelet Sandwich with an egg-and-peppers omelet, ham and cheese on sourdough (tested at $3.49) and a French Toast Plate, a late addition to the test, with three slices of French toast and choice of sausage or bacon, tested at $4.79.
Allen said Brunchfast is another example of Jack in the Box's commitment to innovation and to not following the crowd. She cited the chain's late-night Munchie Meal menu as an example. "It's zigging when others zag," she said.
Brunchfast is a zig to the zag of deep discounting, Allen added, saying she expects more discounts to be the QSR industry's answer to Brunchfast. But "we don't want to play the price game," she said.