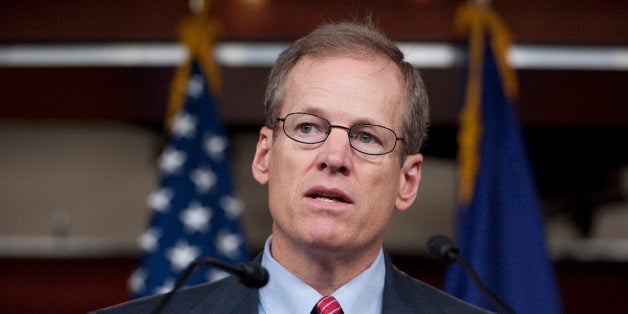 WASHINGTON -- For the past few days, Atlanta has been trying to recover from a rare ice storm that stranded thousands of commuters and turned the city's highways into one giant, dangerous parking lot, as people were unable to drive home and many simply abandoned their cars. City and state officials were caught off-guard and were unprepared to respond. The freak storm, which hit much of the deep South, led to the deaths of at least 13 individuals.
But Phil Wilheit, Jr., the co-chairman of Rep. Jack Kingston's (R-Ga.) Senate campaign, is fed up with all the complaining. The Atlanta Journal-Constitution reports that Wilheit went on Facebook -- the post is not public -- and told residents of Atlanta to "quit whining":
Hey Atlanta! Quit whining about how inconvenient the last few days have been. It's called earth and weather and it does what it wants. On the west coast it make the ground shake and makes buildings and bridges fall on you. On the gulf coast the oceans swallows miles of land and blows trees homes to smithereens. In the Midwest funnels pick up cars, houses and people and rip them to pieces. In the north the snow is measured in meters and the temperatures make things like ears fall off. So stop complaining about your long commute home….at least it was still there when you finally arrived.
He then said that if they weren't all such wusses, they'd be fine:
Sick of the whining. The "men" in Atlanta need to drink less cosmotinis and forget about ever getting another pedicure. Be a man like the guy who hiked 6 miles through the snow and ice to be with his daughter. Spend more time in nature and less time bitching about it. If more people had not panicked and bolted out of the office at noon we would not have gridlocked the highways and the DOT could have treated them. I left my office in Gainesville at 7:15pm. Checked traffic reports. Found a good route home and traveled 50 miles in 1.5 hours.
Kingston's office did not return a request for comment.
Wilheit is vice chairman of the board of directors of the Georgia Department of Natural Resources, which is one of the agencies that is responsible for the state's response to snow and ice.
He comes from a prominent family in Georgia politics. His father, Phil Wilheit, Sr., chaired Gov. Nathan Deal's (R) campaign and is now on the state Board of Regents. He also owns a company called Wilheit Packaging, where his son is a partner.
Kingston is running in a crowded field of Republicans in the 2014 primary to replace retiring Sen. Saxby Chambliss (R-Ga.). The winner of the GOP primary is expected to face Michelle Nunn, the leading contender on the Democratic side, in the general election.
Calling all HuffPost superfans!
Sign up for membership to become a founding member and help shape HuffPost's next chapter
BEFORE YOU GO
PHOTO GALLERY
Out-Of-Touch Politicians