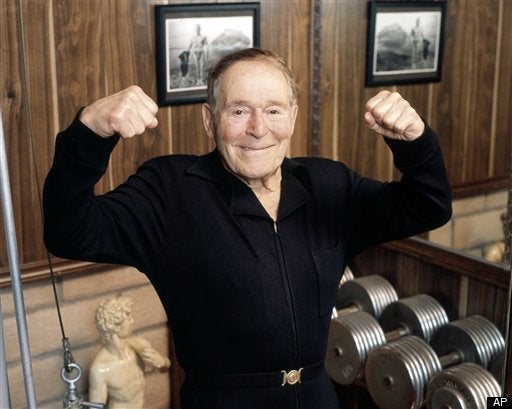 Exercise physiologists, gerontologists and other researchers are talking a lot lately about compressed morbidity. Compressed morbidity is the opposite of a lengthy gradual decline, in which disease processes slowly rob you of your mobility, vitality and independence. Simply stated, compressed morbidity is "live long and die fast." It should be a major life goal for everyone. So how does one get it? The only thing that nearly all researchers agree upon is that vigorous exercise is the key.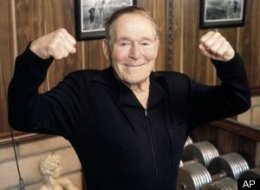 Which brings us to fitness guru Jack LaLanne, who passed away recently at the age of 96. Jack worked out religiously, every day, until the very end. His passion for vigorous exercise was only exceeded by his passion for helping others. Sadly, in his later years, few media organizations were interested in giving Jack a platform, so it became more difficult to spread his message. We were one of the exceptions. We interviewed Jack twice on the "Growing Bolder Radio Show" in recent years, and he brought his "A" game both times.
Jack loved to talk about how he lived but refused to talk about how long he might live:
I don't think about it. I only think about this day. This is the moment I've been living for. I don't care how long I live, but I want to live while I'm living. You gotta work at living. Dying is the easiest thing there is. I don't want to end up in a sanitarium. I'd rather wear out than rust out.
And that's exactly what happened.
There is a very good reason Jack has been given the title "The Father of Fitness." In fact, there are several good reasons. He opened America's first health studio in 1936 and invented many of the weight machines we use today. He pioneered what later would become aerobics and was the first person to recommend weightlifting for athletes, women and the elderly. In the early 1950s he began producing and hosting the world's first fitness show on TV -- a show that aired, uninterrupted, for 36 years. "My TV show was on every station in the U.S. and Europe," he told us proudly. "It was the longest running and most successful TV show of all time."
Jack became ill at age 15 and had to drop out of school. His mother took him to a lecture by health guru Paul Bragg, and the next day, Jack became a vegetarian, quit eating refined sugar and white flour, and began lifting weights. "I was a weak, sick, miserable kid," he told us. "When I started working out with weights, my life changed immediately."
Jack wanted to share his fitness secrets with others, but most people thought he was a little wacky. Undeterred, Jack continued to spread the message he believes he was chosen to share with the world. "I never thought about fame or making money. It's all about the people. How can I help people help themselves? That was all I ever cared about. Billy Graham is for the hereafter. I'm for the here and now."
Jack thoroughly enjoyed our interviews and told us he'd be disappointed if we didn't have him back on. Unfortunately, we didn't get another chance. He was too busy living the next time we called and died too quickly before we could call again. That's compressed morbidity in action. Live long. Die fast. Few did it better than Jack LaLanne.
I'll leave you with one of the final thoughts Jack left us with: "Anything in life is possible! Remember this: God helps those that help themselves, so help the most important person on this earth -- you!"
Note to HuffPost readers: There's a revolution underway, and it's good news for everybody of every age! It's never too late to achieve your dreams. It's never too late to give back to your community and leave a meaningful legacy. It's not about age. It's about attitude. Join the revolution. Confront ageism and fight the stereotypes of age. Watch "Growing Bolder" on PBS stations coast to coast and connect with me on Facebook, LinkedIn and Twitter.
Support HuffPost
A No-B.S. Guide To Life
Related
Popular in the Community